Moeller quarterback hot, Tigers QB hurt in defeat
By STEVE DOERSCHUK
Independent Sports Editor
MASON ‑ Steve Klonne couldn't get what he wanted, so he took what he could get.
"We wanted to run the ball but we couldn't," the 10th‑year Cincinnati Moel­ler High head coach said. "Massillon has a lot of good players, and they were stuffing us.
So Klonne, noting Massillon's two‑deep, zone coverage in the secondary, took what he could get.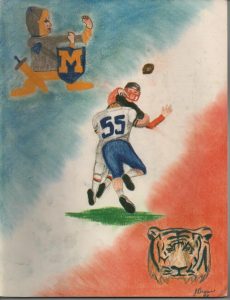 He scrapped the run and watched quarterback Shawn Brennan pass the Crusaders to a 27‑13 high school football victory in front of a standing‑room‑only crowd of 10,600 on a crisp, clear Saturday night at Galbreath Field.
"We've never had a quarterback who can run the way Shawn can," said Klonne. "He made all the right moves."
Klonne, a St. Xavier High graduate, noted that Brennan, who transferred from St. Xavier High last year, needed time to adjust to Moeller's system.
"You definitely could say he came of age today;" Klonne said.
Brennan, who completed 8‑of‑15 passes for 106 yards the previous week, when he had emerged as the starter for a game against Trotwood‑Madison, exploded for 20 completions in 31 throws for three touchdowns against the Tigers.
It was Brennan, more than anyone, who pulled out a victory against a Massillon team that spent 32:39 of the game's 48 mi­nutes with a lead.
The Tigers had grabbed the lead on a 42‑yard touchdown run by Travis McGuire on the sixth play of the game.
Moeller trailed until Brennan rainbowed a 43‑yard touchdown bomb to senior Jeff Raussen with 35 seconds left in the third quarter.
Raussen and cornerback John Har­pring, whose diving interception set up the TD bomb, competed with Brennan for the quarterbacking job in the early part of the season.
After the game, Moeller players and fans romped through a giddy celebration during which they chanted, "State! State! State! " It is abundantly clear Brennan is the quarterback they will try to ride into the playoffs.
"With the schedule we play," said Klon­ne, whose team is 3‑1, "a 7‑3 record would probably get us there ‑ at 8‑2, we'd be a lock."
The Tigers, also 3‑1, might have to con­tinue their bid for a third straight playoff appearance without quarterback Nick Mossides, who was injured late in the game while trying to stage a last‑ditch comeback.
"It's a sprained or a strained knee, whatever you want to call it," Owens said back in Massillon Sunday afternoon. "Dr. (Robert) Erickson will examine him again Monday. He's scheduled for an M.R.I. (magnetic resonance imaging) Tuesday. He's not been able to walk on it yet. Right now it doesn't look real good in terms of Nick being able to play this week."
Owens said Troy Burick would step in as the starter, with sophomore Mike Danzy working as the No. 1 backup this week in practice. The Tigers will play a Friday night home game against Austintown­-Fitch, which has won its last two games after an 0‑2 start. Fitch beat Lakewood St. Edward this past weekend.
Mossides had completed 11 of 17 passes for 81 yards against Moeller when he was hit while throwing the ball with 4:23 left in the game and Moeller leading 27‑13. Burick replaced him on the next play.
In his four games as a starter, Mossides has completed 37 of 65 passes for 5l2 yards, with two touchdowns and three intercep­tions.
Owens said he talked to Burick Sunday.
"Troy is ready to do whatever it takes," he said.
The Tigers are wondering what it takes to get rid of that giant toothache called Moeller. Moeller won the first four games in the series convincingly but had to come back for victories in the 1990 and '91 games.
Owens shouldered a share of the blame for the latest loss.
"We made some calls I wish we had back," he said. "We didn't make some of the coaching adjustments as well as we should have."
The Tigers led 13‑6 late in the first half and had the ball in Moeller territory when Owens elected to try for more points rather than running out the clock.
Things were looking up when Falando Ashcraft bulled for six yards to the Massillon 40 on a first‑down carry with 1:52 left in the half.
The next two plays were pass calls. Both became incomple­tions. It was fourth down when the clock was stopped with 1:16 left in the half. Punter Jason Woullard caught the snap but seemed to rush and dropped the ball. A big pileup left Moeller with the ball on the Massillon 35.
With 12 seconds left in the half, Brennan sprinted to his left until Raussen worked his way open over the middle. The two hooked up on a 10‑yard touchdown pass. Senior Erik Bryant's point‑after kick smashed into the left upright and bounded wildly toward I‑71 ‑ no good. The Tigers managed to keep the lead, 13‑12, but the turnover had Moeller to get close.
The Tigers had made it look easy on their first possession, roaring 71 yards in six plays. A third‑down Mossides‑to‑Marc Stafford pass went for eight yards and a first down to the Moeller 45. After a two‑yard surge up the middle by Ashcraft, Mossides took advan­tage of an aggressive rush by Moeller, gave the ball to McGuire on a counter, and watched the running back sprint into a gaping hole over the right side en route to a 42­yard touchdown run. Jason Brown's kick was good to make it 7‑0, Massillon, with 9:14 left in the first quarter.
Moeller had tried to make a statement by winning the coin toss, yet, electing to kick off to the Tigers. Massillon stuck that strategy in Moeller's ear.
The Crusaders, though, scored on their next possession, consuming seven minutes and 71 yards. Brennan scored from five yards out on a scramble, but Bryant's kick was no good and the Tigers kept the lead, 7‑6, with 2:09 left in the first quarter.
The Tigers scored again the second time they had the ball, driving 72 yards in 10 plays. Mossides completed four pas­ses in four attempts to help the Tigers reach the Moeller 15 on first down. McGuire gained four yards to the 11 then, second down, got the ball on a delay. Moeller;s rush had already blown by, giving McGuire room to sprint 11 yards up the middle for a touchdown. Brown's kick misfired and the Tigers settled for a 13-6 edge with 9:47 left in the half.
The Tigers might have had Moeller in real trouble in the first half, but, as Klonne noted, "We got a lot of key plays on third downs."
The Tiger defense was rugged on first and second down, but Moeller gained 57 yards on four third-down conversions. The Crusaders needed 26 plays to gain 87 yards on their remaining first-half plays.
In the second half, with No. 1 running back Kelly Davis hobbled, the Crusaders began passing on first and second down, with much success.
Still, the Tigers had a chance to take control of the game until late in the third quarter.
Moeller began the period with an impressive drive into Mas­sillon territory. Again, big third‑down plays were the key.
Brennan was getting plenty of time to throw, as was the case most of the night. When he did begin to feel a rush, he regular­ly escaped via the scramble.
But with the ball on Massil­lon's 23‑yard line with 4:30 left in the third quarter, Tiger tack­le Jonathon Jones was brea­thing in Brennan's face. The pressure influenced Brennan's pass, intended for Raussen, but picked off by Tiger defensive back Ron Roberson at the 12. Roberson returned the ball nearly to midfield.
The Tigers had escaped a se­rious Moeller scoring threat, and now had good field position. It lasted only a few moments. ­With the ball on Moeller's 42 on third‑and‑nine, Mossides tried to find Stafford on the right flat, Instead, Harpring knifed in to make an acrobatic intercep­tion.
By then, Moeller had grown used to playing without its blue­chip tight end, 6‑5, 245‑pound Max LangenKamp, who had strained a knee in the first half. On first down, Brennan found backup tight end Chris Kent on the left side for a 19‑yard pickup.
Passing again on first down, Brennan turned to the left side of the field ‑ and the bomb. Massillon defensive back Dana Wofford had a bead on the ball, but seemed mesmerized by the high‑arcing throw for a split second. That allowed Raussen to get behind him by a step. Raussen took the ball in stride and went in for the touchdown. The play covered 43 yards.
A two‑point conversion pass gave Moeller a 20‑13 lead with 35 seconds left in the third quarter.
The Tigers had lost their offensive flow and soon had to punt. But with 9:30 left in the fourth quarter, Moeller went for the block. Woullard, the pun­ter, saw that he had no chance to‑kick, the ball and began to run. He lost the ball on his escape attempt and Moeller took over at the Tiger 32.
The Tigers kept Moeller from scoring on that possession, tak­ing over at the 2. The Tigers' hopes soared and crashed all at once, on the next play. Ashcraft made an impressive run up the middle for nearly 10 yards, but fumbled while trying for an ex­tra yard and Moeller took over at the 12.
MOELLER 27
MASSILLON 13
MA MO
First downs rushing 7 5
First downs passing 5 12
First downs by penalty 1 1
Totals first downs 13 18
Yards gained rushing 134 83
Yards lost rushing 17 3
Net yards rushing 117 80
Net yards passing 102 256
Total yards gained 219 336
Passes attempted 18 31
Passes completed 12 20
Passes int. by 1 1
Times kicked off 3 5
Kickoff average 45.3 54.6
Kickoff return yards 80 49
Punts 1 2
Punting average 27.0 31.5
Punt return yards 10 0
Fumbles 2 0
Fumbles lost 2 0
Penalties 2 5
Yards penalized 18 52
Number of plays 44 62
Time of possession 18.55 29.05
Massillon 7 6 0 0 13
Moeller 6 6 8 7 27
MAS ‑ McGuire 42 run (Brown kick)
MOE ‑ Brennan 5 run (kick failed)
MAS ‑ McGuire 11 run (kick failed)
MOE ‑ Raussen 10 pass from Brennan (kick failed)
MOE ‑ Raussen 43 pass from Brennan (Brown pass from Brennan)
MOE ‑ Carlberg 10 pass from Brennan (Lucke kick)
Individual statistics
Rushing
(Massillon) McGuire 12‑94, Ashcraft 11‑34.
(Moeller) Davis 23‑66, Bren­nan 3‑9, Jackson 4‑4.
Passing
(Massillon) Mossides 11‑17‑1, 81.
(Moeller) Brennan 20‑31‑1, 256.
Receiving
(Massillon) Stafford 6‑32 McGuire 4‑45, Hawkins 2‑25.
(Moeller) Raussen 4‑75, Brown 6‑62, Davis 3‑17, Langenkamp 1‑26, Cariberg 2‑18, Kent 2‑30, Baur 2‑28