'You can run but you can't hide'
Depleted Tigers can't cope with speed of Glen Mills
By JOE SHAHEEN
Independent Sports Editor
The Massillon Tigers learned the cliche "speed kills" is more than just a warning about driving too fast.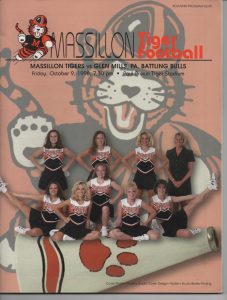 The Battling Bulls of Glen Mills High used lightning speed on both sides of the football to great advantage in handing the Tigers a convincing 19‑0 setback in front of 8,018 fans at Paul Brown Tiger Stadium, Friday night.
Glen Mills put eight defenders at the line of scrimmage and recorded nine sacks of Tigers quarterback Steve Eyerman, completely overwhelming Massillon's offensive line at the point of attack.
The Bulls flashed the same blinding speed on special teams and offense, scoring on three big plays:
A 49‑yard punt return by Myron Farley with 4:16 remain­ing in the first quarter.
An 88 yard run from scrim­mage by tailback Sessions Boyd with 2:01 left in the opening stan­za.
A 42‑yard run from scrim­mage by Maurice Costello with 5:03 left in the ball game.
"It's the old cliche 'speed kills,"' acknowledged Glen Mills head coach Ken Banks. "We knew if we could get our kids out to the open field, we've got two pretty fast tailbacks and a pretty fast fullback. That's all we try to do; get them through the line and then let their athletic ability take over."
Tailback Sessions Byrd paced the GIen Mills running attack with 116 yards on just nine car­ries. Fullback Eugene Smith wasn't far behind, racking up 114 yards in only 11 carries as the Battling Bulls rushed for 340 yards on the night.
"I was surprised how domi­nant we were," Banks said. "They have some pretty good football players over there. I was concerned about their two big kids up front on defense (Ellery Moore and Chris Turner). We were able to do some things to play to some of their weaknesses. We had a real good week of practice. When we do that we generally execute really well."
Tigers coach Rick Shepas was not surprised by how fast Glen Mills was, having seen that very attribute on the team's game tapes.
The first year mentor was not down after the game, preaching patience and faith on the part of Tiger fans.
"Where we're at right now is going to take some courage," Shepas said. "This is a situation that we as a town aren't used to. It's going to take some courage and some belief in what we're doing and some conviction to get the job done.
"I believe in these kids. These kids work hard. They played a hard fought game today. We had kids cramping up and playing to the very end. We just go from here."
Massillon took the opening kickoff and moved from its 26 to midfield, but on a second‑and-­two play turned the ball over on an interception.
The same Fate befell the Tigers on their second posses­sion of the evening as Glen Mills relentless pass rush and pres­sure at the line of scrimmage paid immediate dividends in the first quarter.
"That's the style of defense we play," Banks said. "Its a very aggressive style of defense. We got a very good secondary and we have a lot of confidence in them. That enables us to do a lot of man to man coverage and that in turn gives us the opportunity to do a lot of blitzing with our linebackers and stunts up front because we have faith in our defensive backfield to play man to man."
Massillon's defense held the fort after both first quarter turnovers, forcing the visitors to ‑punt the ball back to the Tigers.
The second punt, however, pinned the locals back on their 11‑yard line and three plays later it was time to punt.
Glen Mills' Farley caught Luke Shilling's punt at the visitors' 48-yard line, he cut to the right side­line and raced virtually untouched to the end zone. Danny Young tacked on the extra point and the Bulls led 7‑0.
Massillon went three‑and‑out on its next possession ‑ which included a sack that cost the Tigers nine yards ‑ and was forced to punt again. This time Shilling boomed a 57‑yarder and Glen Mills had to take over at its 12.
On first down, Byrd swept around his right end. He broke a tackle at the 20‑yard line, then turned on the afterburners for an 88‑yard scoring run that saw him pulling away from the pur­suing defenders even as he crossed the goal line. The extra point was partially blocked and Glen Mills' lead was 13‑0 with two minutes remaining in the initial quarter of play.
At that point, it appeared Massillon was simply overmatched athletically. But the Tigers sucked it up and held the Pennsylvania entry scoreless the rest of the half, thanks to some standout individual plays by linebacker Mike Mattox, and defensive linemen Chris Turner and Ellery Moore.
But Massillon's offense never got untracked. It generated just 70 yards in the first half and
averaged only 1.9 yards per rushing play. The passing game was a non‑factor because quar­terback Steve Eyerman was being harassed on virtually every snap as the Tigers patchwork offensive line could not secure the line of scrimmage with any consistency.
"We're trying," Shepas said when asked about the play of his O-line. "We're going to continue to work hard. We did some posi­tive things out there, but this is where we're at."
GLEN MILLS 19
MASSILLON 0
G M
First downs rushing 9 4
First downs passing 0 4
First downs by penalty 1 2
TOTAL first downs 10 10
Net yards rushing 370 98
Net yards passing 0 99
TOTAL yards 340 123
Passes attempted 5 24
Passes completed 0 13
Passes intercepted 0 2
Punts 6 10
Punting average 37.3 36
Fumbles/Lost 2/1 4/0
Penalties 3 9
Yards penalized 35 95
MASSILLON 00 00 00 00 00
GLEN MILLS 13 00 06 00 19
SCORING
G ‑ Farley 49‑yard punt return (Young kick)
G ‑ Byrd 80‑yard run (PAT failed)
G ‑ Costello 40‑yard run (run failed)
INDIVIDUAL STATISTICS
Massillon rushing:
Miller 7‑23,
Cleveland 9-­34,
Eyerman 13‑33.
Glen Mills rushing:
Smith 11‑114,
Byrd 9-1­16,
Mitchell 14‑64,
Costello 7‑46.
Massillon passing:
Eyerman 13‑24‑99.
Glen Mills passing:
Mitchell 0‑4‑0,
Newlkirk 0‑1‑0.
Massillon receiving:
Allman 5‑61.
Cleveland 2‑17,
Clemens 1‑12,
Miller 1‑10,
Buckosh 1‑1,
Lynn 3‑ ‑2.
Glen Mills receiving:
none.
Statistics courtesy of
Richard Cunningham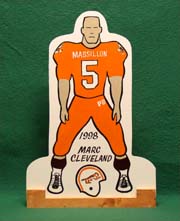 Marc Cleveland