Tigers roar past Outmanned Rayen
By TODD PORTER
Independent Sports Writer
No, the stork hasn't landed at the Jack Rose house, but the Massillon Tigers are still flying high ‑ above the ozone.
Rose, whose wife is expecting to deliver their third child any day, watched the Tigers roll to a 62‑0 win against Youngstown Rayen Friday night. In front of 10,021 fans on Homecoming night at Paul Brown Tiger Sta­dium, the Tigers ran their re­cord to 7‑0, for the first time since 1982.
In '82, Massillon finished 12‑1, with the only blemish coming against Cincinnati Moeller in the state championship game.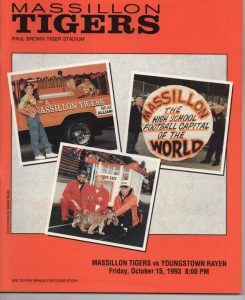 "Everyone keeps talking about the computer points and how the strike in Youngstown is going to affect us," Rose said. "But I told the kids not to worry about things you can't control and we have no control over that. All we can do is go out there and win each week. Some­one said we'd have to beat McKinley to get into the play­offs. Heck, I plan on beating McKinley regardless of the cir­cumstances. That's one of our goals."
As for the wife?
"She's at home," Rose said of his wife Diane. "If she would've went into labor tonight, I would have been there and Joe Studer would've taken over. But I think she's in a holding pattern. Be­sides, all I am out there is traffic cop, directing everybody where to go."
Maybe he could've pointed the Tigers from Youngstown in the right direction. The Tigers from Massillon were too much for Rayen to handle. Young­stown played in just its third game after a teachers' strike forced weeks two through five to be canceled. Rayen played its second game in less than a week after Woodrow Wilson blanked the Tigers 26‑0 Sunday.
"It's really too bad what happened to them," said Rose, who led Massillon to its 665th win in school history. "They lost a lot of guys due to the strike and their tailback (Herman Ben­son) went down Tuesday. He's a good back, an All‑State player and runs a 4.2 in the 40."
Even with Benson the score may not have been much diffe­rent. Massillon's swarming defense held Rayen to just 74 total yards, most of those coming against the second and third un­its in the second half.
The defense set up three scores and the special teams ran a punt back for a score.
"We want to go out there and play at our potential every week. Regardless of who the opponent is," said senior tackle B.J. Payne. "If you go out there and take your opponent lightly, you end up playing to their level. You have to be up every week.
"It doesn't matter who's run­ning the ball in there. You put someone better in there and we'll hit 'em. It doesn't matter who we play."
Senior Kevin Buckland re­turned his third punt for a touchdown this season when he went 71 yards in the third quar­ter as Massillon pushed the score to 49‑0 after Randy En­dsley's PAT.
"We looked real good at times. Buckland did a good job returning the punt and I thought (quarterback Mike) Danzy ran the offense well," Rose said. "But in order for us to win next week, we'll have to play much better."
It may be difficult for the Ti­ger defense to play any better. Regardless of the opponents, Massillon hasn't allowed a team to hit the end zone since Austintown Fitch.
"I think it's a combination of a lot of things," explained Payne. "I think the line is get­ting in there and we're swarm­ing on defense. Everybody is getting to the ball and it doesn't matter who gets there, because we're all strong. Anyone of us will hit you. And I think coach (Tim) Wolf is doing a good job calling the plays."
Payne helped set up one of Massillon's scores in the third quarter. With a stunt on, Payne hit Rayen quarterback Hilles Jefferies just after the snap.
"I shot the B‑gap and when I hit him the ball was out there," Payne said. "I knocked it loose with my left hand and I tried to recover it."
Senior linebacker Ian McClaskey did the honors for Payne. McClaskey pounced on the pigskin at the Rayen 6. Dan­zy went in untouched the follow­ing play giving Massillon a 42‑0 lead after Nick Pribich's PAT.
Massillon's high‑powered offense has outscored its oppo­nents 123‑3 in the last two games. Against Rayen, the Tigers chalked up 383 total yards. Danzy and junior tailback Leon Ashcraft led the ground game with 72 yards rushing each. Danzy completed 3‑of‑8 passes for 70 yards as well.
"I'm starting to feel more comfortable back there," said Danzy, who checked off twice at the line of scrimmage with both leading to touchdowns. "When they slid up in a Bear (defense), I checked off to the option. That gives us the outside and we can attack the perimeter."
Just before halftime, the 5­foot‑8, 164‑pound Danzy worked the Tigers out of a jam. With 16 seconds left in the half and Mas­sillon facing a fourth‑and‑12 from the Rayen 18, Danzy checked off to the option. He carried the ball to the 10‑yard line before pitching the pigskin to senior Ali Dixon. Dixon went in from the 10 untouched.
"That play is designed to ­work like that," Danzy said. "I'm supposed to carry the ball to the pitch key (Rayen's out­side linebacker) and pitch it. That was there tonight when they went to the Bear look."
While Rayen was forced to punt every possession that didn't end in a turnover, Massil­lon had little trouble scoring. The Tigers fine‑tuned engine roared early and often.
On the first possession, Mas­sillon traveled 48 yards in eight plays with Ashcraft doing most of the work. He carried six times for 37 yards including the first TD of the game, a 2‑yard plunge. The score was set up on a 19‑yard run by Ashcraft on a trap play to get Massillon inside the 10. Tackle Mike Miller and center Mitch Colly opened a hole large enough to drive a truck through.
Less than three minutes latter, Massillon struck again. Danzy hit Lonnie Simpson on an out‑and‑up route for a 53‑yard scoring strike. Simpson bent down to catch the ball, kept his balance and still outran the Rayen defense the last 40 yards to the end zone.
"It was an out and up, and I kind of under threw the ball to Lonnie a little," Danzy said. "He made a nice catch and flew down the sideline."
After Rayen put together its longest drive of the night (nine plays before punting), Massil­lon hit paydirt again. Danzy capped a 9‑play, 51‑yard drive when he took a play‑action boot­leg into the left corner of the end zone.
"Mike, I thought, made some real nice reads out there tonight," Rose said. "The line did a good job opening holes and we got a lot of people in there."
Already up 28‑0, Tigers put the game out of reach on the first drive of the second half. Danzy converted an option keeper into a 34‑yard scamper setting Massillon up on Rayen's 21. Two plays later, Danzy went in from 13 yards out, making three Youngstown defenders miss along the way.
"The thing with our offense is, everybody contributes," Danzy said. "On that play, Isaiah Jackson had a nice' block.
Surprisingly, Rayen head coach John Protopapa wasn't upset with his team's play
.
"This is one good football team we played tonight," Pro­topapa said. "I think Massillon will match up well with whoev­er it plays. They have a very talented team and Danzy is a great one. They can do a lot this year. "
Akron St.‑Vincent St. Mary is next for the Tigers.
MASSILLON 62
RAYEN 0
M R
First downs rushing 14 4
First downs passing 1 0
First downs penalty 0 0
Total first downs 15 4
Net yards rushing 313 63
Net yards passing 70 11
Total yards gained 383 74
Passes attempted 8 5
Passes completed 3 2
Passes int. by 1 0
Times kicked off 10 1
Kickoff average 45.0 49.0
Kickoff return yards 30 94
Punts 0 7
Punting average 29.6
Punt return yards 115 0
Fumbles 1 2
Fumbles lost 1 1
Penalties 3 5
Yards penalized 45 49
Number of plays 52 37
Time of possession 23:35 24:25
Attendance 10,021
RAYEN 0 0 0 0 0
MASSILLON 14 14 28 6 62
FIRST QUARTER
M ‑ Ashcraft 2 run (kick failed)
M ‑ Simpson 53 pass from Danzy (Danzy run)
SECOND QUARTER
M ‑ Danzy 10 run (Pribich kick)
M ‑ Dixon 10 run (Pribich kick)
THIRD QUARTER
M ‑ Danzy 13 run (Pribich kick)
M ‑ Danzy 5 run (Pribich kick)
M ‑ Buckland 71 punt return (Endsley kick)
M ‑ Herring 6 run (Endsley kick)
FOURTH QUARTER
M ‑ Spencer 11 run (kick failed)
RUSHING
Massillon
Danzy 7‑72, 3 TDs;
Ashcraft 10‑72, 1 TD;
Dixon 5‑47, 1 TD;
Herring 5‑36, 1 TD;
Paul 6‑31;
Lewis 6‑18;
Spencer 1‑11, 1 TD;
Simpson 1‑7;
Arney 1‑5;
Fenton 1‑1.
Rayen
Jennings 10‑52,
Johnson 8‑12.
PASSING
Massillon
Danzy 3‑8‑70, 1 TD.
Rayen
Jefferies 2‑4‑11‑1,
Jones 0‑1‑0.
RECEIVING
Massillon
Simpson 2‑55, 1 TD,
Griffith 1‑15.
Rayen
Donaldson 1‑3,
Wilson 1‑8.
It's not easy for Tigers
In the wake of Friday's 62‑0 trouncing of Youngstown Rayen, Massillon Tiger head coach Jack Rose isn't about to let his team let up or give up.
It wouldn't be hard for the Tigers to get that non-chalant attitude about winning. Considering, the last two weeks, Massillon has scored more points on the football field than some high school basket­ball teams score on the hard­woods, it would be easy to start taking teams lightly.
"Akron St. Vincent‑St. Mary is a much‑improved football team since the start of the season," Rose said. "They al­ways play us tough and this is a good rivalry."
After John Cistone's Irish invade Paul Brown Tiger Sta­dium next week, Massillon hosts yet another Young­stown team hampered by the teachers' strike in Young­stown East, a 21‑15 winner over LaBrae.
The Tigers then play McKinley in what is always a ‑ pardon the pun ‑ dogfight. Both Massillon and McKinley could have a great deal at stake in the final week.
"It's definitely not easy," Rose said.