Tigers whip past Westerville South
By JOE SHAHEEN
Independent Sports Editor
It took the Massillon about a quarter of football to get their bearings but once they got rolling it was no contest as the Tigers scored three times in a span of five minutes in the first half on their way to a 41‑7 demolition of Westerville South, in front of 11,165 fans Friday at Paul Brown Tiger Stadium.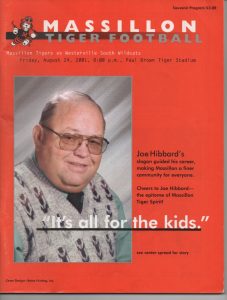 The vaunted Massillon passing attack fizzled early, misfiring on five of' its first six throws. But a slick 16‑yard punt return by junior Craig McConnell seemed to spark Massillon in the latter stages of the first quarter.
Taking over at midfield and trailing 7‑0, the Tigers began their first scoring drive of the 2001 season.
It wasn't a sustained drive by any means. Justin Zwick completed a swing pass to tailback Robert Oliver for nine yards to the Westerville 42, then rolled to his right and nailed Devin Jordan for a 19 yard completion to the 23.
Zwick then rolled left and found junior wideout Stephon Asheraft all alone in the left corner of the end zone for a 23‑yard touchdown. David Abdul hit the point after and it was a 7‑7 game at 1:26 of the first quarter.
Massillon got two huge defensive plays from two sophomores on Westerville South's ensuing possession to give the Tigers momentum that they kept the rest of the evening.
Inside linebacker Brock Hymes stopped Westerville's Anthony Gordon with a fine open field tackle after a four‑yard pass completion on a third‑and‑six play, forcing the Wildcats into an apparent punting situation.
Then, on a fake punt, Tiger safety Michael White crunched intended receiver Tom Coleman just as the ball arrived, jarring it loose for an incompletion to give Massillon the ball on downs at the visitors' 28‑yard line. Coleman got up after about a minute on his back, and walked slowly to the sideline, trying to shake the cobwebs.
"What a hit!" Shepas said. "I think that changed the momentum of the game. From that point on it seemed every hit we made that was big, it seemed to hurt them a little bit.
"Michael White is an outstanding young player with great speed. He's a hell of a player. He's going to be around for a long time."
Following the change of possession, Massillon went for the jugular. A 23‑yard Zwick to Ashcraft completion along the left sideline moved the ball to the Westerville 5. Two plays later Oliver swept around right end for six. Abdul's PAT made it 14‑7 Massillon at 11:23 of the second quarter.
Westerville managed two first downs on its ensuing possession but was forced to punt the ball from near midfield.
White fielded the punt for the Tigers at the 40 and found a seam along the right sideline to midfield. White then turned on the jets, cutting back across the field and sprinting all the way to the 8‑yard line before being brought down by the punter.
Two snaps later, Zwick rolled right and dove into the end zone. Abdul's kick was true and Massillon now owned a 21‑7 lead.
The two teams exchanged fumbles midway through the second quarter before Massillon began its fourth scoring drive at midfield.
Zwick got the drive started with an eight‑yard completion to Joe Jovingo and a roughing the quarterback penalty moved the ball to the Westerville 27.
Two plays later Zwick rolled right and hooked up with Jovingo in the right corner of the end zone for a 24‑yard scoring pass. Abdul's kick made it 28‑7.
The senior place kicker wrapped up the first half scoring with a 28‑yard field goal as time expired.
Massillon's defense dominated the second half of play. Westerville's Teter was sacked on consecutive plays early in the third quarter by Humes and Keith Wade, while Gordon ‑ a 1,000‑yard rusher a year ago as a sophomore ‑ could find absolutely no daylight running between the tackles.
He finished with just 12 yards rushing in 17 carries.
"We came out a little too pumped up and Westerville moved the ball in the first half by doing a nice job of mixing it up," Shepas said. "We really didn't have a lot to work with as far as what they were doing.
Wasn't a lot they could come back to in the third and fourth."
Oliver keyed the Tigers final touchdown drive of the evening, carrying the football three times for a total of 47 yards, including a 12‑yard burst over right tackle for the touchdown.
Abdul closed the scoring with a 51‑yard field goal.
"I was disappointed in our line up front and in how sluggish we played in the second half," Shepas said. But not with the final outcome.
MASSILLON 41
WESTERVILLE SOUTH 7
M WS
First downs rushing 3 5
First downs passing 7 5
First downs by penalty 1 3
TOTAL first downs 11 13
Net yards rushing 89 116
Net yards passing 181 130
TOTAL yards 270 246
Passes attempted 29 25
Passes completed 13 14
Passes intercepted 2 3
Punts 5 5
Punting average 32.2 31.2
Fumbles/Lost 3/2 1/1
Penalties 11 7
Yards penalized 126 59
MASSILLON 7 24 0 10 41
SOUTH 7 0 0 0 7
SCORING
S ‑ Powers 9 pass from Teter (Slomovitz kick)
M ‑ Ashcraft 23 pass from Zwick (Abdul kick)
M ‑Oliver 5 run (Abdul kick)
M ‑ Zwick 7 run (Abdul kick)
M ‑ Jovingo 24 pass from Zwick (Abdul kick)
M ‑Abdul 28 field goal
M ‑ Oliver 12 run (Abdul kick)
M ‑ Abdul 51 field goal
INDIVIDUAL STATISTICS
Massillon rushing: Oliver 14‑64, Johnson 3‑16, Zwick 3‑8.
Westerville South rushing: Gordon 17‑12
Massillon passing: Zwick 13‑29‑181 2 TDs, 2 INTs.
Westerville South passing: Teter 13‑24‑100 1 TD, 3 INTs.
Massillon receiving: Jordan 4‑76, Jovingo 3‑38, Ashcraft 2‑47, Oliver 2‑12, Williams 2‑8.
Westerville South receiving: Powers 6‑40 Walker 5‑49, Odom 2‑36.