Tigers rip Fitch
Massillon scores on first play of game and doesn't look back
By JOE SHAHEEN
Independent Sports Editor
When the Austintown Fitch Falcons were tardy coming out of the locker room for the opening kickoff against Massillon Friday night, some wise guy in the press box cracked the visitors weren't interested in taking on the undefeated Tigers.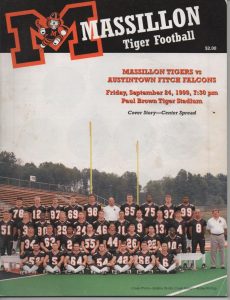 While Fitch showed plenty of enthusiasm on the field, the Falcons surrendered a 58‑yard touchdown to Massillon on the Tigers first play from scrimmage and were never in the game, falling 41‑7 in front of 7,977 fans at Paul Brown Tiger Stadium.
It got so bad that Fitch attempted a 65‑yard field goal with three seconds remaining on the first half, apparently looking for a moral victor despite a 34‑0 deficit at the time. The kick was well short.
It was apparent early this one would be no contest. After Jesse Scott returned the opening kickoff to the Tiger 41, Massillon quarterback Dave Irwin hit mighty mite Jesse Robinson in stride at the Fitch 35. Robinson skirted the left sideline untouched into the end zone. Brett Marshall's conversion kick made it 7‑0 Massillon at 11:42 of the first quarter.
"Fitch practiced extra long for us this week, so we wanted to come out hit them quick and let them know this is our house," said Robinson. "Their strong side linebacker and strong safety blitz a lot so we wanted to hit them off the corner and it was there really early."
Robinson (5‑5, 141) has now caught six passes on the season for 246 yards and three touchdowns. He's averaging an amazing 41 yards per catch.
"Jesse is fast and he's hard to find too," said Tigers coach Rick Shepas. "He's a tremendous athlete. We're happy for him because he had such a great off season. This makes it all worth it."
Shepas acknowledged the game plan called for the Tigers to go for the throat early.
"We haven't had a big offensive game in the first half since the Buchtel game, so that was our intention," Shepas said. "We simplified our blocking schemes up front so we wanted to come out and get into the end zone."
Fitch went three‑and‑out on its initial possession and was forced to punt. Sam Young gave the Tigers superb field position when he returned the Falcon punt 44 yards to the Fitch 28.
"We got some good punt returns in the first half to give us good field position early," Shepas noted. "We were able to capitalize on that."
And how! After the long return, Scott picked up 14 yards on a carry around the right side on first down and Perry James tacked on 11 more to set up first‑and‑goal from the three‑yard line. Scott did the honors, spurting off left tackle for the touchdown at the 8:56 mark of the first quarter. Marshall's kick made it 14‑0 Tigers.
"We wanted to hit them early and put them away," Scott said. "We're always waiting until the fourth quarter to get into the game so it was about time we stopped doing that."
Fitch's interception interrupted the Massillon rout monientary but the Tigers got back in synch on their next possession, which began at their own 20. Scott battled for 12 yards up the middle on first down, and Irwin found Dave Bumgarner with a short pass in the right flat that picked up 21 more.
Then, from near midfield, Scott bucked into the line, broke to the left sideline and was off and running for a 36 yard pickup.
Two plays later, James went over his left guard from three yards out for the touchdown at 11:56 of the second quarter. Marshall again tacked on the PAT and it was 21‑0 with most of the second quarter remaining.
A Fitch fumble gave the Tigers possession at their own 45 and on first down Irwin dropped back to pass. He stood in the pocket long enough to count the house as the Massillon line afforded him all the protection he needed. Finally, the senior tri‑captain found Joe Price open at the Fitch 25. Price snagged the aerial then picked his way through the secondary and into the end zone for the touchdown, a 55 yard pass and run to make it 27‑0.
Jason Jarvis closed the first half scoring for Massillon with less than a minute until the band show. The senior safety picked off a Fitch pass and raced 52 yards to pay dirt. Marshall nailed the PAT and it was a 34‑0 contest in the half.
Massillon added only one touchdown in the second half but it was of a spectacular nature. On an innocent looking second-and‑eight play from the Tiger 27, Irwin handed the ball to Scott. The senior speedster found a seam in the Fitch defense and was off to the races.
Seventy‑three yards later he crossed the goal line to close the scoring at 8:01 of the fourth quarter. "We can always do better but we had a good game," Scott said. "We feel we can beat anyone we play."
Scott finished the game with 126 yards and two touchdowns on just six totes as the Tigers rolled up 261 yards rushing. Massillon ‑ now 5‑0 – finished with a 424‑208 edge in total yardage but amazingly lost the time‑of‑possession battle 31:04 ‑ 16:56.
Fitch, which fell to 1‑4, averaged just 2.9 yards per play on first down and had three turnovers.
MASSILLON 41
FITCH 7
M F
First downs rushing 10 12
First downs passing 5 1
First downs by penalty 0 3
TOTAL first downs 15 16
Net yards rushing 242 181
Net yards passing 182 27
TOTAL yards 424 208
Passes attempted 12 9
Passes completed 7 2
Passes intercepted 2 1
Punts 2 5
Punting average 22 35
Fumbles/Lost 3/0 2/2
Penalties 7 3
MASSILLON 14 20 00 07 41
FITCH 00 00 00 07 07
SCORING
M ‑ Robinson 58 pass from Irwin (Marshall kick)
M ‑ Scott 2 run (Marshall kick)
M ‑ James 3 run (Marshall kidk)
M – Price 55 pass from Irwin (Kick failed)
M ‑ Jarvis 52 interception return (Marshall kick)
F ‑ Wilson 1 run (Stewart kick)
M ‑ Scott 73 run (Marshall kick)
INDIVIDUAL STATISTICS
Massillon rushing: Scott 6‑126, Bumgarner 4‑42, Smith 4‑26, James 6‑23, Robinson 1‑16.
Fitch rushing: Sudetic 20‑82, Wilson 11‑42.
Massillon passing: Irwin 7‑12‑182, 2 TDs, 2 INTs.
Fitch passing: Burnich 2‑9‑27 1 INT.
Massillon receiving: Price 3‑79, Bumgarner 2‑39, Robinson 1‑58.
Fitch receiving: Sudetic 2‑27.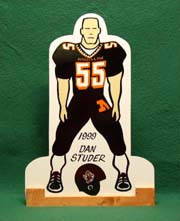 Dan Studer