Tigers give Harding hard time
Most points vs. Warren since '40 in 56‑14 rout
By STEVE DOERSCHUK
Independent Sports Editor
On the field, Jason Stafford lines up in front of Jerome Myricks.
In the interview room after the Massillon Tigers' 56‑14 walloping of Warren Harding Friday night be­fore 7,745 in Paul Brown Tiger Sta­dium, Myricks took the seat in front of Stafford.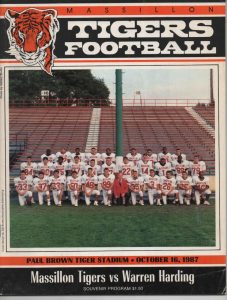 Neither took a back seat to the other in the game. They were co-­pilots on the same flying carpet.
Fullback Stafford rushed nine times for 115 yards and caught a pair of Erik White passes for 30 ~yards. Tailback Myricks motored 107 yards in 15 rushes and reeled in two passes for 41 yards.
That gave Myricks, a senior, 148 yards on the night to 145 for Staf­ford, a junior. The numbers helped the Tigers improve to 6‑1 and sink Warren to 4‑3.
"It's about time," Myricks said, rolling his eyes backward to Stafford. "It's about time he ran the way I knew he could. He's a good back. I knew it all along. Tonight, it showed. "
Stafford agreed, saying, "Like the man said, it's about time. I made my mind up right before the game. I told myself, tonight, I've got to do it."
He did it all right. Using good blocks and great speed ‑ a Tiger coach put him at 4.5 over 40 yards; Stafford set the figure at 4.53 ‑ he exploded for runs of 28, 29 and 30 yards, the latter carry going for a touchdown that blew open a 41‑14 lead in the third quarter.
The program puts Stafford at 5 feet, 10 inches, 182 pounds. On pap­er, that's small for a fullback … ex­cept Stafford says he weighs 168 pounds.
Stafford lost his entire sophomore season to ineligibility. Before that, he always played tailback.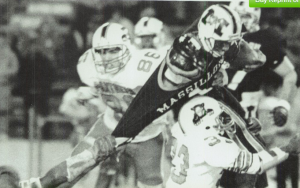 In the Southern Cal tradition of paying one's dues as an underclass­man fullback before becoming the main man at tailback as a senior, Stafford has learned to be a lead blocker for Myricks (who now has 798 yards in 117 rushes) this au­tumn.
"I don't mind it at all … it's just as fun," Stafford said.
The game got to be tons of fun for the Tigers, but only after they over­came an early 7‑0 deficit and later broke away from a 21‑14 halftime lead.
Two things happened in the second half. The Tiger defense, bruised for 206 yards in the first half, gave up only 78 more yards. And the Massillon offense, which. warmed up with 191 yards in the first half, went stir crazy in the second, tacking on 270 more yards for a whopping 461 total.
"We talked at halftime only of getting back down to the basics, in­stead of trying to make a big play on every down," Massillon head coach John Maronto said. "The defense got after them a little bit more in the second half. And you saw what the offense did."
It did whatever it wanted.
"That's one of the better offenses I've seen," said Warren head coach Frank Thomas, a former Harding player who spent the middle 1970s as an assistant coach at Massillon. "We fumbled the ball away five times. We emphasized all week to our kids that we couldn't play a powerhouse team like Massillon, with the offense they have, and turn the ball over.
"They have four or five people who can get their hands on the ball and score six points in eight seconds. Plus, they have that offen­sive line. That line is awesome."
"There was absolutely no doubt in my mind we were going to come back," Miller said emphatically.
Miller's confidence was quickly substantiated when Steve Siegen­thaler returned a squib kick 31 yards to the Tiger 46‑yard line. White, the 6‑1/2 senior quarter­back, went‑for‑it all on first down, barely missing Gerald Pope on a bomb. But split end Craig York caught a pass on second down and made some nifty moves for an 18­yard gain. From there, Myricks and Stafford ran the ball to the 2, from where Vernon Riley ‑ the Ti­gers "big" fullback and regular nose guard ‑ rammed it in straight up the middle. Lee Hurst's kick made it 7‑7 at the 4:34 mark of the first quarter.
Warren was driving again early in the second quarter. But the tide turned when Baugh was popped by Bob Dunwiddie at the end of a 13­yard gain to the 30 and fumbled away the ball. On the next two plays, Stafford turned on the bur­ners for gains of 28 and 29 yards. A clipping penalty sent the ball back to the 31, but White found Mark Kes­ter for a 15‑yard gain to the 16, and then drilled a pass to York at the 10. York put two of the prettiest fakes of the season on a pair of Warren defenders and turned the play into, a 16‑yard touchdown. Hurst's kick made it 14‑7 with 5:05 left in the half.
Thirty‑four seconds later, the Ti­gers scored again.
Miller exploded out of his inside linebacker spot to put a ferocious hit on Warren tailback Mike Hall. The ball hit the ground. "I saw it coming," said Myricks, who scooped it up on the dead run and sprinted 22 yards into the end zone. Hurst's kick made it 21‑7, but War­ren was not finished.
After setting up on their own 35 after the ensuing kickoff, the Panthers drove 65 yards in 10 plays, With Hall covering the final 7 yards ‑Jones' kick made it 21‑14 with 1: 25 left, and that became the halftime score. ‑
After that, it was all Massillon.
On the first possession of the second half, the Tigers drove 65 yards in seven plays. The capper was Myricks' 11‑yard TD run on a pitch right. Myricks rushed for 48 yards on the drive. Hurst's kick made it 28‑14 with 8:44 left in the third quarter.
Marko Miller, who had to leave the game in the first half after aggravating a foot injury, gained 18 yards on two carries after the kick‑off. But his second carry ended in a fumble recovered by Bullock at the Warren 37. A 15‑yard pass to Staf­ford and two 11‑yard runs by Myricks put the ball in the end zone. Hurst's kick made it 35‑14 with 6:21 left in period three.
Warren's next possession ended on the third play with an intercep­tion by Kester at the Harding 34. Stafford ran 4 yards to the 30 and on the next play rocketed over the right side for a 30‑yard touchdown run. Hurst's kick made it 41‑14 with 3:59 left in the third frame.
Then it was razzle dazzle time. After the Tigers got the ball at their own 9 on a punt and punched it to their own 43 on first down, Hurst, the backup quarterback, came in and lined up as a receiver. White threw a sideline pass to Hurst that was actually a lateral, since Hurst was behind White when he caught the ball. Hurst then looked upfield and delivered a bomb to flanker Wrentie Martin, who easily got be­hind the coverage, caught the ball, and danced into the end zone on a 57‑yard completion. Hurst's kick made it 49‑14 with 9:45 left in the game.
Fullback David Ledwell, who rushed 4 times for 25 yards, blasted in from 2 yards out at the 5: 42 mark. Senior Chris Smith got into the books with the point‑after kick.
The 56 points were the most Mas­sillon scored against Warren since 1940, when the Tigers won 59‑0.
White wound up with eight com­pletions in 16 attempts for 136 yards. Waite completed 18 of 31 pas­ses for 173 yards.
Miller, whose foot injury kept him from manning the defensive end spot from which he has played so well this year, wound up with 60 yards in nine carries. Baugh had a big day, catching 10 passes for 135 yards.
Next up for the Tigers is Cleve­land St. Joseph, which will play in Euclid High's Stadium tonight against Cleveland St. Ignatius.
St. Joseph is 6‑0 and ranked second in Ohio. You might say next Saturday's affair will be a big game.
"I'm glad to get this one out of the way," Maronto said of the Warren game.
Cautioned the quarterback, White, "We can't get carried away by what we did tonight. There's a big one coming up."
MASSILLON 56
WARREN 14
M W
First downs rushing 15 8
First downs passing 7 9
First downs by penalty 0 0
Totals first down 22 17
Yards gained rushing 270 116
Yards lost rushing 2 5
Net yards rushing 268 111
Net yards passing 193 173
Total yards gained 461 284
Passes attempted 17 31
Passes completed 9 18
Passes int. by 2 1
Times kicked off 9 3
Kickoff average 55.8 45.7
Kickoff return yards 73 157
Punts 1 1
Punting average 44.0 42.0
Punt return yards 0 0
Fumbles 1 5
Fumbles lost 1 5
Penalties 7 7
Yards penalized 58 40
Number of plays 53 56
Time of possession 23:44 24:16
WARREN 7 7 0 0 14
MASSILLON 7 14 21 14 56
W ‑ Miller 20 run (Jones kick)
M ‑ Riley 2 run (Hurst kick)
M ‑ York 16 pass from White (Hurst kick]
M ‑ Myricks 22 tumble return (Hurst kick
W ‑ Hall 7 run (Jones kick)
M ‑ Myricks 15 run (Hurst kick)
M ‑ Stafford 30 run (Hurst kick)
M ‑ Marlin 57 pass from Hurst (Hurst kick
M ‑ Ledwell 2 run (Smith kick)
Halftime talk
Propels Tigers
By CHRIS TOMASSON
Repository sports writer
MASSILLON ‑ At halftime Fri­day night, the Massillon locker room was not a place for feeble folks.
The heavily favored Tigers were defeating Warren Harding only 21‑14, and they had been out gained 206‑191 yards. So Massillon coach John Maronto gave his players' eardrums a workout.
"He really let us have it," said Massillon tailback Jason Stafford. "We weren't used to be yelled at like that."
Apparently it worked, as the Tigers came out in an utter frenzy and humbled the Panthers 35‑0 in the second half en route to a 56‑14 win.
"I told them at halftime that I wanted them to go back to basic ball," Maronto said. "We had to set some sort of tempo for the game. "
Massillon (6‑1) had thrown the ball 11 times in the first half, but in the second half the Tigers only put it up six times. The Tigers turned to good old Massillon football, han­ding the ball off on nearly every play to Stafford or Jerome Myricks.
In the second half, Myricks rushed for 79 of his 107 yards and scored two touchdowns. And Staf­ford had 45 of his 115 yards rushing and scored a touchdown.
While Myricks and Stafford may have run wild, the Panthers (4‑3) made it as easy for them. For the game, Harding turned the ball over seven times, leading to 35 Massillon points.
The Panthers, who were once ranked No. 9 in the state in Div­ision 1, are becoming quite skilled at turning the ball over. Last week, they also lost the ball seven times in a 16‑6 loss to Niles McKinley.
"You can't make those kind of mistakes against a powerhouse football team," said Harding coach Frankie Thomas. "We'd fumble the ball and it seemed like eight seconds later they'd be in the end zone. "
You think Thomas was exag­gerating? Late in the second quar­ter with Massillon up 14‑7, Massil­lon defensive back Steve Siegen­thaler smashed Harding's Mike Hall, and the ball squirted out. Myricks, playing defensive back, scooped it off the turf and sprinted 22 yards into the end zone before the average fan had time to swallow a kernel of popcorn.
And that was the only reason Massillon even led at the half be­cause the Panthers added a touchdown late in the second quar­ter.
Warren Harding might have made the game more interesting had it not' lost its star running back, Marko Miller, in the late in the first quarter with a possible broken toe. Miller gained 46 yards on seven carries before he was carried off the field.
Despite intense pain, Miller returned to the game in the second half, carrying two times for 14 yards. But after he fumbled and Massillon drove for its fifth touchdown, he was given the rest of the night off.
Massillon didn't have to go very far for its second‑half touchdowns. After Harding turnovers. three of the seven came on drives of less than 40 yards. But the Tigers did put together a nifty 92‑yard march ear­ly in the fourth quarter that gave them a 49‑14 lead.
And the usually conservative Maronto capped off the drive with reward for the fans who stayed throughout the massacre. Quar­terback Erik Martin threw a pass, behind the line of scrimmage to Lee Hurst, the backup quarterback, who flung the ball downfield. to a wide‑open Wrentie Martin to complete a.74‑yard TD bomb.
Massillon finished with 461 yards total offense to 284 for the Panthers. But the Panthers had only 78 yards. In the second half.