Massillon mauls McK in 2nd half
Tigers' Black Swarm defense gives attack chance to awaken
By JOE SHAHEEN
Independent Sports Editor
The Massillon Tigers, the ultimate second half team throughout the 1999 high school football season, did it again on Saturday by thrashing arch‑rival McKinley 35‑7 with a four‑touchdown outburst after the band show that had Bulldog fans exiting Hall of Fame Field at Fawcett Stadium with over 11 minutes left to play.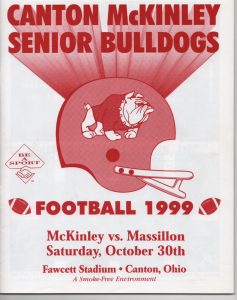 Massillon snapped McKinley's five‑game winning streak in this storied series and at the same time put the final touches on a 10‑0 regular season, the Tigers' first since 1982. The Orange‑and‑Black will be back in action this coming Saturday with a first‑round Division I playoff game at Paul Brown Tiger Stadium, probably against Perry.
The Tigers first possession of the second half set the tone for the final 24 minutes. Massillon marched 74 yards in 14 plays to break a 7‑7 halftime tie. Quarterback Dave Irwin, who was woozy at‑the-end of the first half after absorbing a big hit from the McKinley defense, got the drive going by hitting tightend Charles Hendricks for 11 yards over the middle for a first down at the Massillon 40.
After converting a fourth‑and‑inches with a sneak up the middle, Irwin looked to Ellery Moore but the pass fell incomplete. However, a personal foul penalty against McKinley for taunting on the play gave the Tigers a first down at the Pups' 26.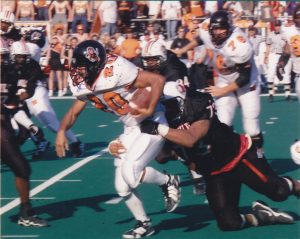 Three plays later, on second‑and‑eight from the 12, Irwin looked off the McKinley defense then dropped a pass into the arms of fullback Jon Stanke, who carried it into the right corner of the end zone for six. Brett Marshall's PAT made it 14‑7 Massillon at 5:21 of the third.
"We just put that play in," Irwin revealed. "We put Ellery in to decoy them. I told Stanke they were going to jump Ellery, so keep looking for the ball and don't turn away. "I delayed, looking off to Ellery. I had to put a touch pass over the top. Jon made a great catch and a great run to the end zone."
While that score wobbled McKinley, the next series of events KO'd the Bulldogs. Massillon kicked off and the Pups' kick returner coughed the ball up after a 20‑yard run back. Tigers senior Dusty Wilbur came up with the loose ball and momentum was swinging Massillon's way.
Irwin picked up five yards on a first‑down bootleg keeper around right end. Then Jessie Scott swept left end for 14 more to the McKinley 11.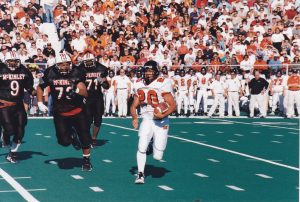 After a first down run gained just a yard, Irwin dropped back and looked to his right. The senior tri‑captain stood in the pocket for what seemed like an eternity, looking to his right. Finally, Irwin turned left and found tight end Jeremiah Drobney wide open for a 10‑yard scoring pass. Marshall's PAT made it 21‑7 Tigers with 4:13 left in the third.
McKinley moved the football on its next possession but turned it over on a second‑and‑ten fumble at its own 45. Tiger linebacker Dan Studer hammered the Bulldogs quarterback, who lost the football. Moore, who also had penetrated the pocket, was right there for the recovery.
The Tigers then moved in for the kill. On third‑and‑23 from the McKinley 39, Irwin tossed the football laterally to Anthony Battle, who had lined up as a tailback. Battle rolled right, wound up and hit a wide open Rocky Dorsey along the right sideline at the 5. The senior wideout strolled into the end zone and the rout was on with 11:53 to play. Marshall's extra point made it 28‑7 Massillon.
The Tigers added a final touchdown on a 36‑yard Irwin‑to‑Jessie Robinson bomb with 4:15 to play. It was Irwin's 20th touchdown pass of the season, a new Massillon Tiger record.
"It feels real good," Irwin said afterward. "We battled back. Our defense came out and played tough all day long. That's why they call them the Black Swarm. You could see it. They just swarmed to the football all daylong."
Irwin nearly didn't get a chance to enjoy the Tigers' 10th straight victory. "I got hit real hard there in the second quarter and I forgot every play we ran in the first half," he revealed. "I didn't know if I was going to make it back. But I just had to suck it up and come back a little bit."
Moore confirmed the Tigers victory over their long‑time rivals was a long time in coming, five years to be exact. "When we play this well we can't be beat," Moore proclaimed. "McKinley didn't touch the end zone on nothing. The defense shut them out. The offense put it together in the second half and we're going to the playoffs.
"We knew we were going to come out and play hard and if they folded the tent like they did we were going to capitalize on it like we have all year."
Senior linebacker Dan' Studer, who was in on seven tackles to lead the Tigers, is another who has endured McKinley's recent domination of this series. He wasn't worried at halftime, despite the offense's turnover woes.
"There wasn't a doubt in my mind after the first half," Studer said. "If the offense is down the defense steps up. If the defense is down, the offense steps up. That's just typical of the unity on this team."
Shepas also tipped his hat to the defense.
"Our defense did a great job from the outset and that's what told the story today," the coach said as he held one of his daughters on his shoulders. "Hats off to our defense, to coach (Mike) Babics and the defensive staff and all the defensive players who stepped up to make this happen.
"Our kids were mad at themselves at halftime about the turnovers and that we didn't score points. So we came out in the third quarter and controlled the line of scrimmage, threw some high percentage passes and got it into the end zone. We wanted to get up on them by two touchdowns and we were able to that. That changed the game."
Seth Stefanko, who battled back from a serious knee sprain in Week Four to start on the Tiger offensive line, sat in the locker room afterward and just soaked in the emotional scene.
"It's been a matter of a lot of hard work and dedication from the whole team that helped get me back," Stefanko said. "I knew I couldn't miss this game. I knew I had to come back. This is great. This is fun."
Stefanko pointed to the Tigers two‑platoon system as the reason for their ultimate success .
The first half our main thing was to wear them down, which we did," he said. "The second half they were done. They were wore down and our big players made the plays we needed to go out on top.
The first half was a comedy of errors, though no one on the Tiger sideline was laughing. Massillon turned the ball over to McKinley five times, four on interceptions.
McKinley couldn't take advantage of all of the Tiger generosity. The Bulldogs had just 76 total yards in the first half and were 0 for 6 on third down conversions.
The Tigers moved from their own 31 to the McKinley 27 on six plays on their initial possession of the game. But Bulldogs cornerback Andre Hooks stepped in front of the Massillon wideout Rocky Dorsey, who was running a deep post pattern, for a pickoff at the two‑yard line.
Four plays later, Steve Eyerman got the ball back for the Tigers and then some, intercepting Pups QB Ben Palumbo after Massillon cornerback Sam Young careened into intended receiver Marcus Quincy along the sideline.
Palumbo's pass deflected into the air, Eyerman snagged it and ran down the sideline 30 yards to pay dirt. Brett Marshall's kick was good and the Tigers led 7‑0 with 5:06 to play in the first quarter.
The Bulldogs next possession ended at the Massillon 29 after a fake punt failed to gain a first down.
On first‑and‑10 at that Point, the Tigers attempted a shovel pass. McKinley's Preston Chevers smelled the play out, grabbed the pass and rumbled 25 yards to the end zone to put the Bulldogs on the scoreboard at 10:13 of the second quarter. Matt Prendes added the PAT and it was a 7‑7 ballgame.
Massillon 35, McKinley 7
Massillon 7 0 14 14 35
McKinley 0 7 0 0 7
First Quarter
Mass ‑ Eyerman 29 interception return (Marshall kick), 5:06
Second Quarter
McK ‑ Chavers 25 interception return (Prendes kick), 10:13
Third Quarter
Mass ‑ Stanke 12 pass from Irwin (Marshall kick), 5:21
Mass ‑ Drobney 10 pass from Irwin (Marshall kick), 4:13
Fourth Quarter
Mass – Dorsey 39 pass from Baffle (Marshall kick), 11:53
Mass – J. Robinson 35 pass from Irwin (Marshall kick), 4:15
Attendance ‑ 23,987
Mass McK
First downs 20 12
Rushes‑yards 36‑180 40‑184
Passing 169 33
Comp-Att-Int 13‑23‑4 4‑15‑2
Return Yards 62 75
Punts‑Avg. 1‑30 4‑41
Fumbles‑Lost 4‑2 3‑2
Penalties‑Yards 7‑47 2‑30
Time of Possession 23:44 24:16
INDIVIDUAL STATISTICS
RUSHING
Massillon: Scott 13‑93, James 11‑51, J.Robinson 1‑17, Irwin 6‑14, Stanke 3‑6, Marshall 2‑(minus 1).
McKinley: Daniels 6‑58, Quincy 12‑51, D.Robinson 6‑39, A. Abdul‑Zahir 4‑19 Gilmer 5‑14, H. Abdul‑Zahir 1‑10, Anderson 1‑2, Maragas 1‑1, Palumbo 5‑(minus 10).
PASSING
Massillon: Irwin 12‑21‑3‑130, Battle 1‑1‑0‑39, Marshall 0‑1‑1-0
McKinley: Palumbo 2‑9‑1‑20, Daniels 2‑6‑1‑13.
RECEIVING
Massillon: Dorsey 5‑81, Price 4‑20, Hendricks 1‑11 Stanke 1‑12, Drobney 1‑10, J. Robinson 1‑35.
McKinley: Geiselman 3‑21, Quincy 1‑12.
SCORING SUMMARY
McK = McKinley territory
Ma = Massillon territory
MASSILLON: McKinley quarterback Ben Palumbo throws from inside his own 10 to Marcus Quincy down the right sideline. Massillon linebacker Steve Eyerman intercepts the pass and runs it back 29 yards for a TOUCHDOWN with 5:96 left in the first quarter. Brett Marshall PAT good. Massillon 7, McKinley 0.
MCKINLEY: Massillon quarterback Steve Irwin, set up in the shotgun, fields a low snap and attempts a shovel pass. McKinley puts heavy pressure on Irwin, and Preston Chavers intercepts the pass and runs 25 yards for a TOUCHDOWN with 10:13 left in the second quarter. Matt Prendes PAT good. Massillon 7, McKinley 7.
HALFTIME
MASSILLON: Massillon's Jesse Robinson returns second‑half kickoff 16 yards to his own 26. 1‑10, Ma26, Perry James runs for 4 yards. 2‑6, Ma30, James stuffed for no gain. 3‑6, Ma30, Irwin pass to Charles Hendricks for 11 yards over middle. 1‑10, Ma41, Jessie Scott takes lateral around right end for 8 yards. 2‑2, Ma49, Irwin pass to Joe Price for no gain on left side. 3‑2, Ma49, Scott runs for 1 yard on option play to the right. 4‑1, 50, Irwin runs 1 yard up the middle. 1‑10, McK49, James runs 4 yards. 2‑6, McK45, Scott runs 4 yards. (KEY.PLAY) 3‑2, McK41, Irwin throws incomplete to Ellery Moore; McKinley penalized 15 yards for unsportsmanlike conduct. 1‑10, McK26, Scott runs 6 yards. 2‑4, McK20, James runs 6 yards. 1‑10, McK14, James runs 2 yards. 2‑8, McK12, Irwin pass to Jon Stanke in right flat for 12 yards and a TOUCHDOWN with 5:21 left in the third quarter. Marshall PAT good. Drive: 14 plays, 74 yards. Massillon 14, McKinley 7.
MASSILLON: Massillon's Dusty Wilbur recovers fumbled McKinley kickoff at the McKinley 30. 1‑10, McK30, Irwin scrambles right for 5 yards. (KEY PLAY) 2‑5, McK25, Scott runs 14 yards to the left. 1‑10, McK11 1, James runs 1 yard up the middle after colliding with Irwin. 2‑9, McK10, Irwin pass to Jeremiah Drobney in the left side of end zone for 10 yards and a TOUCHDOWN with 4:13 left in the third quarter. Marshall PAT good. Drive: 4 plays, 30 yards. Massillon 21, McKinley 7.
MASSILLON: Massillon's Ellery Moore recovers a fumbled McKinley handoff at the McKinley 39. 1 10, McK39, Massillon penalized for illegal procedure. 1‑15, McK44, Irwin pass incomplete. 2‑15, McK44, Scott runs 1 yard. (KEY PLAY) 3‑14, McK43, Robinson runs 17 yards around left end on a reverse. 1‑10, McK26, Scott runs 4 yards. 2‑6, McK22, Massillon penalized for holding. 2‑23, McK39, Irwin pass incomplete. 3‑23, McK39, Irwin laterals to Anthony Battle, who throws a halfback pass to Rocky Dorsey down the middle of the field for 39 yards and a TOUCHDOWN with 11:53 left in the fourth quarter. Marshall PAT good. Drive: 7 plays, 44 yards. Massillon 28, McKinley 7.
MASSILLON: Massillon's Tyrell McElroy makes an interception in the end zone of a pass by Marcus Daniels. A clipping penalty against Massillon on the runback results in the ball being placed at the Massillon 7. 1‑10, Ma7, Scott runs 13 yards; McKinley penalized for face mask. 1‑10, Ma35, Irwin sacked for 6 yard loss. (KEY PLAY) 2‑16, Ma29, Scott runs 37 yards through the left side. 1 ‑10, McK34, Massillon penalized for illegal procedure. 1‑15 McK39, James runs 4 yards. 2‑11 McK35, Irwin pass down the middle to Robinson for 35 yards and TOUCHDOWN with 4:15 remaining in the fourth quarter. Marshall PAT good. Drive: 5 plays, 93 yards. Massillon 35, McKinley 7.
FINAL SCORE
Massillon 35, McKinley 7
– Chris Beaven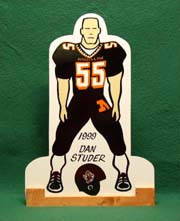 Dan Studer