Who needs the first half? Tigers use a big second half to send Greyhounds packing
By JOE SHAHEEN
Independent Sports Editor
If this keeps up, Jack Rose is going to petition the Ohio High School Athletic Association to eliminate the first half of all Massillon Tiger football games.
In a virtual replay of last week's victory over Alliance, the Tigers struggled to a 7‑3 halftime lead before blowing out visiting Grove City in the second half for a 42‑10 victory Friday in front of 13,352 fans on a breezy but otherwise practi­cally perfect night for high school football.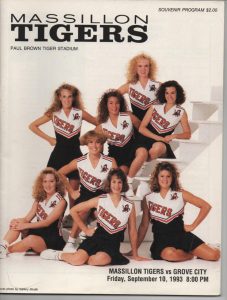 The Greyhounds dominated the first two periods, getting off 33 plays to the Tigers' 14 and owning a commanding time of possession advantage, 17:10 to 6:50.
It was all for naught as Willie Spencer Jr. put up the only touchdown of the half by pick­ing off a Chad Henson aerial at the Tiger 13 and racing un­touched 87 yards to paydirt. Randy Endsley made good on the conversion kick and the loc­als led 7‑0 with less than four minutes elapsed in the football game.
Spencer, who waged an in­spiring battle with Mike Danzy for the starting quarterback position, caught the ball in full stride and was never chal­lenged by the visitors.
"We were in man coverage and I saw the quarterback look that way," Spencer recalled. "When I saw him pump, I broke to the ball. I just caught it and ran. I was looking back behind me but they weren't catching up."
Grove City came right back on its ensuing possession, mar­ching from its own 23 to the Ti­ger 15. On second‑and‑seven, Henson faked a handoff and got a face full of Massillon linebacker Monte Belser for a three yard loss. On the next play, Henson had an open receiver on a quick slant but linebacker Ian McClaskey stretched out and tipped the ball away to save a touchdown.
The Greyhounds kicked a 35-­yard field goal at that point to make it a 7‑3 game with 2:46 to go in the initial stanza, but the visitors' window of opportunity was beginning to close.
"We had some missed oppor­tunities that would've given us momentum," said Grove City coach Brian Cross. "When you have that many opportunities in the first half and you don't cash in, you know bad things are going to happen."
Grove City was to have one more chance to find the end zone in the first 24 minutes of play. Following the Greyhounds' field goal, the Ti­gers fumbled the ball at their 20 on their first snap of the game.
Grove City quickly marched to the Massillon seven. On third-­and‑six, Belser swooped in from the left side and sacked Henson for an eight‑yard loss. The Greyhounds' field goal was wide left and another bullet had been dodged as the first quarter ended.
Neither team threatened in the second period and it was 7‑3 at half.
"The big difference this week," Rose said, "is we didn't execute offensively in the first half. We had two dropped balls, two turnovers. Our defense did a great job keeping them out of the end zone.
"Monte (Belser) made two big plays down there. He played well. All three of our outside backers did a nice job. Hey, they ran 33 offensive plays against us and had just 88 yards of offense."
As was the case last week against Alliance, the Tigers came out for the second half and pushed their opponent all over the football field. Danzy drove the team from its 35 (after the Grove City kickoff went out of bounds) to the Greyhound 7. A holding call pushed the ball back to the 24, then Danzy had a perfect pass dropped in the left corner of the end zone, stalling the drive.
B.J. Payne sacked Henson on third down to kill Grove City's ensuing drive and Massillon took over after the punt at mid­field. On the third play of the series, Danzy rolled left again and laid a perfect pass in the arms of Lonnie Simpson in the end zone for a 37‑yard touchdown strike. Endsley's kick made it 14‑3 at the 4:58 mark of the third.
"We just kept running that play and they could not stop it," Simpson said. "I just got open and Mike threw me the ball. Touchdown.
"There was a lot of anxiety. I knew I had to get it one of those times. It was a boot play and I just kept getting behind the de­fensive back. The line blocked and we executed well. You ex­ecute well, you get big plays."
The Tiger offense wasn't the only ones executing. B.J. Payne spiked a Henson pass back in his face to stall the ensuing Grove City series and force a punt. The senior defensive tack­le had his second straight big game and was congratulated after the tilt by the Grove City coaching staff.
Massillon put the game away early in the fourth period. Taking over at their own 42 following a punt, the Tigers went to tailback Leon Ashcraft who was finding big chunks of yardage behind the right side of the line. On third‑and‑seven at the Grove City 26, the Tigers went to the power I and were strong right. But Danzy, crossing up the de­fense, found a seam over his left tackle and shot to the one‑yard line.
Ashcraft bulled into the end zone behind Trevor Paisley and Brett Shanor on the next snap to make it 21‑3 and it was all over but the long ride home for Grove City.
Spencer added his second TD moments later when he scooped up a fumble and went 39 yards to the end zone.
A Heath Manson interception at the Grove City 33 set up another scoring drive, capped by Ashcraft from a yard out at the 5:18 mark of the fourth period.
Courtney Herring put the fin­al points up for Massillon with a hard driving 12‑yard run that in­cluded second and third effort. That made it 42‑3.
Grove City scored with 1:23 to play on a Henson‑to‑Steve Trout aerial that covered 23 yards.
Cross had much the same game analysis as did Alliance coach Ron Kuceyeski seven days ago.
"They just came right at us and kind of wore us down in the second half," he said. "We made a ton of mental mistakes and when things started going bad they just kept on going bad and we did some things that aren't characteristic of our football team.
"Massillon is a good solid football team and they have a chance to go a long ways. They really come after you."
"The second half was like last week," summarized Rose. "We got great field position and we didn't have to drive that far to score.
"I was disappointed in the offense in the first half. We shot ourselves in the foot. We only ran one offensive play in the first quarter. We can't afford that next week against Garfield."
The Tigers did sustain one in­jury that may be serious. Full­back Mike Paul went out early in the second half with an ankle injury. He did not return.
But that could not dampen what was another impressive display of football by the Tigers.
"The kids have worked awful­ly hard," Rose said. "I've coached 24 years and I've never been around a team that works as hard as this team. It's a cre­dit to them and the coaches."
MASSILLON 42
GROVE CITY 10
M GC
First downs rushing 12 9
First downs passing 1 3
First downs penalty 0 2
Total first downs 13 14
Net yards rushing 245 103
Net yards passing 37 90
Total yards gained 282 193
Passes attempted 8 18
Passes completed 1 8
Passes int. by 2 1
Times kicked off 7 3
Kickoff average 43.1 28.0
Kickoff return yards 10 31
Punts 2 6
Punting average 37.0 30.0
Punt return yards 24 13
Fumbles 2 2
Fumbles lost 2 2
Penalties 8 4
Yards penalized 82 30
Number of plays 46 58
Time of possession 20:39 27:21
Attendance 13,352
GROVE CITY 07 00 07 28 42
MASSILLON 03 00 00 07 10
M ‑ Spencer 87pass int. return (Endsley kick)
GC ‑ Allmon 35 FG
M ‑ Simpson 37 pass from Danzy (Endsley kick)
M ‑ Ashcraft 1 run (Endsley kick)
M ‑ Spencer 38 fumble rec. return (Endsley kick)
M ‑ Ashcraft 1 run (Pribich kick)
M ‑ Herring 12 run (Pribich kick)
GC ‑ Trout 23 pass from Henson (Allmon kick)
RUSHING:
Massillon
Ashcraft 13‑71,
Paul 7‑59,
Dixon 8‑51,
Danzy 7‑43,
Herring 1‑12,
Lewis 2‑9.
Grove City
Lacy 14‑74,
Hedges 7‑23,
McCoy 6‑18.
PASSING:
Massillon
Danzy 1‑8‑1 37.
Grove City
Henson 8‑18‑2 90.
RECEIVING:
Massillon
Simpson 1‑37.
Grove City
Trout 3‑34,
Berry 2‑44,
Bunsey 1~10,
Freetag 1‑5.