Seven turnovers undo Massillon
Harding stuns Tigers
By STEVE DUNGJEN
Independent Sports Editor
WARREN ‑ It was a game of give and take Friday night at Mollenkopf stadium.
Unfortunately for the Tigers, Massillon did most of the giving and Warren Harding the taking.
Seven times the Tigers played the role of gracious guests. Five Massillon passes were intercepted and two fumbles were lost.
The muscle, added up to an 18-6 setback for the Tigers, the first time since 1976 that a Massillon team has lost two games in a row.
It was also the first time since 1977 that Harding came away a victor against the Tigers.
It was a night worth forgetting for Massillon fans as the Tigers fell to 1-2.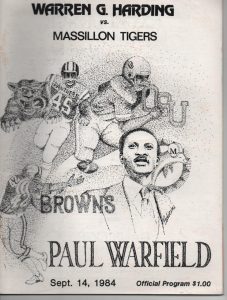 "The turnovers killed us," said a subdued Tiger Head Coach Mike Currence. "We were searching for something out there and we had to take some chances, and sometimes when you take a chance …
"I don't know what it is," he continued. "I was at a dilemma in the third period. I just didn't know what to do, but we've got to find some answers real soon."
All three Harding (2‑1) scores were the direct result of Tiger breakdowns, one by the defense, another by the punt team and the third by the offense. It was three-ring circus, but only the Panther faithful were entertained.
Harding rolled to an 18‑0 lead bef­ore the Tigers averted being shut out for the first time since a 1979 state playoff loss to Parma Padua (12‑0).
When fullback Derrick Newman capped a 14‑play, 80‑yard drive by scoring from a yard out, the scoreboard showed just 3:54 re­maining in the final period.
By then, though, the damage had run its course. The Tigers self destructed much earlier.
Given good field position at the Harding 38 following a 19‑yard punt, the Tigers turned the ball over on downs when they failed to convert on a fourth and five as quarterback Wes Siegenthaler was stopped a yard short on a keeper.
Harding then rolled up three first downs to the Tiger 35 when quarter­back Harley Kellar was sacked for an eight‑yard loss by middle guard Tom Whitfield.
However, a personal foul was cal­led on the Tigers. So, the Panthers had a second down at Massillon's 27 rather than at the 43.
On the next play Whitfield stopped fullback Willie Perez for a loss, but the Tiger junior was called for a face mask penalty much to the chagrin of the Massillon coaching staff.
The face mask call was very questionable," Currence said. "I'll have to see the films on that one."
With a first down on the Tiger 14, Perez took the next handoff and scooted to paydirt with 4:04 remain­ing in the opening period.
Two big defensive plays by the Ti­gers, ones that may have put Hard­ing out of scoring position, turned into big Panther plays, And, as they would do later on, the Panthers capi­talized on them.
Harding's defense then forced a Tiger punt. Scott Byelene's boot was fielded by Perez at his own 22. He didn't stop running until he crossed the goal line.
"We just broke down on our coverage," Currence said. "It was set up and executed well by them."
Entering the second quarter, the Panthers found themselves atop the scoreboard by a 12‑0 count.
The second 12 minutes was a study in who wanted to keep the ball the longest as their were four turnovers, three coming on consecutive possessions.
Massillon, which started three of its seven first‑half drives well inside Panther territory, could not capital­ize on its opportunities.
The comedy of errors continued into the third period when Siegenthaler was intercepted on the third play following the kickoff by David Arnold, who returned the ball 25 yards to the Tiger six.
From there, Perez notched his third TD of the night on the ensuing play. Less than two minutes into the second half, the Panthers owned a commanding 18‑0 advantage.
Midway through the third period, the Tigers were given a golden opportunity to get back in the game when a Perez fumble was recovered at the Panther 23. Two plays later, though, Massillon turned the ball back over when Kellar came up with the fourth Harding interception at the three.
Turnovers continued to plague the Tigers early in the final period when a Panther punt was bobbled and then recovered by Harding's Derrick Goliday at the Massillon 28.
The Tiger defense, which yielded just 104 yards, stiffened and a 42 yard field goal try by the Panthers was way short of the intended mark.
Finally, the Tigers hit paydirt when they marched 80 yards in 14 plays. Cornell Jackson gained 35 of the yards on three carries, and Mas­sillon converted three third‑down plays.
But, it was too little too late.
******
Of the five passes Harding picked off, four came off the arm of Siegenthaler and the other with Mike Scott at the helm. Scott, making his first appearance of the year, entered the game at the 4:42 mark of the second period. Scott, nearly connected with Siegenthaler on a 24‑yard TD pass.
******
The Tigers came up with a pair of interceptions of their own. The cul­prits were Brian Spicer and Clay Spangler. Harding's interceptions were turned in by Kellar (2), Reuben Osborne (2) and Arnold.
******
Massillon used three quarter­backs in an effort to find a spark that world ignite the offense. Siegenthal­er started but was replaced by both Scott and Paul Fabianich at various times.
Warfield has special night;
Thomas gets 'biggest win'
By STEVE DUNGJEN
Independent Spans Editor
WARREN ‑ For all Massillon cared, it might as well have been Gungo Din Night.
As it stood, though, it was Paul Warfield who came back home to the school where he first made his mark as a football player.
Warfield, a member of the Pro Football Hall of Fame, was saluted Friday night prior to the Massillon-Warren Harding game at Mollenkopf Stadium.
It was at Harding that Warfield made his name known, rushing for 2,103 yards and catching passes for 356 more yards. He led the Panthers to two wins in three years over Massillon as well from 1957 to 1959.
Warfield, who was a high school All‑American, went on to star at Ohio State University where he became a college All‑American under Woody Hayes.
In pro ball he played for the Cleveland Browns, Miami Dolphins and the Memphis Southmen of the now defunct World Football League.
Hayes and Warfield's high school coach, Gene Slaughter, now the head coach at Capital University, were both present at the pre‑game ceremonies.
Warfield was presented with a proclamation by the Warren School Board of Education.
******
Warren Harding football coach Frank Thomas, who served as a defensive coordinator for the Massillon Tigers for five years before heading off for Niles McKinley and then Harding, was one happy man following his team's 18‑6 defeat of the Tigers.
"Without a doubt, it's my biggest win," Thomas, who is in his third year at the Panther helm, said. "Any win is an important one, especially coming off a loss and playing Massillon.
"When you beat Massillon, it's like putting a feather in your cap," he said.
Did the Paul Warfield Night inspire his troops to greater heights?
"It was a combination of things, really," Thomas said. "We had a big spirit rally at school, Paul talked to the kids before the game and told them to give 110 percent and to believe in your fellow teammate.
"All of that was important, and playing Massillon was equally important."
The Harding defense came up with seven turnovers, five on interceptions, to snuff out nearly all of Massillon's drives before they got started.
"We went an awfully lot to man‑to‑man coverage, much more than usual," Thomas acknowledged. "We went out with the idea that defensively we would come after them and make same things happen. Every time they tried to beat us deep, we intercepted them.
"I felt we set the tone defensively. We did not sit back and wait,"
One of the biggest plays in the game was Willie Perez's 78‑yard touchdown on a punt return in the first quarter. That TD gave the Panthers a lightning‑quick 12‑0 lead before the Tigers knew what hit them.
"Being up 6‑0 is one thing, but then 'bam,' we went up 12‑0 on the punt return," Thomas said. "It takes a lot of wind out of your sails when something like that happens.
"You know, this is a funny game. Last week we gave up 10 first downs on third‑down and long plays. That was the exact same defensive backfield we had in last week (a 14‑12 loss to Youngstown East).
"Who can figure it out? One week everything works for you, and the next it doesn't.