Tigers set for playoff push
By JOE SHAHEEN
Joe.Shaheen@IndeOnfine.com
Rick Shepas is happy with where his Massillon Tigers are at with two weeks left in the regular season ‑ now 4‑4 and in control of their own destiny with regards to the playoffs.
Massillon, with victories this Saturday at Warren Harding and the following Saturday at home against McKinley, are in the post‑season for the fifth time in Shepas' seven seasons as head coach.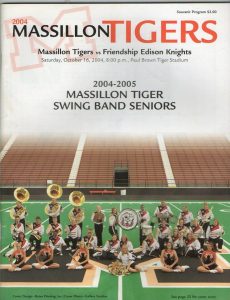 The Tigers got back to 4‑4 and put the playoffs in their sights with a 72‑6 domination of Washington D.C. Friendship Edison Collegiate Academy last Saturday night at Paul Brown Tiger Stadium.
While it was evident from the beginning that Edison was out‑manned by the Tigers, that cannot diminish the performances Lanale Robinson and Robert Morris, each of whom scored three touchdowns as Massillon accumulated 374 yards of total offense.
Robinson, a promising 5 foot 10, 184 pound junior tallied less than two minutes into the game on a 37 yard run, and then again less than two minutes later on a 62 yard kick return that followed a safety. He capped off his first half scoring blitz with a 27 yard touchdown dash midway through the opening quarter, and finished with 133 yards. rushing in 15 carries as starter Ramon Kelly, rested his injured knee.
"We backed off contact this week of practice and the kids responded, "Shepas said. "We came out ready to play a physical game, The wind and rain meant we needed to get, the ground game going, we're going to continue in that vein.
"Lanale ran hard. He showed heart and passion for his job last night. We still have to fix some things in where he runs on specific plays and his understanding of setting up his blocking better"
Morris, a 5‑10, 200‑pound linebacker turned fullback, found the end zone on a 1-yard run midway through the second quarter, on a 12 yard pass reception from Quentin Paulik to open the second half scoring. and on an 18‑yard run with under four minutes to play.
"Where Morris had been defense with his speed, his ability and run hard makes him a natural at fullback position, "Shepas said.
Still, look for Kelly to return to the starting line as the Tigers primary ball carrier this week against Warren Harding.
"Ramon was ready to play ,both mentally and physically but we didn't want to rush him with the week that is coming up," Shepas "Ramon will be back in that mix this week."
"I thought ouir offensive line limited their mistakes. We had very few breakdowns even though we didn't prepare much for (Edison)"
Massillon also went back to Paulik as its starting quarterback after Shawn Weisend got a start the week before against Lakewood St. Edward. He completed 10 of his 18 throws for 135 yards and two touchdowns. A third scoring toss was dropped but the Tigers also had an interception.
It seems Shepas is committed to Paulik for the final two all‑important games.
"Yeah, I would say so," said, Shepas. "I've said all along he's a guy, who makes great checks at the line. He really does a lot of things very well. We have struggled in the passing game with our reads and that's just going to take time."
Time is one element the Tigers don't have. They have to play their best two games of the season over the next 14 days in order to secure an improbable playoff berth.
But this do‑or‑die scenario is just what Massillon's meat grinder schedule was designed for.
"There has been a lot about debate about the schedule we play," Shepas said. "I think the schedule does prepare us. These kids have shown toughness with the schedule we've played. Plus we're handing some of the tougher mental things. With as much a adversity as this team has had to deal with on regular basis, I think we've shown some resolve. Some of our guys are really starting to find themselves."
Massillon 72
Friendship Edison 6
Massillon 30 12 21 7 72
Friendship Edison 0 0 8 0 6
SCORING
M ‑ Robinson 37 run (Schott kick)
M ‑ Safety
M ‑ Robinson 62 kick return (Scott kick)
M ‑ Barnes 7 run (Schott kick)
M ‑ Robinson 27 run (Schott kick)
FE ‑ Proctor 31 no (kick blocked)
M ‑ Barnes 1 run (Schott kick)
M ‑ Morris I run (Schott kick)
M ‑ Dahlquist 51 interception return (Scott Kick)
M ‑ Gates 27 pass from Paulik (Schott kick)
M ‑ Morris 18 run (Schott kick)
INDIVIDUAL STATISTICS
Rushing
Edison: Proctor 12‑50 Butler 4‑9,
Massillon: Robinson 15‑133, Morris 11‑68, Barnes 7‑47,
Passing
Edison: Proctor 5‑17‑54 2 INTs.
Massillon: Paulik 10‑18‑135 1 INT
Receiving
Edison: Kates 3‑38 Gillis 1‑16,
Massillon: Morris 3‑28, Robinson 2‑39 Gates 2-34, Huffman 1‑5.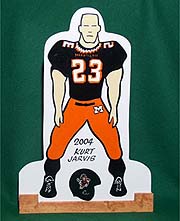 Kurt Jarvis