Tigers onto the main course
By CHRIS EASTERLING
Chris.Easterling@IndeOnline.com
Perception is oftentimes reality, and such is the case with the Massillon Tigers' schedule.
The perception is, the first two games on the Tigers' slate – the opener against North Park (Ont.) two weeks ago and last Saturday's tilt against H.D. Woodson of Washington, D.C. – were mere warm-ups for the main event, which begins this Saturday at Cincinnati's Paul Brown Tiger Stadium against Moeller.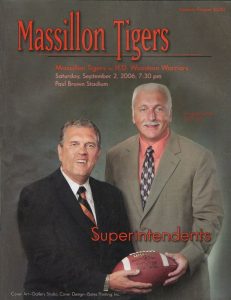 The reality of the situation is, the final scores of those two games reinforced that perception, including last Saturday night's 59-7 win over Woodson in front of nearly 9,000 at Paul Brown Tiger Stadium.
The problem is, Tiger coach Tom Stacy and his players can't deal in perception. And Stacy – ever the perfectionist at heart – knows his team may have out-talented their first two foes, and that Massillon still has room to grow as it moves from the appetizers into the meat-and-potatoes portion of the slate.
Still, he was more than pleased with the way the Tigers performed against the Warriors.
"I think we made some improvement," Stacy said. "I told the kids I thought we got better. Of course, (Woodson) was a better football team. … We had a good week of practice.
"We still have some things we need to shore up. Defensively, we missed some tackles and some pass defense. We made some steady improvement from our Fremont scrimmage to last week's game to this week's game."
Certainly, there was more than enough for the Tigers to like on Saturday night. And one needed to look to no farther than the offense, which continues to score at an eye-popping rate.
After the Tigers' offense scored on eight of 11 possessions against North Park, they were even more proficient against the athletic Warriors last Saturday. Massillon scored on all six first-half possessions in building up a 38-7 advantage at the intermission.
The Tiger attack would not finish a drive without putting points on the scoreboard until the fourth and final drive of the second half – at which time the score was 59-7. And even that drive reached the Woodson 1 before Massillon let the clock run out.
"They played a solid football game, everything worked for them," said Woodson coach Greg Fuller, whose team was coming off of an upset of West Virginia Class AAA state champion Morgantown a week prior.
Once again, it was a balanced offensive attack which led the way, as the Tigers racked up 549 yards of offense, with 368 coming on the ground and 181 through the air. In the first half alone, Massillon had 317 yards offensively – 158 passing and 156 rushing.
"I'm starting to get amazed by what this offense can do," said Tiger quarterback Bobby Huth, who completed 14 of 21 passes for 181 yards and a pair of touchdowns. "
We're starting to rack up the yards and score some points. But we'll see what happens against better competition."
Brian Gamble – who had 104 rushing yards in the first half on his way to 164 yards for a game – and K.J. Herring (one rushing and one receiving) each scored a pair of first-half touchdowns, while Trey Miller broke the scoreless deadlock with 8:21 left in the first quarter with a touchdown catch. Gamble would add two more rushing touchdowns and 60 more yards on four third-quarter carries, while Herring tacked on 71 more yards onto his total of 97 along with another score of his own in the third quarter.
"We still made some mistakes, but nothing major," Gamble said. "I think we took a big step forward."
Steve Schott added a 35-yard field goal in the first half, which made it a 24-0 Tiger lead with 8:16 remaining until intermission. That was the only Tiger scoring drive which didn't end with Massillon reaching the end zone.
On defense, may have been where the Tigers made the biggest improvement from Week One to Week Two. Massillon permitted a Woodson team which featured Division 1-A recruits in tailback D'Andre Johnson, wide receiver Tony Coleman and offensive lineman Carl Russell to accumulate just 158 net yards, which was just five more yards than what North Park accumulated in the first half alone.
Of those 158 yards, 66 came on Woodson's lone scoring drive of the game, which came with less than three minutes remaining in the first half. The Warrior touchdown – a 9-yard Gabriel Prophet-to-Coleman pass – made it a 31-7 Tiger lead with 2:28 showing until the band show.
"It's been a slow improvement, but I think we're almost there," Gamble said. "We had a great week of practice last week and a very physical practice, and it carried out onto the field. We tackled a lot better."
And now it must carry over into the meat of the Tigers' schedule.