Tigers' offense dumps Mentor Cardinals 20-2
By DAVE KAMINSKI
Repository Sports Writer
MASSILLON – As the skies unleashed a mighty downpour, the Massillon Tigers unleashed fullback Bill Harmon, leaving the Mentor Cardinals both wet and defeated 20-2 Friday night at Tiger stadium.
Leading Massillon with 16 carries for 161 yards, Harmon rolled for three touchdowns. Two came on runs of 33 and 28 yards in the second quarter, but not without the aid of costly Cardinal turnover.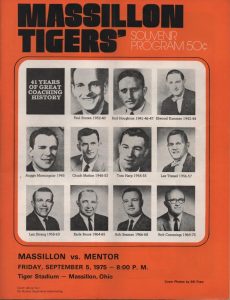 Late in the first quarter, Mentor quarterback Mike Yutzy fumbled on the Tiger 27 and Massillon recovered. Harmon and tailback Tom Grizzard ground out 40 yards rushing before the senior fullback sprung for his 33-yard gallop.
In the second stanza, Yutzy again bobbled the ball, this time on the Mentor 34-yard line. Two plays later, Harmon carried for 28 and a Tiger score.
"Massillon has a terrific offensive line," Mentor Coach Frank Domokos said after the game. The trenchmen repeatedly opened holes for Harmon, Grizzard and tailback Jay Harper.
And it's good for Massillon that the line came through, since quarterback Todd Keller attempted only four passes without a completion.
It was a different story for Yutzy, who connected on five of 16 aerials for 81 yards. Sharing the Mentor offensive chores with Yutzy was fullback Joel Payton, who led the Cardinals on the ground with 55 yards on 14 carries.
But it was the defense that put Mentor's only tallies on the scoreboard. In its second possession of the first quarter, Massillon elected to punt on a fourth-and eleven situation on their own 20-yard line.
Punter Keith Harmon jumped, but missed a high snap from center. As Harmon chased the skittering ball into the end zone, the Mentor defense chased Harmon, crushing him for a safety.
The Tigers wound up the game's scoring in the third quarter by rolling for another touchdown. Massillon took possession on the Mentor 40-yard line after a Cardinal punt. Harper carried the brunt of the moving chores, rushing four times for 22 yards before fullback Harmon got the call from four yards out and bulled his way to the goal.
In the extra-point department, Massillon tried to run in each situation, but only after the second did Grizzard find the distance for two points.
All the while, rain drenched Tiger Stadium, causing blockers to bumble and runners to fumble.
"Weather like this takes the game out of the hands of the coach," Tiger mentor Coach Chuck Shuff said after the game.
"With a drier field, we could have put the ball up in the air more," Domokos said. "As it was, we had a breakdown in pass protection.
"I was not really displeased," the Cardinal Coach continued. "We're not going to be a bad team before this year is over."
Amidst a post game locker room full of happy Tigers, Shuff found a lot of time for grinning. "We can't argue about a little success from our backs," he said.
MASSILLON
Offense
Ends – Bill Bammerlin (6-2, 170, Sr.); Mark Matie (6-1, 220, Sr.).
Tackles – Mike Lauber (6-0, 205, Sr.) Sylvester Drobney (6-1, 220, Sr.);
Guards – Todd Schumacher (6-1, 200, Sr.); Carl Christoff, (5-9, 180, Sr.).
Center – Dan Nagle (6-0, 225, Sr.).
Quarterback – Todd Keller (6-1, 185, Sr.).
Halfbacks – Tom Grizzard (6-0, 180, Sr.); Jeff Lab (6-1, 195, Sr.).
Fullback – Bill Harmon (6-1, 237, Sr.).
Defense
Ends – Keith Harmon (6-1, 195, Sr.); Lauber.
Tackles – Steve Easter (6-2, 205, Sr.); Nagle.
Middle Guard – Jesse Toles (6-0, 195, Jr.).
Linebackers – Lab; Grizzard.
Secondary – Glenn Arner (6-1, 175, Sr.); Harold Dorsey (6-1, 190, Sr.); Don Stewart (5-10, 160, Sr.); Willie Conley (6-0, 175).
GRIDSTICK
Mass. Men.
First downs rushing 14 2
First downs passing 0 3
First downs penalties 0 1
Total first downs 14 6
Yards gained rushing 286 75
Yards lost rushing 33 31
Net yards gained rushing 253 44
Net yards gained passing 0 81
Total yards gained 253 125
Passes completed 0-4 5-16
Passes intercepted by 0 0
Yards on passes Intercepted 0 0
Kickoff average (yards) 5-33.2 1-47.0
Kickoff returns (yards) 22 91
Punt average (yards) 4-33.2 6-29.1
Punt returns (yards) 0 0
Had punts blocked 0 0
Lost fumbled ball 2-4 3-4
Yards penalized 4-40 6-30
Touchdowns rushing 3 0
Total number of plays 51 55
Total time of possession 25:26 22:34