Tigers Mangle Cleveland East 46-0
Balance; Defense Good
By CHUCK HESS, JR.
It's been said many times before. And maybe it's corny, too. But what a difference a year can make!
Three hundred sixty-five days ago a bunch of somber, long-faced fans filed out of Tiger stadium after an 8-7 loss to Fremont Ross. Friday night, the Massillon fans among the 9,933 assembled at the stadium left with mile-wide grins on their faces and cheers emanating from their lips.
The Washington high eleven, showing a well-balanced attack and a very stingy defense, rolled over Cleveland East 46-0 to get the 1963 season off to a rousing start.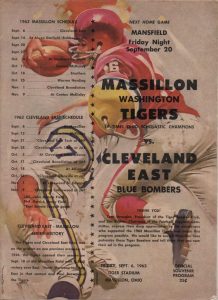 The Orange and Black amassed 432 yards, 232 of them through the air, to 56 for East. The Bengals garnered 12 first downs to the Blue Bombers' four. The Tigers had 288 yards to East's 24 and 14 first downs to East's one at the halftime intermission.
* * *
AND THE outcome could have been even more lopsided, but Coach Leo Strang used everybody on the bench rather than running up the score.
Following the game Coach Flory Mariocourt of East said, "I really appreciate Leo's using his reserves. It gave us a lot of good experience.
Strang pointed to an old adage in summing up his feelings on the game. The familiar saying goes, "the best defense is a good offense."
The Tigers scored six of the 12 times they had the ball and used up gobs of time on the clock in doing it. They showed good ball control during the other six chances, too. Not until the last quarter were they forced to punt and only in that period did they fail to score. They did lose the ball once on a fumble and once on an intercepted pass.
When the Orange and Black didn't have the ball, its' defense "made the offense look good," as Strang put it. East failed to get out of its own territory until the third canto and then turned the trick only three times after that.
* * *
THE DEEPEST penetration by the Bombers was to the Tigers 32 late in the fourth stanza. But they lost a fumble at that point and the ball rolled all the way back to the East 45 where Dennis Morgan curled himself around the pigskin.
A contributing factor in the Bengal's fine defensive effort was the play of ends Butch Hose and Captain Mike Jones and tackles Jim Binge and Steve Tarle. Binge and Tarle effectively jammed up East's power game; forcing it outside where Hose and Jones took over.
Strang was pleased with both the first and second units work on defense, especially their gang tackling and pass defense. Likewise the skipper was happy that his air game functioned so well that he didn't have to use too much of his running repertoire.
Quarterbacks Ron Swartz and Tom (Goose) Gatsios threw with pinpoint accuracy, completing 12 of 24 passes. Backs Bob Hewitt, Terry Getz, Jim Lawrence and Paul Shanor formed a well-nigh impregnable pocket for their mates. Offensive linemen appeared to do their jobs well. Receivers ran patterns well and were wide open – sometimes two in an area – on many occasions.
Scoring was divided evenly with three touchdowns coming via the heavens and three on the ground. Wingback Bill (Rabbit) Blunt scored a trio of six-pointers and a conversion. Hewitt picked up two conversions.
* * *
THE FIRST WHS tally came with 3:21seconds left in the initial canto. The Bengals marched 58 yards, after an East punt, in 13 plays with four first downs. Swartz sneaked in from the one on third down. Gatsios added the conversion on the keeper.
John Muhlback fell on Tom Rivera's onside kick on the ensuing kickoff and the Orange and Black went 49 yards for its second six-pointer. Four plays and two first downs were registered.
Short side end Floyd (Duke) Pierce was instrumental in this drive, combining with Swartz on a 31-yard pass play to help set up the score. Swartz cranked up his right arm again on second down, after being tossed for a 12-yard loss and completed a pass good for 38 yards to Blunt with 1:14 seconds left, Long side end Will Perry got a key block on the 10-yard line to open the gate. Hewitt ran the conversion.
In the second period, Massillon moved 66 yards after a punt, using up four plays and two first downs. Blunt was the touchdown guy again, going 44 yards on a first down reverse with 7:39 left. Gatsios hit the shifty senior for the conversion.
East was forced to punt again after one series. The Bengals took over 58 yards from pay dirt and had their fourth score eight plays and five first downs later.
* * *
BLUNT WAS on the receiving end of a first down 16-yard aerial from Gatsios with 3:06 left. Hewitt scored the extra two points.
Picking up a punt on their 31, the Tigers marched to touchdown land again at the 7:16 mark of the third quarter. Seven plays and four first downs were used up this time. Lawrence bulled over from the one on second down after racing 14 yards on the play before. His conversion run was good.
Grady Eckard pounced on a Bomber fumble on the Clevelanders' 29 and four plays and two first downs later it was touchdown for the Bengals for the final time. Short side end Bob (BoBo) McAllister caught a Swartz pass on second down from the 15 at 5:21. Lawrence was short through the center for the conversion.
The Tigers threatened once more but the clock ran out with the ball on the East three.
It's now one down and nine to go on the state title comeback trail for the Tigers. The Massillon eleven will travel to Akron's Rubber Bowl one week from tonight to face Akron Garfie
A Rousing Start
EAST – 0
Ends – Rountree, Miller, Lett and Mixon.
Tackles – Canady and Banks.
Guards – R. Young, D. Young and Ivory.
Centers – Murzynski and Weaver.
Quarterback – Holliday.
Halfbacks – Paul, Haynes, Hipps and Lindsey.
Fullbacks – Pledger and Hooker.
MASSILLON – 46
Ends – Pierce, Perry, Jones, Hose, McAllister, Goodnough, Franklin, R. Alexander and D. Alexander.
Tackles – Tarle, Miller, Binge, Passalacqua, Stevens, Morgan and Paul.
Guards – Castile, Larsuel, Whitfield, Manson, Swisher, Paflas, Mathias, Muhlbach, Rrearick, Rivera and Martin.
Centers – Scassa, Frank and Rambaud.
Quarterbacks – Swartz, Gatsios, Kanner and Freig.
Halfbacks – Blunt, Getz, Eckard, Rink, Pope, Gamble, Marks, Shanor, Williams and Schenkenberger.
Fullbacks – Hewitt, Lawrence and Thomas.
Massillon 16 16 14 0 46
Touchdowns:
Blunt 3 (26-yard pass from Swartz, 44-yard run and 16-yard pass from Gatsios); Swartz (one-yard sneak); Lawrence (one-yard plunge); and McAllister (15-yard pass from Swartz).
Points after touchdowns:
Blunt 2; Hewitt 4, Gatsios 2 and Lawrence 2.
Officials
Referee – Harvey Hodgson, Jr. (Massillon).
Umpire – Paul Trepinski (Toledo).
Head Linesman – Bill Earenfight (Canton).
Field Judge – Chuck Hinkle (Canton).
STATISTICS
Mass. East
First downs, rushing 12 4
First downs, passing 11 0
First downs, penalties 0 0
Total first downs 23 4
Yards gained rushing 217 102
Yards lost rushing 17 48
Net yards gained rushing 200 54
Yards gained passing 232 2
Total yards gained 432 56
Passes attempted 24 7
Passes completed 12 2
Passes intercepted by 0 1
Times kicked off 7 1
Kickoff average (yards) 38.5 38.0
Kickoff returns (yards) 22 53
Times punted 1 6
Punt average (yards) 32.0 30.6
Punt returns (yards) 62 0
Had punts blocked 0 0
Fumbles 1 3
Lost fumbled ball 1 2
Penalties 0 3
Yards penalized. 0 15