Massillon rebounds Tigers smashing in 26‑7 win
Biggest point spread ever against Fitch
By STEVE DOERSCHUK
Independent Sports Editor
At 8 p.m. Friday, he was Falando the Forgotten Man.
By the time Dick Goddard was doing the weather, the fore­cast had changed. It was: Be­ware of the Fabulous Falando.
That is, watch out for the guy who rushed for 214 yards to car­ry Massillon to a 26‑7 victory over Austintown‑Fitch before 11,376 at Paul Brown Tiger Sta­dium.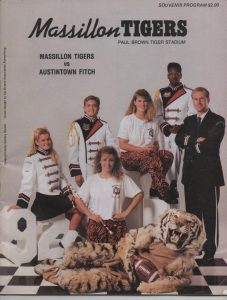 "I was getting tired of hear­ing that if you stopped No. 1 (Travis McGuire) you stopped our running game," Massillon head coach Lee Owens said af­ter his team improved to 4‑1 on the coolest night of the season (Fitch is 2‑3).
Amazing anyone would think so, considering Ashcraft rushed for 1,182 yards last year as a junior, but true, Owens insisted .
The false perception was cre­ated by the fact Ashcraft's run­ning mate, Travis McGuire, is off to such a hot start. McGuire came into the game with 439 rushing yards to Ashcraft's 281.
"Falando," Owens added, "was tired of hearing it, too."
Ashcraft didn't sound a bit like a vindicated man after the game, though. He spoke matter of factly about becoming the fifth‑leading ground gainer in a single game in Massillon his­tory (ahead of him are Homer Floyd, 263; Bill Harmon, 224; Art Hastings, 220; and Ace Grooms, 215).
"Our scouting report showed that the plays I do were open against Fitch last year," Ashcraft said. "So, that's what we ran tonight."
Ashcraft explained that Mas­sillon's offensive line controlled the line of scrimmage, McGuire provided tough lead blocks ("He's a good blocker"), while receivers Geoff Merchant and Mark Hawkins cleared the way for some of his long runs with strong upfield blocking.
That wasn't the whole story. Ashcraft broke more than a few tackles by knocking defenders into next Tuesday.
"I was also reading a little better tonight," Ashcraft said. "I was waiting back a little more to see where the best openings were."
Ashcraft and McGuire each scored two touchdowns. McGuire wound up with 96 yards on 13 carries, including a 46‑yard touchdown run on a counter play that broke open the game.
Fitch had used the passing of senior quarterback Jeff Melody to close a 13‑0 halftime deficit to 13‑7 midway through the third quarter. The Tigers answered that challenge by scoring on their next possession, on McGuire's long run.
"We played some smash ­mouth," Owens said. "Our thinking was to bust it up there, bust it up there, bust it up there … and having had some success with that, it opened up the coun­ter play."
The Tigers tried only four passes and completed none, largely because the game plan was to run, partly because standout safety Troy Burick was thrust into the quarter­backing job due to starting QB Nick Mossides' sprained knee suffered in last week's loss at Cincinnati Moeller.
Burick played every snap Fri­day at both quarterback and safety.
"That's the first time I've ever done that," Burick said. "I feel a little bit bruised, but I'm all right.
"I started the game at quar­terback against Nordonia last year and played safety, too. But I didn't play much in the second half because we were so far ahead.
"I was definitely rusty early in the week in practice. Playing quarterback against Garfield (three weeks ago for just one series) didn't help much. But I thought things went pretty well as the week went on. I had a lot of confidence in the team and the coachers put me in a good position."
It is probably fair to call Melody the second‑best quar­terback the Tigers have faced this year, after Moeller's Shawn Brennan. As usual, the Tigers stuffed the running game (Fitch netted 20 yards on the ground) and the opponent resorted to the pass. Melody connected on 15 of 25 tosses for 180 yards. The Tigers wound up outgaining Fitch 331‑200 in total offense.
Fitch head coach David Hartman, who was a senior lineman on the 1964 Massillon team, attended the Moeller game last week. He nodded his head when asked if the same pass schemes that had worked for Moeller were the ones clicking for Fitch, that is, those that feature a lot of rollouts, bootlegs and scrambles by the quarterback.
"They (the Tigers) seem not to want to give up the big play," Hartman said. "They give up a lot underneath. We tried to run on them, we just couldn't."
"Our kids fought. It's just that they had some 300- and 250­-pounders going up against our 165‑pounders."
If some aspects of the Fitch game were reminiscent of the one with Moeller, the products as wholes were far different. The Tigers did finish off Fitch to the extent the 19‑point spread was the biggest in the history of the series, still led by Fitch, four games to three.
"We had a lot better concen­tration than we had at Moel­ler, " said the Tigers' fine senior end, Jason Woullard. "We were aggressive the whole time. For some reason, we lost some of our intensity in the third and fourth quarters against Moel­ler. I don't know if it was the long road trip catching up to us, or what. I don't want to make excuses. We were intense to the end tonight."
Hartman, using mostly juniors and off to the worst start in his 10 years at Fitch, now has three losses to playoff conten­ders. The two besides Massillon ‑ Mentor and Youngstown Chaney ‑ are unbeaten.
"Massillon," Hartman said when asked to compare, "is the strongest team we've played so far, without a doubt."
There is some doubt as to who will play quarterback next Saturday against unbeaten and state‑ranked Toledo St. Francis.
"If Nick is healthy," Owens said, "he's our quarterback."
Mossides wore a knee brace and walked without crutches along the sidelines at Friday's game. Owens said indications are there's "a good chance" Mossides will be ready to face St. Francis.
It was clear right away Fri­day that Ashcraft was ready to face Fitch. On the Tigers' first play from scrimmage, he gained 15 yards on a play called back by clipping. He proceeded to surge for gains of 5, 3, 9, 10, 4 and 16 yards, by which time the ball was on the 1. He took it in from there, Jason Brown added the P.A.T. kick, and it was 7‑0 three seconds past the halfway point of the first quarter.
The drive covered nine plays and 49 yards.
The defense stuffed Fitch on three plays and Ashcraft went right back to work.
Ashcraft bulled, twisted and sprinted for gains of 22, 4, 24 and 21 yards to ram the ball to the Fitch 16. On third down from the 10, McGuire stampeded over the left side for a touchdown. Brown's kick was wide right and it was 13‑0 with 24 seconds left in the quarter.
The Tigers had a chance to make it an early blowout after Dana Wofford blocked a punt and Bubba Pachis recovered the ball at the Falcons' 20‑yard line. However, Fitch stopped Ashcraft for no gain on fourth-­and‑goal, enabling the Falcons to escape with just a 13‑0 half­time deficit.
Melody started to warm up the passing game late in the half, when he kept drives alive and the ball away from the Ti­gers.
The Tigers' Eric Woods shut off a last‑second Fitch scoring threat by blocking Gary Pritch­ard's 35‑yard field goal attempt with three seconds left in the half.
The Tigers got the first pos­session of the third quarter and were poised to go for it on fourth‑and‑one from the Fitch 44. However, an offsides penal­ty against the Tigers led to a punt.
The situation led Owens to question Fitch's "sports­manship." Owens contended the Fitch defenders were call­ing Massillon's cadence, which is against the rules. Owens said he tipped off game officials that Fitch might do this.
Fitch used the possession following the punt to make the game close. Melody mixed up his passes (junior Bob Moore caught six for 60 yards on the night) and drove the Falcons 79 yards in just eight plays. The touchdown came on an eight-­yard scramble by Melody. Pritchard's extra point made it 13‑7 with 5: 21 left in the third quarter.
The Falcons got a bit cocky at that point. Senior lineman Todd Draper turned to the Massillon crowd and cupped his hand over his ear, as if to say, "I can't hear you." Dave Hackenbracht, a former Massillon linebacker whose brother Dan hopes to re­turn to the 1991 Tigers following an injury, stood and got into a jawing match with Draper.
The Massillon offense made a loud reply of its own. After starting on their own 47 follow­ing a short kickoff, Ashcraft plowed for a gain to the Fitch 46. The next play was the counter to McGuire that went for 46 yards down the right sideline for a score. A conversion run failed, but the Tigers led 19‑7 with 4:44 left in the third quarter. They were never seriously threatened again.
Ashcraft added the coup de grace on a three‑yard TD run with 1:26 left in the game. That capped a 10‑play, 63‑yard drive and was punctuated by Brown's P.A.T. boot.
Owens was concerned about a few areas, such as the team's failure to score after the block­ed punt, and another opponent's ability to complete passes.
But the victory one week after an emotional loss to Moeller was more than welcome.
"Our pride had been ques­tioned," he said. "We had some­thing to prove."
St. Francis had no trouble im­proving to 5‑0 Friday, scoring a 35‑7 win over Grafton Midview (2‑3).
Moeller struggled Friday to outlast Cincinnati Xavier 28‑21.
Chaney, one of the teams that beat Fitch, beat Boardman 14‑3 a week after Boardman stunned defending state champion War­ren Harding.
MASSILLON 26
FITCH 7
M F
First downs rushing 14 4
First downs passing 0 7
First downs by penalty 0 1
Totals first downs 14 12
Yards gained rushing 337 54
Yards lost rushing 6 34
Net yards rushing 331 20
Net yards passing 0 180
Total yards gained 331 200
Passes attempted 4 25
Passes completed 0 15
Passes int. by 0 0
Times kicked off 5 2
Kickoff average 44.6 27.0
Kickoff return yards 16 79
Punts 4 6
Punting average 31.0 26.2
Punt return yards 5 48
Fumbles 0 0
Fumbles lost 0 0
Penalties 8 6
Yards penalized 66 54
Number of plays 48 51
Time of possession 20:34 27:26
Attendance 11,376
FITCH 0 0 7 0 7
MASSILLON 13 0 6 7 26
M ‑ Ashcraft 1 run (Brown kick)
M ‑ McGuire 10 run (kick failed)
F ‑ Melody 8 run (Pritchard kick)
M ‑ McGuire 46 run (run failed)
M ‑ Ashcraft 3 run (Brown kick)
Individual statistics
RUSHING
(Massillon) Ashcraft 25/214, McGuire 13/96, Burick 6/21;
(Fitch) Kamrad 6/16, Ferraro 8/‑2, Melody 10/0, Sandquist 1/6.
PASSING
(Massillon) Burick 0-4-0;
(Fitch) Melody 15‑25‑180.
RECEIVING
(Fitch) Moore 6/60, Vanek 3/33,
Ferraro 3/56, Sandquist 1/3, Barwick 1/20, Kamrad 1/8.