Band grand, 'D' dandy as Tigers trip Fairfield
By STEVE DOERSCHUK
Independent Sports Editor
Massillon packaged a musical postcard for southwestern Ohio Saturday night.
Splashed on the front was a col­lage of band members who were playing when Paul Brown was coaching, a few thousand balloons, fireworks, and a Massillon football player smashing a ball carrier backward.
The inscription on the back of the postcard read: "Massillon 14, Fair­field 6. You guys got anything like this down there?"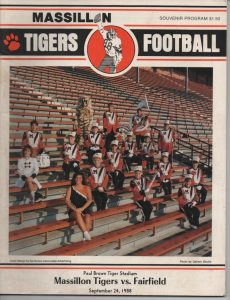 The overwhelming display may or may not have had something to do with Fairfield's quarterback on one play lining up to take a snap from the guard.
If not, the answer to the question was still clear, Southwestern Ohio may have teams as good as the one up here. But the overall show doesn't compare.
"There are too many distractions here," said Ben Hubbard, the nine­-year head coach at Fairfield. "Of course, that's the way it's planned."
"It's way different playing up here," said Fairfield running back Mike Ritzie, who was a sophomore starter on the 1986 Indian team that won the Division I state title.
A game in Paul Brown Tiger Stadium is always unusual by high school football standards. But a few things were added Saturday to the end of puttin' on the ritz.
Most notable was the band show. A halftime blockbuster featured nearly 300 members of Tiger Swing Bands past and present in a 50th anniversary bash. Almost every year of the band's history, 1938‑88, was represented by somebody toot­ing "Tiger Rag."
Fireworks exploded. White birth­day balloons filled the sky on this crisp, clear September night.
The home folks responded with a spontaneous, spine‑tingling roar.
For the first two 1988 home games, paid attendance figures were the ones announced. This time, a decision was made to punc­tuate the message to southwestern Ohio. The total, in‑house crowd was announced ‑ an impressive 12.869.
It is important to note that by halftime the score was 14‑0, Mas­sillon.
An old Massillon guy, Jim Place, now the head coach at Fairfield's Greater Miami Conference rival Middletown, sensed that the kill had already been made.
"If you want to win in Massillon," said Place, here to scout Fairfield, "something good has to happen for you early. If it doesn't, and you don't set the tone, the kids start to wonder. They start looking at the crowd."
The outcome left the Tigers with a 4‑0 record and in position to move from No. 5 to No. 4 in the statewide Associated Press poll, since No. 4 Boardman lost to McKinley Friday.
The Tigers will play at Austin­town‑Fitch Friday.
Fairfield, 3‑1, probably will lose its No. 7 state ranking, although there will be a quick chance for re­covery, since the Indians take on No. 1 Princeton ‑ their next‑door neighbor ‑ on Friday.
"We lost the fourth game in 1986 and won the state title," said Ritzie. "Now we've lost the fourth game in 1988. I hope there's a connection.
"We just lost to a good team tonight. We've played two very tough teams already this year (Oak Hills and Purcell‑Marian). Each of them had one thing they didn't do real well. Massillon is more ba­lanced. Everything they do, they do well."
Something good did happen early, but for the Tigers, not the Indians
On the sixth play of the game, Ti­ger linebacker David Ledwell inter­cepted a Briany Noster pass over the middle and returned it 39 yards to the 6‑yard line.
"Our guys put their hats on their quarterback and he couldn't see where he was throwing," Ledwell said. "It was a pretty easy intercep­tion."
The Tigers set up their offense for the first time this season without tailback Jason Stafford, who couldn't get sharp in practice after suffering a hamstring pull the pre­vious week against Barberton. Staf­ford played later, but juniors Lamont Dixon and Ryan Sparkman were the running backs most of the night.
It was Dixon who blasted 11 yards for a touchdown, going over left tackle and following Sparkman's block, after the Tigers were backed up by a procedure penalty. Lee Hurst's kick made it 7‑0 with 7:49 left in the first quarter.
Something else good happened three plays later: Again, it was something good for the Tigers.
Ballyhooed Fairfield running back Oliver Whyte, was nailed after a short gain and fumbled the ball away to Tiger safety Joe Pierce at the Indians' 38‑yard line.
The Tigers nickeled and dimed into scoring position, running for gains of 4, 1, 2, 5, 4 and 1 yards and passing for 4, 9, 4 and 4 yards. On fourth‑and‑two from the five, Dixon plowed four yards to the 1. Two plays later, Hurst sneaked in for a touchdown, added the point‑after kick, and the Tigers stunningly led 14‑0 with only 10:51 gone in the game.
Another Ledwell interception set up the Tigers at the Fairfield 27 late in the first half. Massillon head coach Lee Owens elected to go for a touchdown and the kill instead of a field goal when the Tigers had fourth and goal from the 2. Stafford was stopped at the line of scrim­mage on a sweep left with 1:43 left in the half.
"We wound up scoring a touch­down after going for it on fourth down earlier," Owens said. "After debating both sides for a while, we thought we could get the yards."
The Tigers didn't, and the score stayed 14‑0 at halftime.
Early in the fourth quarter it was looking like three extra points would've come in handy. Fairfield, which got the ball on an intercep­tion at the Tiger 26, now had first-­and‑goal at the 3. Ledwell and T.R. Rivera ‑ part of what was at times a 10‑man front on the Tiger defen­sive line ‑ stuffed Fairfield's T-­formation attack on first down. Fairfield again gained nothing on second down, then Keith Warstler racked Whyte for a two‑yard loss on third down. A fourth‑down pass was incomplete and the Tigers had their second big goal‑line stand of the year, the first having come at Altoona.
It was part of a great night for the defense, which held Fairfield to 16l yards prior to a meaningless 54. yard scoring drive that ended with a 34‑yard TD pass on the last play of the game.
"Last week, the offense carried us," said Tiger defensive tackle Bob Dunwiddie. "This week, we carried them."
"Fairfield kind of had a down night, maybe because we were so up," Rivera said. "They're not a passing team. We had a lot of guys on the line and we stuffed them pretty good."
Stafford came in to the game hav­ing rushed 52 times for 450 yards. He was held to six yards in seven carries.
"I wanted to start but the coaches decided that I shouldn't," he said. "Maybe that was just as well. Maybe I couldn't have helped the team. I'll be 100 percent for the next game.
Owens said the offense had an off night but the defense was superb.
"Give (defensive coordinator) Jim Letcavits and the defensive guys a lot of credit," Owens said. "We had 10 guys on the line at times and dared them to pass. When they did, they didn't do it very well. In a way, it was a gambling defense. But it was a calculated gamble."
MASSILLON 14
FAIRFIELD 6
M F
First downs rushing 10 8
First downs passing 2 6
First downs by penalty 2 2
Totals first downs 14 16
Yards gained rushing 136 125
Yards lost rushing 37 26
Net yards rushing 99 99
Net yards passing 76 116
Total yards gained 175 215
Passes attempted 16 24
Passes completed 10 9
Passes Int. by 2 1
Times kicked off 3 1
Kickoff average 49.7 42.0
Kickoff return yards 14 47
Punts 3 2
Punting average 29.0 35.5
Fumbles 2 1
Fumbles lost 2 1
Penalties 7 6
Yards penalized 53 23
Number of plays 57 59
Time of possession 23.59 24.01
Attendance 12,869
Individual statistics
Rushing
(Mas) Sparkman 10‑20, Dixon 16‑89, Stafford 7‑6, Hurst 7 for minus‑15, Owens 1 for minus‑1.
(Fair) Ritzie 5‑35, Whyte 12‑18, Noster 8‑15, Roberts 9‑22, Eppard 1‑9.
Passing
(Mas) Hurst 10‑16‑1 76.
(Fair) Noster 9‑24‑2 116.
Receiving
(Mas) Manion 2‑9, Spencer 2-­20, Harig 2‑21, Carpenter 2‑14, Sparkman 1‑3, Smith 1‑9.
(Fair) Roberts 1‑32, Phillips 1‑7, Bair 3‑57, Passmore 3‑22.
FAIRFIELD 0 0 0 6 6
MASSILLON 14 0 0 0 14
Mas ‑ Dixon 11 run (Hurst kick)
Mas ‑ Hurst 1 run (Hurst kick)
Fair ‑ Bair 34 pass from Noster