Tigers 'D'eny Magics' upset bid
Defense key to 15-0 win
By JOE SHAHEEN
Independent Sports Editor
When the offense isn't clicking, good teams rely on their de­fense to pull them through.
So it was for the Massillon Ti­gers, 15-0 winners over the Bar­berton Magics Friday night in front of 10,034 at Paul Brown Ti­ger Stadium.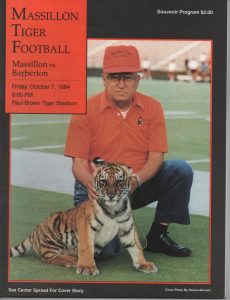 With starting quarterback Willie Spencer Jr., and starting right tackle Aric Simpson sus­pended for practice violations, the Tiger offense sputtered and stalled for most of the first half. But the defense refused to budge, yielding just 43 net yards to the Barberton offense.
They did it by blitzing Barber­ton quarterback Matt Jenson mercilessly all night, pounding the 6‑2, 185‑pound senior on vir­tually every pass play.
In the first half alone, Steve Griffith recorded three sacks from his CAT safety position. The last of the three forced Jen­son to fumble, effectively stall­ing Barberton's two‑minute offense, which appeared to be on a roll near midfield with :54 until intermission.
Senior defensive tackle Mark Wells had a pair of quarterback sacks in the first half, including one on the first play of the game, sending a message to Jenson that he would not be able to sit in the pocket and count the house all night long.
Wells also made a huge play on Barberton's first possession of the second half. The Magics had driven from their 46 to the Massillon 25, but were facing a third‑and‑six situation. Jenson tried to execute the triple op­tion, but Wells shot a gap and pulled him down before he could get started, for a three‑yard loss.
Barberton missed a 45‑yard field goal attempt on the very next snap.
That's when the Tigers offense finally got untracked. Mark Hiegl, who stepped in at quarterback, marshalled a drive that began on the Massil­lon 20. Leon Ashcraft picked up 16 yards and a first down on a pitch around left end. Hiegl snuck for three yards to earn another first down near mid­field. Ashcraft found a seam over left tackle to record the third first down of the drive at the 37.
Then, on second‑and‑long, Hiegl rolled right to pass under intense pressure from the Magics. He managed to get the ball off just before he was drag­ged down, avoiding a huge loss.
On the next snap, Hiegl again rolled right, then turned and found tight end Ryan Shanor with a throwback screen pass on the left. Shanor avoided one tackler and raced down the sideline for a 41‑yard touch­down. Nick Pribich's kick made it Massillon 7, Barberton 0 as time expired in the third quarter.
"The way they were coming so hard off the back side, we felt if we could get (the screen pass) in there at the right time, it would work," said Tigers head coach Jack Rose. "We were just going for the first down. They were in a man‑to‑man. We got a good block out there and Ryan was able to go down the sideline for a touchdown.
"Mark made a heady play by avoiding the sack on second down. He is the kind of kid who can beat you from the head up."
Barberton head coach Ed Robinson praised Rose's play call.
"We were bringing the house and we had man (coverage) on and the guy who was in man coverage missed the tackle," Robinson said. "When you do that you're in trouble. They got a nice block out of their tackle and it was a nice play call for the situation. What are you going to do? That's the one breakdown defensively we had all night long."
On Barberton's first play after the ensuing kickoff, Griffith came up with another monster play. The 5‑8, 150-pound senior plastered Jenson on the safety blitz, forcing him to fumble the football. Matt Robinson scooped up the pigskin in the end zone for a touchdown to put the Tigers up 13‑0 with 10:52 to play.
"I had a lot of clean shots at the quarterback," Griffith confirmer. "I was just waiting for this game because I knew I could get him in that shotgun. Coach had the calls perfect. Our line did a good job getting up­field and I just went in there and took it to him."
Griffith indicated the defen­sive game plan was simple.
"We were running our regu­lar coverage," he explained, "but when they went to the shot­gun, we checked to the blitz and it caused a lot of disruption."
"We got after (Jenson) pretty good," Rose said. "He hung in there pretty well. He has a lot of courage. But you can only take so much of that. Sooner or later you get a turnover."
Wells put the final points on the scoreboard for the Tigers, tackling tailback Bryan Wat­kins in the end zone for a safety with 3:29 to play. The score was set up, appropriately enough, by Robinson's sack of Jenson on the seven‑yard line on the pre­ceeding play.
"Coach Wells told me to try to put some pressure on (Jenson) so we could take him out of the game early," Wells said.
"We had rhythm going after beating Fitch. But with every­thing that happened this week, we felt we had to unite on de­fense to pull us through."
Massillon held Barberton to just 71 net yards of total offense for the evening. The Magics managed just .5 yards per rush on 31 running plays. They fum­bled three times and lost two.
Ashcraft, appearing to run even harder than usual, rushed for 111 yards in 17 carries. Vin­ny Turner and Nate Lewis com­bined for 104 yards rushing to keep the Magics from keying solely on Ashcraft.
"We had a lot of adversity this week coming off the big win last week," summarized Rose. "A lot of things happened to keep the guys from being focused. I think we did a good job. We knew we had to do a great job on defense so Mark (Hiegl) had a chance to get his feet wet. I thought he got better as the game went on."
The Tigers will host Cuyaho­ga Falls next Friday. Falls re­mained undefeated with a 37‑7 Metro League victory over Ravenna.
MASSILLON 15
BARBERTON 0
M B
First downs rushing 10 4
First downs passing 1 3
First downs penalty 0 1
Total first downs 11 8
Net yards rushing 194 16
Net yards passing 50 55
Total yards gained 244 71
Passes attempted 8 11
Passes completed 3 6
Passes int. 1 0
Times kicked off 3 1
Kickoff average 55.7 56.0
Kickoff return yards 3 68
Punts 3 4
Punting average 30.0 36.8
Punt return yards 23 0
Fumbles 1 3
Fumbles lost 0 2
Penalties 4 5
Yards penalized 38 31
Number of plays 47 43
Time of possession 25.19 22.41
Attendance 10,034
MASSILLON 0 0 7 8 15
BARBERTON 0 0 0 0 0
THIRD QUARTER
M ‑ Shanor 41 pass from Hiegl (Pribich kick)
FOURTH QUARTER
M ‑ Robinson fumble recovery (kick failed)
M ‑ Wells safety tackle of Watkins
FINAL STATISTICS
Rushing:
Massillon
Ashcraft 7‑60,
Turner 4‑55;
Barberton
Hanlin 6‑30,
Lamb 3‑17.
Passing:
Massillon
Hiegl 2‑6‑9;
Barberton
Jenson 1‑6‑10.

Leon Ashcraft