Tigers have mission
By CHUCK HESS, JR.
While the Massillon Tigers were holding the Altoona Pa., Mountain Lions to 98 net rushing yards Saturday night at Tiger stadium, Canton McKinley's Bulldogs were holding Steubenville's Big Red to 48 at Fawcett stadium in Canton.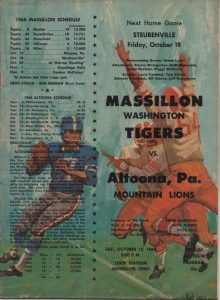 When the River City team comes here Friday night for its second consecutive All-American conference (AAC) contest, the Tigers will be out to show they can do better than their
arch-rivals. The Washington high eleven will also be out to pick up the one-half game lost to McKinley.
* * *
ANOTHER CONCERN of the Orange and Black will be stopping Steubenville's Craig Misslewitz, the AAC's leading scorer going into last weekend's contests. The Bit Red's Bob Washington is ranked the No. 2 receiver.
In light of the 205 yards through the air given up by the Tigers while defeating Altoona
30-0 Saturday night – the most allowed by the Orange and Black's secondary this year – Steubenville's passing game can't be taken lightly.
Altoona quarterback Jim Pry completed 13 of 34 passes.
Lion receivers, termed by Coach Earl Strohm, "the best crop we've had for awhile."
On Altoona's last time with the ball blockers kept defenders at bay long enough to make Pry effective. But many passes were dropped by receivers and the Tiger defense thwarted others, making it the first time this season the Lions had completed less than 50 per cent of their attempts.
We've been trying to capitalize on our passing game since we started getting a lot of injuries," Strohm explained.
It must have been the longest night of the season for Tiger fans who provided the major part of the 14,038 attendance. The Lions got to the Tigers one, eight, nine, 29, and 14-yard lines in the first half – twice on fumbles by Jim Smith – before the defense stiffened.
* * *
ON TWO of those occasions, Dave Redline missed 18 and 21-yard field goals. On another, Dave Hout, Jerry Harris and Elijah McLin stopped Jeff Simms just short of the goal line. Hout's fumble recovery aborted one drive.
Meanwhile Altoona was jamming the off-tackle holes and guarding the corners so well that the WHS squad didn't get out of its own territory until Bert Fampier, back in action for the first time since he was injured in the season opener, ran a pass interception back 26 yards and set in motion a drive which fizzled moments later on the Altoona 36.
* * *
THE TIGERS got on the scoreboard with five seconds left in the half via a 71-yard drive and one of the weirdest plays ever seen at Tiger stadium.
Quarterback Marc Malinowski threw from the Altoona 23 to wingback Mark McDew, in the center of the end zone. Two defenders blasted into McDew, causing the ball to pop into the air. One of the defenders batted the ball again and tight end Tom Robinson grabbed it for the six points.
Malinowski missed the conversion off right tackle.
* * *
ALTOONA GOT to the 11 in the third quarter before John Hodgson and Dampier broke up a fourth down pass. The Lions had been stopped at their 37 but the Tiger's very aggressive junior middle guard Dave Hout roughed punter Doug singer, giving Altoona new life.
Hout was also called for being offside and clipping on the run-back but his aggressiveness paid off as he had an unofficial 15 tackles followed by George Whitfield with 12, and Stoner and Larry Shumar each with nine.
Simms had 12, Wayne Mascia and John Fusco each 10 and Dave Elvey nine for Altoona.
Massillon got out of its own territory only once in the third quarter and then Harris picked up Elvey's fumble on the Lions' 11 early in the goodbye canto. Two plays later Malinowski faked to fullback Darnell Streeter and skirted right end for the score with 7:56 remaining.
Fullback Mike Autrey went off right tackle for the conversion.
* * *
STONER INTERCEPTED a pass on the Tigers' 24 shortly thereafter and on the next play Autrey went off tackle, made a great cut and raced 76 yards to pay dirt with 5:40 remaining. The left side of the Orange and Black line opened a nice hole.
Streeter went around left end for the conversion.
The Tigers stopped a Lion drive on Massillon's 34 and the resulting drive, abetted by Smith's 24-yard run, netted the final score with Malinowski hitting McDew on the five and Mark carrying in for the score. Forty-four seconds remained.
Smith navigated left-end with the ball, another of those tip catches occurred as Hodgson batted a pass into end John Imler's hands at the Massillon 30 and he raced to the 14. Time ran out two plays later.
* * *
"OUR BOYS did a heckuva job defensively inside the 20 where it counts," Tiger coach Bob Seaman said. "I thought their kids were pretty tired by the end of the game."
He added, "They did a fine job against us but Autrey's long run took the starch out of them."
"We were in the game for 3 ½ quarters," Strohm said. "That long run took us right out of it. We got close several times but couldn't score. Nothing we expected to work did work."
About his double slot formation, Strohm commented, "It was a little different look than we had been using."
The Tigers' fifth victory against one loss saw Smith with another 100-plus yards night on the ground – 114 of the Orange and Black's 254 net in 25 carries. Altoona is 2-4.
ALTOONA – 0
Ends – Imler, Singer, Young, Plummer, Rehm.
Tackles – Beatty, hench.
Guards – Schraff, Keown, Costlow, Mascia.
Center – Strohm.
Quarterbacks – Pry, Redline, Ellis.
Halfbacks – Diehl, Simms, Lutchko, Robinson, Fusco.
Fullbacks – Balestino.
MASSILLON – 30
Ends – Dampier, Jackson, James, Robinson, Cline, Engler, Conley.
Tackles – McGeorge, Laase, Harris, Dorman, Doll, Midgley.
Guards – Whitfield, Couto, Harig, Hout, Arnott, Indorf, Fichter.
Centers – Cocklin, Gengo.
Quarterbacks – Malinowski, Fromholtz, Lombardi.
Halfbacks – Smith, McDew, Shumar, K. Autrey, Hodgson, Stoner.
Sheaters, McLin, Gamble, Miller.
Fullbacks – M. Autrey, Streeter, Johnson.
Massillon 0 6 0 24 – 30
Touchdowns: Massillon – Robinson (23-yard deflected pass from Malinowski); Malinowski (20-yard run); M. Autrey (76-yard run); McDew (13-yard, pass-run play from Malinowski).
Massillon
Att. Net.
Malinowski 8 21
Smith 25 114
McDew 7 12
Streeter 3 20
M. Autrey 5 87
Altoona
Att. Net.
Lutchko 10 28
Balestino 6 15
Pry 11 10
Simms 5 21
Elvey 4 18
THE GRIDSTICK
M A
First downs –rushing 8 3
First downs – passing 4 10
First downs – penalties 2 2
Total first downs 14 17
Yards gained rushing 272 135
Yards lost rushing 18 37
Net yards gained rushing 254 98
Net yards gained passing 62 205
Total yards gained 316 303
Passes completed 4-6 13-34
Passes intercepted by 2 0
Yardage on passes intercepted 29 0
Kickoff average (yards) 5-36.2 1—29
Kickoff returns (yards) 17 57
Punt average (yards) 5-35.8 2-32.0
Punt return (yards) 0 0
Had punts blocked 0 0
Fumbles 2 6
Lost Fumbled ball 2 2
Penalties 8 5
Yards penalized 83 55
Touchdowns rushing 2 0
Touchdowns passing 2 0
Total number of plays 62 76
See Altoona
pics tonight
Films of last Saturday's Massillon – Altoona football game will be shown to Tiger Booster club members tonight at 8 at Washington high school. President Duane Knight will preside in the school's auditorium.
Coach Bob Seaman will answer questions on that game as well as the Tigers next outing. The Orange and Black will host Steubenville Friday at Tiger stadium in an All-American conference encounter.