Dingler, Spencer pace Tiger victory
By CHUCK HESS, JR.
Independent Sports Editor
Scotty Dingler added something new to the Tigers' offensive arsenal Friday night – the conversion kick.
The Washington high quarterback booted six of them, two short of the all-time mark of eight set by guard Bob Pflug in 1923, reached twice by center Jerry Krisher in 1950 and once by halfback Tom Boon in 1952.
THE LAST to kick six was tackle Bob Williams in 1954.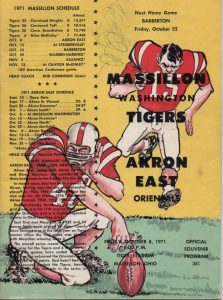 The WHSers put together a well-run offense with another stingy defensive job for a 42-6 victory over Akron East before 9,230, the smallest in the first five games – all played at Tiger stadium. The win gave the Orange and Black a 4-1 record and dropped the Orientals to 2-2.
"Dingler has worked hard on kicking conversions," Tiger head Coach Bob Commings said, "and it paid off. I was also pleased with his kickoffs. He'll do it some more, although it's kind of tough on a quarterback. He's a good short tackler and it gives us that extra man in there."
Tailback Willie (The Wrecker) Spender scored two touchdowns, picked up 117 net yards, losing none, in 13 carried; ends Mike McGuire and Joe Matie each scored once as did fullback Don Perry and tailback Larry McLenndon.
The Tigers picked up 518 total net yards while giving up 155, allowing the Orientals no further than the Massillon 42 and completed four of eight passes for 128 yards. It was the Orange and Black's best showing of the season, but they lost three of four fumbles, reverting to an early-season malady and it cost them.
"THEY WERE by far the quickest team we've played," Commings states. "Their offense was well conceived, they knew what they wanted to do against our angle defense, hurt us with the quick fullback hitter and were a good team, but just didn't have enough personnel. They were the best we've played against all year and might have given some others ideas."
The Tigers got their first score on a 68-yard, eight-play drive, aided by a 15-yard face mask call. Hannon started it with a 23-yard kickoff runback and Perry bulled over from the five on first down with 2:13 remaining in the first quarter.
Todd Cocklin started the next drive with a recovery of sub quarterback Eric Parson's fumble at the Massillon 47. Seven plays and a five-yard procedure penalty later, Spencer rolled around left end on third and five from the Orientals' 35 for the touchdown with 10:31 left in the second quarter.
The Tigers almost had a TD on a first-down pass from Dingler to split end Mike McGuire from the Massillon 47, but a cornerback came rushing in, couldn't be blocked and the pass didn't get to McGuire. They missed another in the second period when Hannon ran back a punt 65 yards, but the kicker had been roughed.
A six-play, 73-yard drive netted the WHS high team its third score with 1:45 left in the second canto. Dingler, getting excellent protection, hit McGuire on the 26 from second and 10 on the East 41 and McGuire carried in. The pass was perfectly thrown on the hook pattern down the middle.
The groovy-hipped Hannon ran the second-half kickoff back 25 yards and the Tigers scored in eight plays after McGuire had picked up McLenndon's fumble at the East 20. McLenndon went into Promised Land over right guard on second down from the six with 8:57 showing.
* * *
A FIVE-PLAY, 61-yard drive, with Spencer on the scoring end and Perry providing a
41-yard romp over right tackle to the East five, caused the scoreboard lights to flash again. Spencer went over the same tackle on first down from the five with 10:24 left in the goodbye episode.
The last touchdown was thwarted temporarily by a series of misadventures. Hannon took a Westover screen left on the Tigers' 30 and ran 31 yards to he East 39, but the Orientals intercepted a pass.
Don Muhlbach re-intercepted on the next play and ran back 44 yards to the East 35, but then came a clip. Hannon scooted through the center for 14 yards to the Massillon 43 and second and one.
Westover hit split end Joe Matie on the Orientals' 25 and Joe scored with 4:05 to go.
Dom Patella, East coach, thought his team did very well considering he started only three seniors.
"Line play made the difference," is the way he explained his third loss to Massillon. "They blew us out of there and got stronger as the game went along."
* * *
"SPENCER WAS outstanding offensively. Jim Bolden and Merle Burdette (a junior and sophomore respectively) are not in Spencer's class, but will be outstanding as they get older."
After a month's sojourn at home, the Tigers will travel to Harding field in Steubenville next Friday for their second All-American conference game.
AKRON EAST – 6
Ends – Moledar, C. Parson, Patton, Smith, Evans.
Tackles – Blair, McGhee, Dixon, Kasarnich, Lidge, Owens, Wittman.
Guards – Beasley, Crawford, Lillie, Preer, Cash, Platt.
Center – Laster.
Quarterback – E. Parson.
Halfbacks – Flint, Ratcliff, Grimes, Moore, Anry, Bolden.
Fullbacks – Burnette, Thomas.
MASSILLON – 42
Ends – McGuire, Matie, Stephan, Sullivan, Bodiford, Rowe, D. Edwards.
Tackles – Heath, Weirich, Peters, Hauschultz, Shumar.
Guards – Guiffre, Heck, Christoff, Graber, Simpson, Keller, Mayles, Bash.
Centers – Studer, Cocklin, McCabe, Allman.
Quarterbacks – Dingler, Muhlbach, Westover.
Halfbacks – Spencer, McLenndon, T. Edwards, Thompson, Weise, Wonsick, Christie, Jackson.
Fullbacks – Perry, Hannon, Wood.
EAST 6 0 0 0 6
MASSILLON 7 14 7 14 42
SCORING SUMMARY
E – Thomas, 1 run (run failed); M – Perry, 5 run (Dingler kick);
M – Spencer, 35 run (Dingler kick); M – McGuire, 41-yd., pass-run
from Dingler (Dingler kick); M – McLenndon, 6 run (Dingler kick);
M – Spencer, 5 run (Dingler kick); M – Matie, 57-yard pass-run
from Westover (Dingler kick).
THE GRIDSTICK
M E
First downs, rushing 20 7
First downs, passing 3 0
First downs, penalties 2 2
Total first downs 25 11
Yards gained rushing 392 144
Yards lost rushing 2 18
Net yards gained rushing 390 126
Net yards gained passing 128 29
Total yards gained 518 155
Passes completed 4-8 2-13
Passes intercepted by 1 1
Yardage on passes intercepted 22 18
Kickoff average (yards) 7-45.3 2-37.5
Kickoff returns (yards) 46 82
Punt average (yds.) 0 6-32.9
Punt returns (yds.) 14 0
Fumbles (lost) 4(3) 4(1)
Yards penalized 5-65 6-61
Touchdowns rushing 4 1
Touchdowns passing 2 0
Total number of plays 51 62
OFFICIALS
Referee – Howard Eckert.
Umpire – Joe Yanity.
Head Linesman – Henry Mastrianni.
Field Judge – Charles Hinkle.
Back Judge – Robert Walker.
ATTENDANCE – 9,230