Shepas still sees progress and promise in Massillon Tigers' ferocity in defeat to Warren Harding has coach proud, excited
By JOE SHAHEEN
Joe.Shaheen @ IndeOnline.Com
You don't want to be in the midst of a four-game losing streak as you prepare to play your biggest rival, but that's the scenario facing the Massillon Tigers this week with five days until they face off with Canton McKinley for the 111th time this Saturday at Fawcett Stadium in Canton.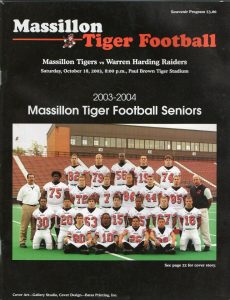 The scoreboard at Paul Brown Tiger Stadium on Saturday night past displayed the bottom line: Warren Harding 31, Massillon 15.
What it didn't reflect was how hard the Tigers battled against the No. 3 team in the nation, sending the Raiders back to Warren with injuries to quarterback Alex Engram (Left shoulder), running back Delbert Ferguson (broken right leg), running back Richard David (ankle) and starting split end Peter Sparks.
The Tigers, meanwhile, come into McKinley Week with more to play for than pride and a win over their longtime rivals.
"Believe it or not there is still an outside shot to make the playoff," Tiger head coach Rick Shepas revealed. "Believe it or not, there is (a chance to get in.) Mathematically some things have to happen but they happened for us last year and we made a run."
The Tigers are also much more confident about their quarterback position than a week ago. Sophomore Quentin Paulik connected on 23 of 42 passes for 310 yards and two touchdowns against one of Ohio's elite high school football teams.
"Quentin Paulik showed a lot of poise in the pocket," observed Shepas. "Early on he had a couple of balls get tipped but I think he will learn from it. He's one week better from last week.
"I thought it was a nice changeup with what we did with Steve Hymes, not to knock him up too much, get him an extra week of rest but still have him on the field."
Warren Harding head coach Thom McDaniels, a high school and college quarterback himself who takes a great deal of pride in coaching that position, thinks the Tigers may have another rgood one in Paulik.
"We're going to try to pressure a guy like Paulik who is inexperienced to find out whether or not he can handle that kind of pressure," McDaniels said. "He more than met the test because he did some good things, his receivers did some good things, and they generated some offense. We just were able to get some turnovers."
Ah, yes. The turnovers. Massillon gave up six, including five interceptions, continuing a troubling trend that began with St. Edward and continued with Dayton Chaminade-Julienne and was evident against Warren Harding. In that three-game span, the Tigers have turned the ball over 20 times.
Shepas pointed out not all of the turnovers against Warren are on his quarterback.
"We've got to catch the ball too," he said. "some of the turnovers we had were from tipped passes. I thought (Paulik) came out and played well."
"We started getting back into our style of offense a little bit with Quentin. You see, you need to throw the ball to keep people off balance."
That's exactly what the Tigers did on their first possession of the night against Warren. Trailing 7-0 following a nine play, 72-yard opening march by the Raiders, Massillon went back to the 'pass first, ask questions later' attack that has been so successful during the Shepas era.
On the Tigers first play from scrimmage beginning at their own 20, Paulik meshed with junior tight end Wayne Gates on short slant over the middle that became a 45-yard gain. Then the sophomore found Ryan Schindler for eight yards, and one play later hit Gates in full stride for an 18-yard touchdown.
Zach Smith's extra point made it a 7-7 game with 6:16 to play in the first quarter.
"We had them reeling a little bit," Shepas said. "We put together one of our best drives of the season early on in the game. It made it exciting for awhile. We're going to be better from this schedule."
Warren retaliated with a 35-yard field goal to make it 10-7.
But what sent Massillon sliding down that slippery slope was an interception just three plays into its ensuing possession, giving Warren the ball at the Tiger 46.
Three plays later, Engram hit Sparks on a 10-yard slant and the senior wideout turned on the jets for a 36-yard touchdown. The PAT made it a 17-7 game with most of the second quarter still to be played.
The Massillon defense forced Warren to punt on its next two possession but a Tiger fumble inside their own 20-yard line at the outset of the second half gave Engram and Sparks an opportunity to reprise their touchdown connection and the Raiders were up 24-7.
Warren's next four possessions ended with a punt, a blocked field goal, and two Engram fumbles as the Tiger defense scrapped and clawed.
"I'm really proud of the way our kids played," Shepas said. "I'm proud of the way they practiced after the three losses we had coming into this game and playing the No.2 team in the state and No 3 in the country. Plenty of teams could have turned tail and run from that but I don't think our kids did."
"We tried to utilize our guys to the best of their ability. I'm excited about it. I've always been excited about our kids. I'm happy with the way we played. We're playing this schedule for a reason and it's going to pay off for us."
An Engram to Jonte Stroud touchdown pass made it 31-7 Warren with six minutes to play.
Massillon answered with a 40-yard Paulik to Billy Relford scoring aerial and Relford's two-point conversion run to cut the Tigers deficit to two touchdowns and two two-point conversations. The ensuing onside kick, though was recovered by Warren, sealing Massillon's fate.
Warren Harding 31
Massillon 15
Warren Harding 10 7 7 7 31
Massillon 7 0 0 8 15
SCORING
W – David 1 run (Spain kick)
M – Wayne Gates 18 pass from Quentin Paulik (Zach Smith kick)
W – Spain 35 FG
W – Sparks 36 pass from Engram (Spain kick)
W – Sparks 7 pass from Engram (Spain kick)
W – Stroud 30 pass from Engram (Spain kick)
M – Billy Relford 40 pass from Quentin Paulik (Relford run)
INDIVIDUAL STATISTICS
Massillon rushing: Tuffy Woods 6-22.
Warren Harding rushing: Engram 10-89
Massillon passing: Paulik 23-42-310, 2 TD, 5 INT.
Warren Harding passing: Engram 8-12-107, 3 TD.
Massillon receiving: Wayne Gates 7-122, TD; Billy Relford 2-72, TD.
Warren Harding receiving: Sparks 3-50, 2 TD.


Brock Hymes