Tigers hang on to nip St. Vincent 9‑7
By ROLLIE DREUSSI
Independent Sports Editor
As Massillon coach Mike Currence watched Akron St. Vincent's Dave Bittner line up to try a game‑winning field goal Friday night, he refused to ask for help.
"I'll thank the Lord if he misses, but I'm not praying that he does," Currence said later about what he was thinking just before Bittner barely missed a 30-yard attempt with 24 seconds left that preserved Massillon's 9‑7 victory before 12,069 In Paul Brown Tiger Stadium.
"Somebody upstairs likes me," Currence added. To which junior high coach Dave Slinger pitched in: "He owed us that one."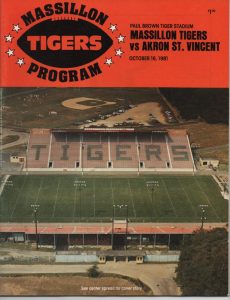 Whatever the forces and reasons were that determined the outcome of this well‑played game, it was certainly the Tigers' biggest victory of the season as they handed the previously undefeated Irish their first loss.
And while it was a game that St. Vincent could just as easily won, Massillon outplayed the Irish. They outgained them in yardage 333‑169 and only the Tigers chronic failure to score from inside the five yard line (twice) kept them from having an easier time of it.
Most of the Tigers' yardage came on the arm of senior quarterback Rick Spielman, who played perhaps his finest game of the season. Spielman hit 9 of 16 passes for 202 yards and the Tigers' only touchdown.
He admitted afterwards to being emotionally pumped up for the game.
"They came in here undefeated and we were coming off a really discouraging loss," he related. "We had to prove to the people we wouldn't die; that the Massillon Tigers never die."
Spielman was also the Tigers second leading rusher with 39 yards, and he said his running helped open up the passing game.
"I ran more to bring the halfback up. When I run the ball it helps the passing game. We worked a lot on our passing game this week to give me some confidence in throwing the ball and my receivers confidence in catching it," Spielman explained.
The extra practice paid off, as the Tigers' run‑and‑shoot offense had plenty of shoot for the first time in five games.
"Rick's starting to come around a little bit," Currence noted "He had a hell of a night. That's what we expect out of the run-and-shoot."
Outside of the missed field goal by Bittner (who also missed an earlier attempt from 35 yards), the key plays of the game were a 64‑yard touchdown pass from Spielman to George Roknlch and a 20‑yard field goal by Greg Radtka.
Roknich's TD came at the 5:44 mark of the second quarter. He broke a tackle at the Irish 39 and scooted down‑the‑right‑sideline‑to‑give‑Massillon a 6‑0 lead (Tim Manion's kick was wide right).
Massillon fumbled on its first play of the third quarter and Dan Donovan recovered for the Irish at the Tiger 21. Six plays later quarterback Steve Stams sneaked over from the one and Bittner's boot gave the Irish a 7‑6 lead with 8:57 on the third‑quarter
The Tigers then drove from their own 27 to the Irish three, and Radtka booted what proved to be the winning field goal with 4:57 to go In the third quarter.
A key play in that drive, was a 43‑yard pass from Spielman to junior wide receiver Gary Conley that carried to the Irish 30. On fourth‑and‑10 from the 30 Spielman hit ‑ Larry Newman with a 12‑yard pass for a first down at the 18. A pass to Conley picked up 14 more to the four. The Tigers settled for a field goal, but two potential TD passes were dropped in the end zone.
St. Vincent mounted its final drive late in the fourth quarter when it drove from its own 30 to the Tigers' 13 in eight plays. With no time outs left, the Irish went for the field goal on second down and Bittner's kick was barely wide left.
"Our defense did a great job," Currence said, "They are a great team running the ball, and we made them look average. But when it comes right down to it, we had some luck."
Perhaps some of that luck came with a former Tiger star who was at the game and gave the Tigers a little pep talk during halftime.
Steve Luke, who starred on the Tigers last state championship team, in 1970 before going on to a fine college career at Ohio State and a six‑year stint with the Green Bay Packers, "gave 'em some words" before the 71 Tigers came out for the second half.
The Tigers certainly gave an all‑out effort, and the win keeps alive their slim hopes of qualifying for the computer playoffs for the third straight year.
Currence gave a lot of credit to the defense, and defensive coordinator Jim Letcavits and linebacker coach Dale Walterhouse both said a switch the Tigers made to counteract St. V's unbalanced line was the key.
With middle guard William Askew out, Charles Calhoun and Brian Schodorf alternated in the middle, while linebacker Tim Manion and Gary Wells joined Rick Heather opposite the Irish's wide side of the line.
Manion was basically playing as a monster back at the end position, while Wells was inserted between the hose guard and Heather. Mark Haubert played Manion's linebacker position.
"They had two big tackles on one side so we thought we'd put our big kids on their big kids," Letcavits said, "It worked great."
Heather is 6‑3, 230, and Wells, a backup offensive lineman, is 6‑1, 270.
"Haubert came off the bench and did a whale of a job," Walterhouse added.
Irish coach John Cistone said he expected the Tigers would go with that kind of defense.
"We knew they were strong, but we felt we had to establish the running game," he said. St. Vincent had been averaging 27.5 points per game behind a strong running attack, but gained only 118 yards on the ground against the Tigers.
Massillon had 131 yards on the ground, with Newman getting 44 in seven carries. Roknich had 16 in seven carries and caught two passes for 81 yards. Newman caught three aerials for 44 yards and Conley had two for 57.
"It was a good football game, period," Cistone said. "They're a good team. Their 4‑2 record (5‑2 now) doesn't indicate the kind of team they have.
"I don't feel we have to be ashamed. We played a good football game. It was just as much ours as theirs," he added.
Except for a few inches on Bittner's field goal attempt, he was right. A few inches for which Currence and his Tigers are quite grateful.
MASSILLON 9
St. VINCENT 7
M V
First downs rushing 7 6
First downs passing 8 3
First downs by penalty 1 4
Total first downs 16 13
Yards gained rushing 147 128
Yards lost rushing 16 10
Net yards rushing 131 118
Net yards passing 202 51
Total yards gained 333 169
Passes attempted 16 17
Passes completed 9 6
Passes int. by 0 1
Yardage on pass int. 0 15
Times kicked off 3 2
Kickoff average 57.3 46.0
Kickoff return yardage 26 33
Punts 3 6
Punting average 38.0 34.5
Punt return yardage 12 5
Fumbles 2 1
Fumbles lost 2 0
Penatlties 6 3
Yards penalized 59 15
Touchdowns rushing 0 1
Touchdowns passing 1 0
Number of plays 58 59
Time of possession 22:08 25:52
Attendance 12,069
St. VINCENT 0 0 7 0 7
MASSILLON 0 6 3 0 9
MASS – George Roknich 64‑yard pass from Rick Spielman (kick failed)
St. V ‑ Steve Stams 1‑yard run (Dave Bittner kick)
MASS ‑ Greg Radtka 20 FG