Pride is still the word in Tigertown
By CHUCK HESS, JR.
Independent Sports Editor.
Pride has been a key word with Bob Commings all season.
Over and over again the Tiger football coach has told his charges that individual pride is what makes a great player. When 11 players have individual pride, a team has pride and becomes great.
* * *
TODAY THE Washington high gridders are a proud team and their pride has swelled into Tigertown pride – a pride that will probably manifest itself in the biggest crowd to ever turn out for the annual football banquet come Nov. 29 at the WHS cafeteria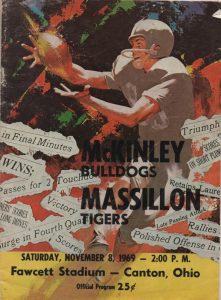 The Orange and Black lost the season finale 14-7 to arch-rival Canton McKinley in the 74th renewal of the ancient grid classic before 22,200 fans Saturday afternoon at Fawcett stadium in Canton. They also lost the All-American conference title to the Bulldogs, but the Tigers became great in the eyes of their fans.
It took the Bulldogs 47 minutes and 43 seconds to get their win and a 9-1 record while the WHSers ended 7-2-1, but the Pups knew they were in a game. The Tigers hit hard and ran hard the whole afternoon. They played better football and practically stopped the Bulldogs cold.
But for a senior quarterback named Joe Babics, some finesse at key moments, a couple of penalties and a great break made by the Bulldogs, it might have been a different story.
Bulldog fullback Rocco Rich, tailback Rich Brown and wingback Ed Floyd got almost nowhere. Admittedly Brown, who had been injured a couple of weeks ago, was not in the best of condition, operating on a gimpy ankle.
"We won the real warfare," a tired Tiger game Co-Captain Darnell Streeter said afterwards. He referred to the statistical column where the Orange and Black amassed 15 first downs to McKinley's 11 and 255 total yards to the Bulldogs' 172.
* * *
STREETER PICKED up 72 yards in 16 carries and Autrey 74 in 17.
Both of McKinley's touchdown drives featured outstanding outside running by Babics, dictated by a great inside Tiger defense. Fifteen-yard face mask penalties and an interception by Rich on the second drive also helped.
Outside of the two TD jaunts and a long pass to the Massillon 30 at the end of the first half,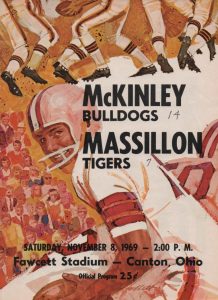 McKinley failed to get out of its own territory.
Rich's pilfer came after the Tigers had forced a punt and had taken over on their 47 with 2:06 left in the game. Quarterback Gary Herring found wingback Larry Harper down the middle on the McKinley 43, but Harper was hit hard, the ball bounced into the air, Rich grabbed it and got back to the Orange and Black's 47.
Commings could have settled for a tie but to his credit, he went after a win.
Eight plays later sub quarterback Joe Shimek, off play action and a sprint out, tossed to Floyd who made a diving catch for the winning TD with 17 seconds left. Shimek followed with his second conversion boot.
Babics executed two key runs off fake action to turn the end, one on first down from the Tiger 47 to the 41with the face mask penalty added. Then on fourth and one on the 14 he sprinted to the two.
* * *
BABICS WAS injured when thrown out of bounds. Shimek came in, handed off twice into the line and then threw the winning pass.
"The proudest guy around has got to be Mr. Shimek and I can't blame him," Bulldog Coach Ron Chismar said. "He was our No. 2 quarterback all year and he had the guts to come in when we needed him. And that was a beautiful catch by Floyd!"
Chismar acknowledged that the Bulldogs had gotten a big break via Rich's interception.
"It takes breaks to win," he said. "We gave a few away and got some."
Shortly before the fateful drive the Tigers had punted on fourth and four from the Bulldog 43.
"It worked out the way we wanted it to," Commings said. "We got the ball back with two minutes to go."
* * *
McKINLEY'S OTHER scoring jaunt came after the Tigers' only TD and featured eight plays and 75 yards after a 20-yard kickoff runback by Tom Clifford.
Another deceptive 11-yard end run by Babics with a face mask penalty thrown in and a
31-yard pass to Mark Brown, which put the ball on the Tiger 16, were the highlights.
Babics carried on three of the next five plays and when the Orange and Black stacked its linebackers behind its tackles and left a gap in the center, Babics rammed through from the three on third down with 8:09 left in the second stanza. Shimek booted the PAT.
The Tigers' score came off a 42-yard drive and a 13-yard interception runback by Don Lewis. The Commingmen's effort featured eight plays, an 11-yard run by Streeter, who carried seven times, and a 19-yard pass from Herring to Harper who made a brilliant catch just inside the boundary line for a first down at the nine. Autrey scored over guard on fourth down from the one with 11:52 left in the second stanza. Mike Mauger kicked the conversion.
The Tigers ran out of downs after a 27-yard drive to the 32 in the first quarter – following a 39-yard jaunt to the 38 in the third quarter and lost the ball again on downs after Doug Miller had intercepted a pass near the sideline on the McKinley 21 in the third canto. The Orange and Black moved the ball only four more yards.
They had the ball for 21 plays compared to McKinley's 8 in the third quarter and for 68 compared to the Pups' 47 over-all, giving the home-standers a good dose of their own ball control medicine.
"Massillon did a fantastic job of defensing us," Chismar stated.
"We did a fantastic job of hitting them," Commings opined. "They're a great team. They fooled us a couple of times but we controlled the ball on them. I couldn't ask for any better effort than our boys gave.
MASSILLON – 7
Ends – Robinson, Lewis, Byelene, McConnaughead, Maxhimer.
Tackles – Benson, Dorman, Bingle, Celik, Reinerts, Ridgley, Strobel.
Guards, Hout, Midgley, McLin.
Centers – S. Luke, Brand.
Quarterbacks – Streeter, Harper, Mauger, Sheaters, Miller, Ammond.
Fullbacks – Autrey, Cardinal.
McKINLEY – 14
Ends – Turner, M. Brown, J. Martin, Clayton, DiMarzio, Birl, Roman.
Tackles – Ford, Obrovac, R. Martin, Gardner.
Guards – Nemeth, Cook, Hayworth.
Centers – Clark, Pimpas.
Quarterbacks – Babics, Shimek, Stranan.
Halfbacks – Walker, Floyd, R. Brown, Clifford.
Fullback – Rich.
Massillon 0 7 0 0 – 7
McKinley 0 7 0 7 – 14
SCORING SUMMARY
M – FB Mike Autrey, one-yard run, TB Mike Mauger PAT (kick)
McK – QB Joe Babics, throw-run, QB Joe Shimek PAT (kick)
Mck – WB Ed Floyd, throw-pass from Shimek, Shimek PAT (kick)
OFFICIALS
Referee – John Cseh.
Umpire – Chuck Lorenz.
Head Linesman – Milo Lukity.
Field Judge – Ruggiero.
Back Judge – Tonn.
THE GRIDSTICK
M McK
First downs – rushing 9 5
First downs – passing 5 4
First downs –penalties 1 2
Total first downs 15 11
Yards gained rushing 159 95
Yards lost rushing 12 10
Net yards gained rushing 147 85
Net yards gained passing 108 87
Total yards gained 255 172
Passes completed 9-23 7-12
Yardage on passes intercepted 2-18 1-10
Kickoff average (yards) 2-51.0 4-48.3
Kickoff returns (yards) 0 19
Punt average yards 4-33.5 5-38
Punt returns (yards) 5 7
Had punts blocked 0 0
Lost fumbled ball 1-4 0-2
Yards penalized 6-57 2-10
Touchdowns rushing 1 1
Touchdowns passing 0 1
Total number of plays 68 47
A salute to the Tigers
The scoreboard read Canton McKinley 14, Massillon 7, but the Massillon Washington high school football team stood high in the eyes of Massillon fans.
Entering the Saturday afternoon game played in Canton's Fawcett stadium an underdog by two touchdowns, the Tigers played admirable football for 48 minutes. They lost the game to Canton but won the admiration of Massillon fans for their spirited play. They won the battle of statistics, first downs, yards gained from passing and rushing, but lost on the scoreboard which showed 17 seconds remaining when Canton scored the winning touchdown.
Seldom has a Massillon team played any better football and still lost the game. We salute Coach Robert Commings, his staff and the Massillon Tigers for a job well done.
We congratulate Canton McKinley. The Bulldogs hung on tenaciously, capitalized on opportunity when victory had all but eluded them and scored their winning points on a truly great catch by halfback Eddie Floyd, thrown by substitute Quarterback Joe Shimek.
The McKinley team, one of the greatest in Bulldog history, should be voted state champion on the basis of its schedule, but will probably finish second to Upper Arlington whose opponents were not of the same caliber as those played by McKinley.