By JOE SHAHEEN
Joe.Shaheen@IndeOnline.com
You could probably take Massillon's last three opponents, roll them all into one, and you still wouldn't have as good a team as the one the Tigers will face this Saturday when Cleveland St. Ignatius comes a calling at Paul Brown Tiger Stadium. But the Tigers don't look at it that way. Head coach Rick Shepas won't let them. Shepas and his coaching staff want the 3-2 Tigers to prepare for a faceless opponent this week, not one that this proud football program has never defeated. They want the Tigers to get ready for St. Ignatius in much the same fashion as they got ready for Mansfield, Findlay or Calvin Coolidge High of Washington D.C, a 52-8 victim of a rejuvenated Massillon team last Saturday night in the house that Paul Brown built.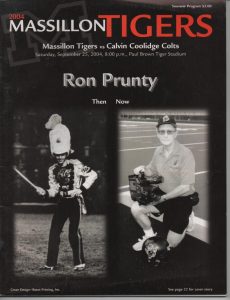 "We're not going to change anything," said Tiger co-captain Jason Reinmann when asked about preparations for St. Ignatius. "We're going to work hard. We have faceless opponents so nothing is going to change at all. "We're going to work all week and at the end of the week we're going to go out there and get our paycheck."
St. Ignatius is 4-1 after suffering a 29-13 loss to Athol Springs (N.Y.) St. Francis on Saturday. Tiger co-captain D'angelo McClendon admits the team's mindset going into the annual St. Ignatius tilt may have been a problem in past years. "Most definitely," McClendon said. "Last year and all the way back I think so. This year, we keep it in our heads that we're just going to come out and let it all hang out basically. That's the influence our coaches give us as well. That's what they've been telling us all year long." We're going to attack every game the same way. We don't care if it's St. Ignatius or a scrap team, we're just going to come out and just go hard for four quarters." That approach paid dividends against Coolidge as Massillon scored six of the first seven times it had the football on offense to race to a 49-0 halftime lead. With Ramon Kelly and Caleb White sharing the ball carrying chores, the Tigers capitalized on field position provided by Kelly's 48-yard opening kickoff return and moved 46 yards in five plays to jump out 7-0 against the Colts. Kelly scored the first of his three touchdowns on a 2-yard burst over right tackle and Steve Schott tacked on the extra point at 10:23 of the first quarter. "I think we're getting a little bit better," Shepas said. "Our offensive line is starting to understand what we expect and we're starting to communicate better. We can tell from the plays we were calling and the assignments that they are blocking that we're getting better. We're getting a better running game."
The Tigers turned the ball over on an interception on their second possession. It was about the only thing they did wrong on Saturday. "In a lot of ways our quarterback play is improving and it has improved with the checks at the line of scrimmage," Shepas said. "I like the way Quentin Paulik has been managing the game. But there's still some things to work on. He's still staring down some throws but we're just going to continue to get better. I love to practice and you take care of a lot of that at practice." Massillon got that interception right back when free safety Alex Dahlquist swooped in and picked off Coolidge's Andre Glanville at the Tiger 30. Dahlquist, who led the team in tackles a week ago against Findlay, then raced 70 yards to pay dirt for Massillon's second score of the evening at 6:43 of the first quarter. "Alex (Dahlquist) started out the year that way last year," Shepas said. "He didn't finish the year like that." If he started out slow (this season), I'd rather him get to the point where he is now where he's going to finish the season stronger."
Paulik dropped a high arcing 40-yard bomb into Kurt Jarvis' waiting hands on a well-executed fly pattern to give the Tigers a 21-0 lead at 3:33 of the first quarter and the rout was on.White would add a 16-yard touchdown run, cutting inside of Mike Morningstar's fine block on the right side of the line, and Kelly tallied his second and third scores of the night on short runs about three minutes apart on the second quarter game clock.White closed the first-half scoring with a two-yard burst into the end zone after Brian Gamble gave the Tigers the short field by tackling the Coolidge punter before he could get off the kick. The third and fourth quarters were shortened from 12 to eight minutes and a running clock was employed at times to keep things from getting out of hand. "Confidence was a factor for this team early on and I think we're gaining in that," Shepas said. "We're starting to take care of the ball a little bit better. We're starting to develop some balance with a better running game.
All those things are factors. "We're going after this thing all the way. All of our goals are still on the board. We didn't start the way we wanted to but maybe we wouldn't be where we are if we hadn't started the way we did."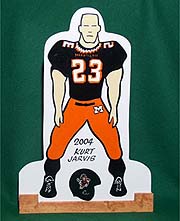 Kurt Jarvis