Bengals Beaten For The Third Straight Time
Night of Frustration As Bears Were Too Much
By CHUCK HESS, JR.
Independent Sports Editor
It was a night of utter frustration for the Massillon Tigers.
The frustration took many forms – inability to spring ball carriers loose, inability to catch the ball, inability to stop a will-o-the-wisp southpaw quarterback and a hard-running fullback.
* * *
THE RESULT was a 21-6 home-coming and "Dad's Night" loss to one of the finest teams to come out of Central Ohio in a long time. The Tigers fought gamely to the wire before 15,610 at Tiger stadium but went under for the third straight time – the first time since Warren, Cathedral Latin and Barberton managed the trick in 1947.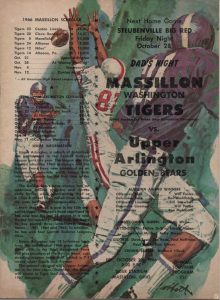 The last time Massillon was beaten by 2 touchdowns at home, Cleveland Benedictine was the unwelcome visitor in 1962. This was also the last time the Tigers lost 3 games in one season.
Added to all the Tiger woes of the night were 3 more injuries in a long line this year for the Obiemen who are now 3-3-1. Junior offensive right tackle Bill Snowball was lost for the season with fractures of both bones in the lower left arm. Junior "monster" defensive back Ron Muhlbach suffered a mild concussion, senior defensive back Dale Gallion, a left shoulder strain. Both of the last 2 are co-captains.
The Tigers found themselves what may be a promising sophomore in left halfback Mark McDew. Quarterback Craig Maurer continued to throw reasonably well but Tiger receivers just don't have those glue fingers this year.
For Arlington, with a 7-0 record this year and 26 successive wins, dating back to 1963, it was a sweet victory for no other Columbus team had beaten the Tigers in 4 previous tries. Senior quarterback Brian Kitchen and sophomore fullback Geoff Schmigt, filling in for injured Co-Captain Dan Love, were the offensive keys for the Golden Bears.
ADDED TO those names must be those of sophomore defensive halfback Ted McNulty, who ran a kick back, which both coaches said was the turning point. Coach Marv Moorhead of Arlington plugged his defensive line of Steve Sikora, Denny Lawrence, Steve Canfield and Tom Kahn and effectively stopped the Tigers' running game. They got a little help from cornerman Tom Morgan and Co-Captain Tom Franklin, playing his first game as a middle linebacker, in place of Love.
Kitchen ran the Bears' offense well, calling most of the plays himself and mixing passes effectively with runs. Several times on crucial yardage plays he bailed the Bears out with first downs on rapid roll out running.
Schmidt ran through the Tigers' line as if he owned it. His specialty was from guard to tackle on both sides.
Massillon was held to 150 total yards while Arlington rolled to 262. The Tigers got out of their own territory only 4 times, once on a fumble recovery.
Arlington scored the second time it got its hands on the ball on a 64-yard, 11-play drive. Kitchen picked up key, third down yardage twice, mixed in 15-yard passes to ends John Fickell and Mike Tharp and called on Schmidt for 14 yards, the last yard being the score over right guard, on second and one from the one-yard line. Kahn's kick made it 7-0 with 5:52 left in the welcome canto.
THE TIGERS started a 62-yard drive, which fizzled on the one on fourth and one, just before the period ended. On the next series, tackle Mike Sherrett recovered a fumble and Massillon had its only score in 3 plays with 5:07 remaining in the second frame.
Maurer hit split end Tim Moyer in the right corner of the end zone. But sophomore Jim Smith, another split end, had a go-ahead conversion knocked away from him in the same corner by an Arlington secondary, which was very alert all night.
Arlington had a second period drive stopped when Mike Kraft and Kim Hauenstein picked up a fumble on their 42. The Bears went further ahead when McNulty ran a punt back 86 yards up the right side at 8:30 of the third period, sprung lose by Morgan's block on the Massillon 40. Kahn kicked from the 15, after a delay penalty, for a 14-6 lead.
The Tigers lost scoring opportunities later in the period when Sikora recovered a fumble and McNulty intercepted a pass. Tharp pilfered a pass in the last quarter.
Arlington's final score came after Sikora's recovery. The Bears drove form the Tigers' 35 in 8 plays using the passing and key-play yardage of Kitchen and the running of Schmidt. The important play was a 10-yard pass to the 3, which was off one Bear's hands and into sophomore end Bruce Johnson's on a diving catch.
SCHMIDT WENT over left tackle on the next play with 4:10 left. Kahn's conversion boot was good.
Moorhead classed the victory as "one of the top performances I can recall." He added, "I don't know when the electricity and sizzle has been so apparent but yet the boys were relaxed enough to play. Football is a game of the physical and the spirit. They were blended together in high fashion tonight."
Seaman said, 'The Tigers didn't quit. The kids gave everything they had. We were outsized on the line a bit. Arlington was as good or better than any team we have played all season."
The Tigers hit the road to Warren next Friday.
ARLINGTON – 21
Ends – Johnson, Secrest, Fickell, Tharp.
Tackles – Gridley, Canfield, Riley, Lawrence, Sikora, Arend.
Guards – Morgan, Kahn.
Center – Franklin.
Quarterbacks – Kitchen, McNulty.
Halfbacks – Moore, Bates, Gordy, Lloyd.
Fullbacks – Schmidt, Chandler, Compton.
MASSILLON – 6
Ends – Liggett, Smith, Moyer, Griffin, Sterling, Richards, Gallion.
Tackles – Campbell, Snowball, Ricker, Sherrett, Neago.
Guards – Porrini, Russell, Ertle, Beiter, Hauenstein, White.
Centers – Senften, Kraft, Skelton.
Quarterbacks – Maurer, Henderson, Young, Malinowski.
Halfbacks – James, Simon, McDew, Fenton, Staples, Muhlbach, McFadden.
Fullback – Foster.
Punter – Krenzer.
Arlington 7 0 14 0 21
Massillon 0 6 0 0 6
Touchdowns:
Massillon – Moyer (16-yard pass from Maurer).
Arlington – Schmidt 2 (one and 3-yard runs); McNulty (85-yard punt return).
Extra points: Arlington – Kahn 3 (kicks).
OFFICIALS
Referee – Harvey Hodgson, Jr.
Umpire – Harold Rolph.
Head Linesman – Frank Toth.
Field Judge – Joe Yanity.
Attendance: 15,610
THE GRIDSTICK
Massillon Opp.
First downs – rushing 7 14
First downs – passing 2 5
First downs – penalties 1 0
Total first downs 10 19
Yards gained rushing 138 164
Yards lost rushing 31 8
Net yards gained rushing 107 156
Net yards gained passing 43 102
Total yards gained 150 262
Passes completed 3-14 11-20
Passes intercepted by 0 2
Yardage on passes intercepted 0 20
Times kicked off 2 4
Kickoff average (yards) 59.0 52.2
Kickoff returns (yards) 97 23
Punt average (yards) 6-37.1 1-38
Punt return (yards) 0 114
Had punts blocked 0 0
Fumbles 2 3
Lost fumbled ball 1 2
Penalties 2 3
Yards penalized 20 27
Touchdowns rushing 1 3
Touchdowns passing 1 0
Touchdowns by interception 0 0
Miscellaneous 0 0
Total number of plays 61 70