Massillon's 29‑8 win Currence's 100th
Tigers take fifth straight from Perry
By MIKE HUDAK
Independent Sports Editor
MASSILLON ‑ For Massillon head coach Mike Currence, it was career win No. 100 as a head coach. For Perry coach Keith Wakefield, it was loss No. 1 as head coach of the Perry Panthers. For Tiger junior quarterback Brian DeWitz, starting his first varsity game, it was the fourth best overall passing performance in Tiger history. And for fans of the Massillon‑Perry rivalry, it was the same old thing.
For the fifth consecutive time since the neighboring schools began meeting in 1978, the Tigers pulled off a one sided victory, this year by a 29‑8 count. Massillon has now outscored Perry 140 to 27 in the series, and Wakefield, who came to Perry with a career mark of 43‑20‑4, doesn't like the connotations.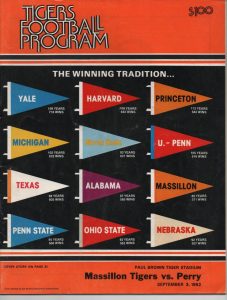 "It's plain dumb to play Massillon if we don't have a program that can allow us to compete on their level," said the young coach. "Things at Perry must change in that respect, and they will change if I'm going to stay around."
Wakefield was most displeased by the Tigers' physical domination of the game.
"We are not a physically strong team; we couldn't control either line of scrimmage. On defense Massillon sat in a normal defense the whole game, not trying to disguise anything, but we couldn't block anybody. And on defense, I never saw so many missed tackles. Chris Spielman and Jim Bushe are both great runners, but we helped them be great tonight.
"Right now we are not a very good football team. We are no where near where we need to be. We just don't have enough fighters yet, but you don't make fighters overnight. But as for me, I didn't come here expecting to lose; I expect to win everytime I go out on the field."
But so do the young and hungry Tigers. Despite the youth and relative inexperience of the team, the team played well on both sides of the scrimmage line. On offense, Massillon's own penalties proved Perry's best defense, and on defense, except for one breakdown, the Panthers were unable to mount many serious threats despite a quick sprintout quarterback (junior Jamie Howell) that put added pressure on the Tiger linebackers.
"We played well tonight," said Currence, "But we still need to get better, and with three tough games in a row against Akron Garfield, Warren Harding and Akron Central‑Hower, it means we have to get better quickly."
The Tigers biggest bugaboo were penalties. They were hit with eight flags for 80 yards.
"The penalties stopped a couple of our drives," Currence said. "We knew we could move the ball on Perry because we knew we were physically stronger, but the penalties put us into holes we couldn't crawl out of at times. But penalties are a part of the game, and hurt you just like any other mistake."
But most of what the Tigers did just hurt Perry. DeWitz tossed an interception to Perry's Dave Seifert on the Tigers' first possession, but after stonewalling Perry twice, the Tigers marched 59 yards in seven plays to hit paydirt for the first time in 1982.
Spielman, the 6‑2, 206‑pound half back‑linebacker, opened the drive with a 15‑yard run. After a sack, DeWitz hit halfback Jim Bushe with a 12‑yard screen pass, and followed with a 12‑yard keeper on third‑and‑short for the first down. Spielman then bulled nine yards to the Perry 19, followed by a scoring jaunt around left end by Bushe, who went into the end zone standing up at the 3:52 mark. The extra point kick failed. Perry followed with a short drive that included the Panthers' initial first down of the game, but on a third‑and‑four play Spielman stepped in front of a Howell ‑ like DeWitz, starting his first varsity game – pass and returned it 28 yards to the Perry 32.
Nine plays later Spielman flung himself into the end zone for a five‑yard touchdown run with 6:41 remaining in the half, with Bushe's conversion run attempt stopped just short for a 12‑0 Tiger lead. The key play in the drive was a fourth‑and‑five pass from DeWitz to fullback Tom Groan where the quarterback escaped a heavy rush and spotted the open receiver in a vacant middle zone to keep the drive alive.
Three plays and a punt later, the Tigers got the ball and moved 69 yards in just five plays, including an offensive penalty.
On the first play, DeWitz hit receiver Jim Geiser for a 16‑yard completion. Bushe followed with a fingertip sideline catch and a 21‑yard gain. Next senior Gary Conley grabbed hold of a 24‑yard dart from DeWitz. The icing came when Bushe raced around left end for his second scoring scamper, this one from 13 yards out. Bronc Phisterer kicked the conversion at it was 19‑0 with 4:28 left in the half.
Perry's moment of glory came with 1:21 remaining until intermission. Howell faded back and found senior receiver Fred Bradford deep over the middle, who scampered the final 35 yards of the 48‑yard scoring play untouched for Perry's sole tally. Howell then passed to a wide‑open Seifert for the conversion points.
"Our defensive backs just overran the coverage on that one," said Currence.
The touchdown might have aroused the Panthers for a stalwart second‑half effort, but any intentions they had of coming back oozed out of their hearts when Spielman broke the second half's opening play from scrimmage 60 yards to the Perry 23, sometimes choosing to juke the would‑be defenders with the slippery moves of a halfback, sometimes running them over like an amok Larry Csonka. Four plays later DeWitz hit senior John Pierce for a nine‑yard scoring strike with 9:30 left in the quarter, with Phisterer's kick making it 26‑8.
Perry moved the ball 28 yards to the Tiger 30 on its next possession, but lost the ball on downs. The Tigers came back to eat up 16 plays and a lot of the clock, settling for a 25‑yard field goal by Phisterer with three seconds left in the quarter after a DeWitz touchdown pass to Conley had been negated by a penalty.
There was no scoring in the final quarter as the Tiger reserves saw action on both sides of the line. Highlights in the quarter included the Tigers only punt of the night and an interception by Geiser.
The stats were indicative of the final score. The Tigers had 225 yards oil the ground to 120 for Perry, and 220 in the air to 103 for Perm, for a whopping 449‑223 advantage in total yards.
For the Tigers, DeWitz made the Tiger record books in his first try at quarterback by completing 15 of 19 passes for 205 yards with a touchdown and an interception. Bushe had five catches for 77 yards while Geiser had four catches for 50 yards. On the ground, Spielman ran 10 times for 130 yards, Bushe five times for 36 yards and fullback Tim Sampsel five times for 24 yards. For Perry, Howell dominated the offense, completing six of 16 passes and running nine times for 44 yards.
Currence concurred with Wakefield on one point ‑ the panthers will be getting better in the future.
"They're a young team, and I think you're going to see rapid improvement out of them. I think the Panthers will be a Federal League contender; we played Hoover in a scrimmage ‑ always a strong Federal squad ‑ and I think the Panthers can hold their own with them and anyone else in the league."
But the Tigers don't have a league, unless it's in a league by themselves, and for them, to quote George Allen, the future is now.
Devin Johnson, a junior defensive back for the Tigers, summed it op best.
When told, "Well, one down and nine to go," after the game, Johnson shook his head no.
"You're wrong, it's one down and 12 to go," he answered, looking ahead to the computer playoffs, the dream of all men born to be Tigers.
Gridsticks
MASSILLON 29
PERRY 8
M P
First downs rushing 12 4
First downs passing 7 6
First downs by penalty 0 0
Totals first downs 19 10
Yards gained rushing 246 120
Yards lost rushing 17 0
Net yards rushing 229 120­
Net yards passing 220 103
Total yards gained 449 223
Passes attempted 24 18
Passes completed 16 6
Passes int. by 2 1
Yardage on pass int. 59 29
Time. kicked off 6 2
Kickoff average 43.8 54.5
Kickoff return yards 7 52
Punts 1 4
Punting average 40.0 31.0
Punt return yards 17 24
Punts blocked by 0 0
Fumbles 1 0
Fumble lost 0 0
Penalties 8 2
Yards pertained 80 20
Touchdowns rushing 3 0
Touchdowns passing 1 1
Miscellaneous touchdowns 0 0
Number of plays 57 50
Time of possession 23.33 24:27
Attendance 14,141
PERRY 0 8 0 0 8
MASSILLON 6 13 10 0 29
M ‑ Bushe 19‑yard run (kick failed).
M ‑ Spielman 5‑yard run (run failed).
M ‑ Bushe 13‑yard run (Phisterer kick.)
P ‑ Bradford 48‑yard pass from Howell (Demaree pass from Howell).
M ‑ Pierce 9‑yard pass from DeWitz (Phisterer kick.)
M ‑ Plisterer 25‑yard field goal.