Tigers put Lincoln West away with early burst
Massillon carries 7‑1 slate into Warren Harding showdown
By JOE SHAHEEN
Independent Sports Editor
The Massillon Tigers two‑week, late‑season interlude against out‑manned opponents came to an end with a 54‑6 victory over the Cleveland Lincoln West Wolverines in front of 6.229 fans at Paul Brown Tiger Stadium Friday.
The Tigers have scored 128 points in the last eight quarters of football against 0‑8 Woodrow Wilson and 0‑8 Lincoln West. Neither will be on the Massillon schedule next season.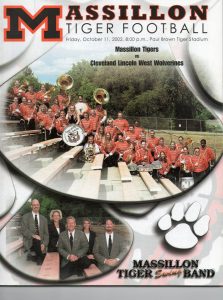 In fact, there were persistent reports this week the Tigers attempted to buy out their contract with Lincoln West ‑which has lost 4 straight football games ‑ but were rebuffed by the Ohio High School Athletic Association. Massillon coach Rick Shepas denied there was any move to buy out the contract in favor of an open date, which would have been more beneficial for the Tigers from a computer playoff points standpoint.
Regardless of the quality of its foe, Massillon was on its game the first quarter. The Tigers had 11 snaps on offense in the initial 12 minutes of the contest and got a first down or a touchdown on nine of those plays.
"I thought we were really sharp," Shepas said afterward. "I was really pleased with the way the players prepared this week. There was a lot of focus for a Lincoln West team. We wanted to improve and I believe we accomplished that tonight.".
The Tigers led 34‑0 at the first stop on Shawn Crable's 20-yard interception return for a touchdown, two Ricky Johnson touchdown runs, and two Matt Martin scoring passes ‑ one to Stephon Ashcraft that covered 18 yards and the other to Devin Jordan for 16 yards. Both touchdown passes were set up by interceptions by Tiger senior safety Dustin Jarvis.
"We wanted to let Matt Martin call the whole game offensively and he did a great job," Shepas said. "Steve Hymes did much of the same in the second half.
"I thought we were' sharp on both sides of the ball." Martin completed 7 of 8 passes for 150 yards and two touchdowns in one quarter of play. He has connected on 16 of his last 18 aerials for 276 yards and five touchdowns.
If nothing else, the game provided a couple of injured Massillon starters an opportunity to ease back into action. Johnson did not play last week, resting a badly sprained ankle. The Tigers leading rusher started and played the entire first quarter of Friday's rout, toting the ball three times for 13 yards.
"Ricky Johnson is 100 percent good as new," Shepas reported. "You saw him running out there. He looked fresh and ready to go."
Another seeing action after a lengthy layoff was senior inside linebacker Tony Graves, who had played in just one game since suffering a high ankle sprain in the season opener. Graves was in for one series of downs in the first quarter but did not return. "Tony Graves is getting back in the flow and ready to go," Shepas said.
Two key Tigers who did not see action were starting strong safety Markeys Scott (shoulder) and No.2 running back Terrance Roddy (knee). "We look to get Markeys back Monday at practice if the doctors say OK," Shepas said. "But it looks like Terrance will be out four to six weeks with that knee."
Steve Hymes took over at quarterback for Massillon in the second quarter and hit Ryan Schindler with a 20‑yard touchdown pass. Max Shafer's fifth point after kick made it 41‑0 with 3:43 to play in the half.
Lincoln West used a pass interference and two long pass completions ‑ one of which bounced off a Tiger defender and into the hands of Armando Lugo ‑ to get inside the Massillon 5‑yard line late in the first half. On fourth‑and‑goal, Michael Woulard bucked off right guard and into the end zone from about a foot out to break up the shutout.
Hymes, who rushed for 79 yards in 14 carries, scored from six yards out mid‑way through the third quarter to put the Tigers up 47‑6.
Junior running back Tuffy Woods closed the scoring with a nine‑yard touchdown run with 4:49 to play. He finished the night as the game's leading ground gainer with 106 yards in 10 carries.
After having the team sing Happy Birthday to his daughter Maria, Shepas gave his charges the weekend off. He says the Tigers are where they need to be one week in advance of playing their most important game of the season against No.1 ranked Warren Harding.
"I think so," he said. "These kids have done a great job from the time we started conditioning in the winter time. They practiced with great focus. "They're a little bit on edge. They know the Ignatius game is going to factor in a little bit. They want to do their best to finish it out."
If there was a down note for the Tigers in the game, it was their 10 penalties for 102 yards. But as Shepas noted, most came after the first team was long gone. "We played a pretty clean first half," he said. Lincoln West head coach Walter Stokes was certainly impressed. "Massillon played a really good football game," he said. "They are really well coached and fundamentally sound. I think they will have a nice run in the playoffs."
For that to happen, the Tigers must first get past Warren Harding one week from tonight at Mollenkopf Stadium.
Massillon 54
Lincoln‑West 06
M L‑W
First downs rushing 13 3
First downs passing 10 3
First downs by penalty 1 3
TOTAL first downs 24 9
Net yards rushing 231 11
Net yards passing 235 106
TOTAL yards 466 117
Passes attempted 20 18
Passes completed 15 5
Passes intercepted 0 3
Punts 0 4
Punting average 00.0 25.8
Fumbles/Lost 1/0 3/1
Penalties 10 6
Yards penalized 102 36
Massillon 34 07 06 07 54
Lincoln‑West 00 06 00 00 00
SCORING
M ‑ Crabel 20 interception return (Shafer kick)
M ‑ Johnson 1 run (Kick failed)
M ‑ Johnson 18 run (Shafer kick)
M ‑ Ashcraft 18 pass from Martin (Shafer kick)
M ‑ Jordan 16 pass from Martin (Shafer kick) M ‑ Schindler 20 pass from Hymes (Shafer kick) L‑W ‑ Woulard 1 run (Kick failed)
M ‑ Hymes 6 run (Kick failed)
M ‑ Woods 9 run (Smith kick)
INDIVIDUAL STATISTICS
Massillon rushing: Woods 10‑106 TD, Hymes 14‑79 TD, Pullin 3‑15, Johnson 3‑13 2 TDs, Walterhouse 2‑9, Pettis 2‑9.
Lincoln‑West rushing: Woulard 22‑39 TD.
Massillon passing: Martin 7‑8‑150 2 TDs. Hymes 8‑12‑85 TD.
Lincoln‑West passing: Abdul‑Hakim 4‑12‑61 3 INTs. Johnson 1‑6‑45.
Massillon receiving: Hauser 3‑51, Ashcraft 2‑45 TD, Jordan 2‑43 TD, Helscel 2‑39, Schindler 2‑31 TD, Woods 4‑26.
Lincoln‑West receiving: Abdul Hakim 1‑45, Lugo