Outmanned Kennedy 54-0 victim
Eberhart, Jones spark Tiger stampede
By ROLLIE DREUSSI
Independent Sports Editor
Quarterback Dave Eberhart and halfback Mike ones turned in sparkling individual performances to counter some sloppy team play as the Massillon Tigers team rolled Cleveland John F. Kennedy 54‑0 Friday night.
The two seniors accounted for four of the Tigers' first five touchdowns as 10,250 fans in Paul Brown Tiger Stadium watched the outmanned Eagles fall apart under the onslaught.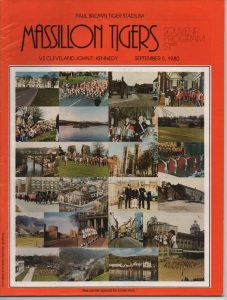 Eberhart completed 8‑of‑12 passes for 162 yards and two scores. One of those TD tosses was to Jones, who also added two touchdowns rushing, He finished with 56 yards rushing on six carries and caught three passes for, 93 yards.
The Tigers scored two touchdowns in each quarter, and were aided by three Eagle turnovers, each of which led to a Massillon score.
Despite the lopsided score, Tiger head coach Mike Currence was a little disappointed.
"I thought we were going to be sharp, but we weren't sharp," he said. "We worked to be sharp, but we weren't sharp.
The Tigers had a number of illegal procedure penalties for the second straight week, and finished the game with eight penalties for 69 yards.
"It's just complacency on our part," he explained. "It's a lack of concentration. We were thinking more about ourselves than executing as a team. We had some great individual efforts that pulled us out of some bad mistakes. That's the way it went all night.
"As long as I've been in this business, when you play someone sloppy you play sloppy yourself," he added.
The Tigers started off sloppy by receiving the opening kickoff and promptly fumbling on the first play from scrimmage on a run by Greg Grimsley.
The Tiger defense stopped the Eagles on downs at the Massillon 29, and on third‑and‑13 Eberhart threw deep down the left sideline to Jones, who took the ball at the Kennedy 35 and raced into the end zone to complete a 74‑yard pass play. Eberhart's extra point kick made it 7‑0 with 8:45 to play in the quarter,
The Tigers found themselves right back on often‑when Doug Bachus recovered a Kennedy fumble on the kickoff at the Eagle 20. Following a three‑yard run by Grimsley and an illegal procedure penalty, Eberhart threw 22 yards to Mike Feller for a score. Eberhart's PAT boot made it 14‑0 with 7:36 left in the first quarter.
Following a clipping penalty on a punt return. the Tigers took over the ball later in the quarter at their own nine yard line.
Jones six-yard run capped a 91‑yard, 14‑play drive just 32 seconds into the second quarter, and Eberhart's kick made it 21‑0. Eberhart hit three of five passes in the drive – including a 14‑yard pass to Jones for a first down on a fourth-down play ‑ and also ran 11 yards for a first down on another fourth-down play, Jones also had a 27‑yard run in which he used a couple of good moves to break open, but was dragged down from behind by Dave Nelson, and Eagle speedster who played a fine game.
Paul Turner intercepted a pass from Eagle quarterback Jason Stevens and returned it 50 yards to the Kennedy 18.
Eberhart hit Feller with a 16‑yard pass and Grimsley hulled over from the two to make it 27‑0 with 1: 34 left in the half.
The Tigers forced the Eagles to punt at the start of the third quarter, then marched 51 yards in six plays for a score. Jones showed great balance in breaking through the Eagle defense on a 12‑yard run, and got a key block from wide receiver Grady Robinson. Eberhart's kick made it 34‑0. Junior halfback Robert Oliver caught a 16‑yard pass from Eberhart and also had a seven‑yard run in the drive.
Greg Radtka then kicked off and ended up recovering an Eagle fumble at the Kennedy 43 yard line. Eight plays later George Roknich (who switched from jersey number 24 to 30 when his regular number was ripped from his back on a tackle) took it in from the one. Massillon led 40‑0 with 3:04 left in the third quarter.
Following a Kennedy punt, junior Rick Spielman scrambled from the pocket on second‑and‑13 at his own 30 and lofted a perfectly thrown pass to speedy senior Dave Huth, who took the ball on the Eagle 40 and was finally dragged down three yards short of the end zone. Two plays later he scored from the one yard line, Radtka's kick made it 47‑0 with 6:33 to play.
For the third time in the game, the Tigers recovered a fumble on the kickoff when Archie Campbell came up with the ball at the Eagle 36.
Four plays later, Spielman ran a keeper around right end and sped down the sideline for a touchdown. Radtka's PAT boot finished the scoring at 54‑0, with 4:00 minutes to play.
"It was a fun night for the players," Currence said. "But we won't have too many more nights like that ‑ where we can make mistakes and still score."
Eagle coach Roye Kidd was very disappointed in his team's performance, noting that some defensive mistakes and the four turnovers were fatal.
"Our kids didn't quit, though," he said. "I was pleased with the effort of the kids, They didn't give up, even though they made some critical mistakes."
Kennedy, which a couple of years ago was known for having one of the better football programs among the Cleveland public schools, has been greatly hampered by the school system's busing program.
Most of the Eagles players were transferred to John Marshall. Kidd said of 52 players on last season's junior varsity team, only 13 remained at Kennedy. Also, only 23 of 42 varsity players returned this fall. Classes at the school won't start until the end of this month, or later, because of preparations necessary to implement the desegregation program.
Kidd had only two starters back ‑ number 75 Wayne Grant and number 77 Andre Smith ‑ and those two players, along with number 80 Nelson, played fine games.
Some of the Tigers' opponents didn't play too fine, as three teams lost and three won in action Friday night.
Akron Garfield lost to St. Vincent 20‑17, Perry lost 10‑7 to Louisville and Barberton lost 3‑0 to Cuyahoga' Falls. Padua blanked Parma Senior 28‑0, Harding blasted Toledo Scott 40‑0 and Youngstown South ripped Erie (Pa) Tech 28‑0.
FINAL STATISTICS
MASS OPP
First downs-rushing 12 3
First downs-passing 8 0
First downs-penalties 0 1
Total first downs 20 4
Yards gained rushing 213 106
Yards lost rushing 15 24
Net yds. gained rushing 198 82
Net yds. gained passing 261 2
Total yards gained 459 84
Passes attempted 20 9
Passes completed 13 1
Passes intercepted by 1 0
Ydg. on passes intercepted 50 0
Times kicked off 9 1
Kickoff average (ydg.) 44.6 48.0
Kickoff returns (yds.) 11 100
Times punted 1 3
Punt average (yds.) 33.0 42.0
Punt returns (yds.) 2 44
Had punts blocked 0 0
Fumbles 2 3
Lost fumbled ball 1 2
Penalties 8 5
Yards penalize 69 29
Touchdowns rushing 6 0
Touchdowns passing 2 0
Touchdowns by interception 0 0
Miscellaneous touchdowns 0 0
Total number of plays 61 34
Total time of possession 28:31 19:29
Attendance 10,250
KENNEDY 0 0 0 0 – 0
MASSILLON 14 13 13 14 – 54
MASS ‑ Mike Jones 74‑yard pass from Dave Eberhart (Eberhart kick);
MASS ‑ Mike Feller 22‑yard pass from Eberhart (Eberhart kick);
MASS ‑ Jones 6 yard run (Eberhart kick);
MASS ‑ Greg Grimsley 2‑yard run (kick fail);
MASS ‑ Jones 12‑yard run (Eberhart kick);
MASS ‑ George Roknich 1‑yard run (kick fail);
MASS ‑ Dave Huth 1‑yard run (Greg Radtka kick);
MASS ‑ Rick Spielman 24‑yard run (Radtka kick).