Tigers Romp Over East Tech 26-6, For Fifth Victory
Morningstar Uses Flock Of Players As Bengals Play Final Home Game
By FRED J. BECKER
And now, folks, the Bulldogs are next.
Turning loose a lot of potent power on the ground, some effective strafing from the air, along with their usual high class performance on defense, Coach Augie Morningstar's Washington high school Tigers Friday night kept their 1945 record free of defeats by shellacking a rather formidable Cleveland East Tech aggregation 26 to 6 at Tiger stadium in their final home appearance of the current campaign.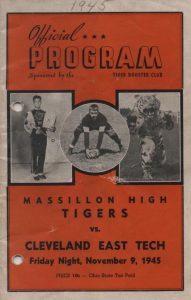 By turning back the invading Clevelanders, the orange and black comes up to its all-important battle a week from today with Canton McKinley's Bulldogs still in the unbeaten class with a string of five triumphs against four ties. By conquering East Tech last night, the Tigers notched their fifth 1945 victory, the win coming after they had been held to tie scores in their last two battles, one a scoreless deadlock with Warren and the other a 6-6 shindig with Cleveland Cathedral Lath.
Sixth Defeat for East Tech
For East Tech the defeat was its sixth of the season with but a single victory to brighten an otherwise dismal fall.
Using at least 25 players, regulars and reserves, and starting off with a lineup that was generously sprinkled with second team performers, Coach Morningstar last night was able to give some of his key regulars a much needed rest which should do them no harm as the Bengals Monday begin their final week of practice in preparation for the clash with Bulldogs.
Tigers Romp To Second Period
Held scoreless in the first quarter, the Tigers unleashed a devastating ground and air attack in the second period to tally three times and they added their fourth set of counters in the third period. East Teach chalked up its lone marker in the final period on a long aerial that was good for a 50-yard gain and their points.
With off tackle thrusts as their best ground weapon, the Tigers picked up a lot of yardage through a determined Cleveland team that battled hard all the way but was not quite equal to the task of stopping Massillon's power plays or halting the Tiger aerial attack. Some fine work by the Tiger line, which opened plenty of gaping holes in the East Tech forward wall, and some equally fine blocking and interference paved the way for many nifty gains by Tiger ball toters.
The visitors were rather badly outplayed by Morningstar's warriors, the Tigers making 16 first downs to four for East Tech. Three of East Tech's first downs came on forward passes while another brought them their lone touchdown.
The Tigers completed three of seven passes for 51 yards and two of them were good for touchdowns. East Tech took to the air 15 times, completing five for 116 yards. Tech had three intercepted, one interception bringing a Tiger score.
The forward pass was by far the visitors' best ground gaining weapon as they made but 44 yards on ground plays with a loss of 16. They had an overall yardage of 160 and a net of 144.
How badly they were outclassed is revealed by the Tiger yardage. The Tigers romped to 385 yards on the ground and made 51 through the air for 436. They had a loss of 35, giving them a net of 401, not a bad evening's work.
The Tiger line, regulars and reserves, played a steady, bang up game until late in the contest when the Massillonians began to miss quite a few tackles. The backfield also performed in a highly efficient manner with regulars and reserves sharing the spotlight when it came to ground gaining.
Flock Of Good Ground Gainers
Of the regulars Bert Webb and Mickey McGuire did a lot of ground gaining with MdGuire showing as much, if not more, drive than at any time this season. Webb left the game in the second quarter after Massillon had tallied its first touchdown. Gene Zorger, regular fullback, also only played a short time.
Virgil Edie, regular quarterback, played most of the game and put on tap his usual steady performance and broke into the scoring column for the first time when he intercepted a Tech pass and scampered 32 yards for the points.
Sharing ground gaining honors with Webb and McGuire were Alex Giloff, Bill Gutshall and Dan Byelene, all of whom made life quite miserable at times for the Tech forwards.
Gene Krisher, shifted from his regular right tackle berth, played center while Merle Darrah watched most of the game from the bench, getting a much needed rest. Jim Young was in the right tackle slot while Steve Tomasevich and Tom Brooks alternated as right guard. Captain Fred Bonk was at right end with Bob Richards at left end, replacing Jack Zellar, laid up with a broken foot. Bernie Green was at his regular left tackle post while Tony Uliveto and Bob Waltz took care of the left guard chore. Gene Yost and Milan Chovan saw action in the backfield while Schumacher, Ceckler, Dowd and Bishop saw duty on the line.
East Tech, coached by Humphrey Harmony, who starred for Canton McKinley 25 years ago, brought a big, rangy team to Massillon with several outstanding performers. Defensively Lou Strnad at right end played a fine game while John Hrasch, Al Jicha, Dosio Ginnerini and Tee Chapman did some good work in the backfield with Hrasch as their best ground gainer and passer.
Three Long Marches
Three long, sustained marches gave the Tigers three touchdowns while the fourth came on a pass interception. In their scoring spree the orange and black turned loose marches of 83, 81 and 77 yards for points and were hammering at the touchdown door when the game ended, having the ball on the visitors' eight-yard line.
But once again an unfortunate offside penalty robbed Coach Morningstar's charges of an early touchdown and nullified a beautiful 58 yard run by Bert Webb.
Webb took the opening kickoff and was downed on his 35. Giloff and Gutshall hammered the line for six yards and then Webb streaked through a big hole at right tackle, reversed his field and raced 58 yards without a hand being laid on him for what looked like a touchdown.
But the officials were waving their arms frantically down around midfield as Bert was showing a clean pair of heels to the East Teach lads and the ball was called back and a five yard penalty slapped on the Tigers for offside.
That halted their offensive march for the time being and East Tech narrowly missed scoring a touchdown, when Chapman heaved a beautiful long pass to Strnad who dropped the ball on the Massillon goal line.
After getting out of that hole the Tigers buckled down and went to work. Jicha punted to Krisher who was downed on the Massillon 17. Zorger and McGuire cracked through for nine yards in two plays and then Webb found a hole at right tackle and scampered 52 yards to Tech's 25 before being brought down by Hrasch.
That thrilling dash set the stage for Massillon's first touchdown. Webb picking up five more in another off tackle thrust just as the first quarter ended.
Webb To Bonk For Score
On the first play of the second period Webb tossed a neat pass to Edie, good for 10 yards and the Tigers were knocking on the touchdown door. An offside penalty on Tech took the ball to the five but Webb was tossed for a five yard loss on his next attempt. He then caught the visitors flatfooted on the next play, tossing a pass to Bonk who took the ball in the end zone with not a Cleveland lad anywhere near. Webb failed in his attempt to plunge the ball over and the score stood 6-0 Massillon.
It did not stay that way long. East Tech received and Ginnerini was dumped on his 34 by Zorger and Giloff. Bonk then tossed him for a loss of four and the invaders took to the air with disastrous results. Attempting a screen pass, Chapman cut loose a heave and the ball sailed right at Edie, out in the open. The Tiger quarterback tucked the leather under his arm and with a clear field ahead raced 32 yards for Massillon's second touchdown. Darrah came in at center as Krisher dropped back to try his hand – or rather toe – at place kicking and the hefty Tiger lineman booted it squarely between the posts for the extra point.
Now all steamed up and going places, the Tigers were not long in manufacturing their third set of counters and a beautiful McGuire-Richards pass for 34 yards climaxed a march of 81 yards.
Massillon gained the ball when Chapman punted to MdGuire who was tagged on the Tigers' 19. With McGuire spearheading the drive by some beautiful plunging and running the Tigers traveled right down the field. Giloff ripped off seven at right tackle and McGuire made it a first down to Massillon's 34. On the third play in the next series McGuire again went to town for another first down to Massillon's 46 and came back to hammer his way through the visitors for nine more.
Then Giloff took a hand in the proceedings and flashed his way down the field for 18 to Tech's 34. McGuire made three at the line and on the next play faded back and heaved a long pass right down the alley to Bob Richards who was far out in front. Bob sailed across the goal line without hesitation and the Tigers had struck pay dirt for the third time in the period. Krisher again tried a place kick but it failed.
That was all the scoring until the start of the third quarter when the Tigers again unleashed another power attack during which they marched 77 yards for their fourth and final touchdown. Again it was McGuire and Giloff who powered the drive with Gutshall lending a hand and Giloff finally going over.
Another Touchdown March
Tech received but found the task of denting the Tiger forward wall a bit too stiff. Chapman punted and the ball was downed on Massillon's 23. McGuire smashed for five and then Giloff took off on a spectacular run that was to net 42 yards before he was stopped. Ginnerini finally brought him down on East Tech's 30.
For a moment the Tiger attack sputtered but a five-yard penalty on East Tech for being offside helped and then McGuire roared through the line to the 15 for a first down. Massillon, however, drew a five yard penalty for backs in motion but Giloff picked it up and more by lugging the leather down to the six on a neat driving play. Then he smashed right through the line and over for Massillon's fourth set of counters. Krisher tried another place kick but failed, East Tech, however, was offside and he got another chance. This time he rammed through the line to make the extra point.
East Tech's passing attack looked threatening all night and it finally began to pay off dividends in the fourth period when the visitors, taking a leaf from the Tigers' book, rambled 66 yards on the ground and through the air for their lone set of counters.
It all began when Byelene punted to Hrasch who was downed by Richards on Tech's 34. Hrasch flipped a pass to Strnad for 11 but the visitors lost this gain when they were handed a 15-yard penalty for illegal use of hands. But Hrasch came right back to toss an aerial to Champman for 16 yards and then heaved another long one to Al White, substitute end, who took the ball deep in Massillon territory and raced over for the touchdown, gaining all told 50 yards and six points. Chapman's attempted place kick fizzled.
With Byelene doing some neat dashing through the tackles and Gutshall smashing through the line the Tigers were deep in East Tech territory as the watch ran out. A ripping sprint of 32 yards by Byelene took the ball to East Tech's six-yard line where Dan was chased out of bounds. The Tigers tried hard to put the ball over but were checked by an offside penalty and they had the ball on the eight with fourth down coming up when the final gun popped.
Bulldogs Next
Massillon – 26 Pos. East Tech – 6
Richards LE Edge
Green LT Selavko
Uliveto LG Malsano
Krisher C Froelich
Tomasevich RG Stalzer
Young RT Goldfarb
Bonk (c) RE Strnad
Edie QB Jicha
Webb LHB Hrasch
Giloff RHB Chapman
Gutshall FB Ginnerini
Score by quarters:
Massillon 0 19 7 0 26
East Tech 0 0 0 6 6
Touchdowns:
Massillon – Bonk; Edie; Richards; Giloff.
East Tech – White.
Points after touchdown:
Massillon – Krisher 2 (place kick and plunge).
Substitutes:
Massillon – McGuire, rh; Zorger, fb; Brooks, rg; Darrah, c; Waltz, lg; Gutshalll, fb; Yost, qb; Byelene, lh; Ceckler, lt; Bishop, re; Schumacher; Chovan, rh (unreadable line).
East Tech – Sarkisian, rg; White, le; Gahagan, rg; Kustich, re; Semala, rt; Vecchio, c; Strnad, re.
Referee – Gross.
Umpire – Lobach.
Head Linesman – Boone.
Field Judge – Pfeiffer.
Statistics
Mass. Tech
First downs 16 4
Yards gained by rushing 385 44
Passes attempted 7 15
Passes completed 3 5
Yards gained by passing 51 116
Gross yardage 436 160
Yards lost 35 16
Net yardage 401 144
Number of kickoffs 5 2
Average distance of kickoffs 37 39
Average return of kickoffs 18 16
Number of punts 3 1
Average distance of punts 34 33
Average return of punts 4 6
Fumbles 5 1
Times ball lost on fumbles 1 0
Times penalized 3 6
Yards lost on penalties 16 39