Massillon goes deep to dump Mt. Lebanon
Passing attack clicks early; Tigers rush for over 300 yards
By JOE SHAHEEN
Independent Sports Editor
On a night in which Mike Cur­renee was honored during pre‑game festivities, Massillon utilized a deep passing attack that would have made the former Tigers mentor proud and blitzed Mt. Lebanon (Pa.) 54‑20, in front of 8,971 at Paul Brown Tiger Stadium, Friday.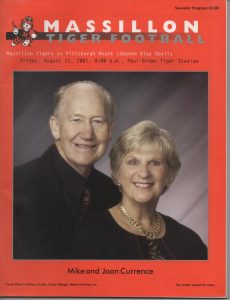 Mt. Lebanon, which reached the Pennsylvania Class AAAA state semifinals a year ago, had neither the speed nor the skill to match Massillon's multiple deep threats.
The Tigers jumped to a 14‑0 lead on their first two possessions and were never headed by the Blue Devils, who were playing their sea­son opener.
Massillon's quick‑strike, no‑huddle attack was razor sharp in the first 24 minutes of play. None of the Tigers' four first half touchdown drives took more than five plays and each covered at least 50 yards.
Quarterback Justin Zwick and wideout Devin Jordan had the Mt. Leb defense on its heels early, hook­ing up on the deep post pattern for 45 yards on the Tigers very first play from scrimmage and then con­necting on a 38‑yard touchdown aer­ial that put Massillon up 21‑7 mid­way through the second quarter.
"When we hit that one deep on the first play, we knew we'd have that the whole game," Jordan said after­ward. "We watched film this week and we knew the middle of the field would be open the whole game."
But Jordan wasn't the only Tiger receiver on the same wavelength with Zwick in the first half. On Mas­sillon's second possession of the evening, Stephon Ashcraft made a lunging 33‑yard reception down the left hash mark. Two plays later, Zwick executed the bootleg, then rolled to his right and found Jordan at the 5. The 6‑foot‑3, 190‑pound ju­nior dove into the end zone to put the hosts up 14‑0.
"From the scrimmage tape we saw, we thought we could get over top of them," said Tiger coach Rick Shepas. "We burned them deep a couple times and that really helped us in those drives. We mixed up the plays pretty good and got in the end zone."
Robert Oliver opened the scoring for the Tigers, scor­ing from two yards out on a stretch play around right end at 5:58 of the first quar­ter.
Jordan's 17‑yard touchdown pass from Zwick at 1:04 of the first culminated a three‑play 50-­yard drive. David Abdul's second point‑after made it 14‑0.
Mt. Lebanon answered with a well‑conceived 12‑play, 80‑yard march, capped by Brian Young's one‑yard plunge. Young carried the ball nine times on the drive, which ate over five minutes off the clock.
The Tigers came right back and did it in stunning fashion. On first down Oliver gained 11 yards on a draw play to the Massillon 40, then the senior tailback tore off 22 more yards to the Mt. Leb 38. From there, Zwick found Jordan wide open over the middle for six. Abdul's kick was true and Massillon was up 21‑7 at 7:03 of the second.
"That score was really big," Shepas said. "Really big. The touchdown after their score was big because they had some momentum going and they're a big phys­ical football team and they know how to win."
Abdul boomed a 51‑yard field goal capping a seven‑play drive to make it 24‑7 at 3:29 of the second quarter.
The Tigers closed the first half scoring with a five‑play, 87‑yard drive. It began when junior running back Ricky Johnson skirted right end for 25 yards.
Three plays later, Zwick found Joe Jovingo along the left sideline for a 37‑yard gain to the Mt. Leb 17.
On first down from there, Ashcraft came open along the left hash mark, pulled in a Zwick aerial at the 3‑yard line and stepped into the end zone.
Abdul's PAT made it 31‑7 at the intermission.
"They're probably even better skilled that we saw on film," said Mt. Lebanon coach Chris Haering. "Their skill players are outstanding and they have great depth at those positions.
"You could tell there was a difference athletically too. They are a well‑prepared team and they played out­standing tonight."
Mt. Leb scored early on the second half when Dan Breid­ing picked up a Tiger fumble and ran 19 yards to pay dirt to make it a 31‑13 ball game.
After the teams exchanged punts, the Tigers put it out of reach by marching 87 yards in 13 plays. Oliver ran the ball on seven of those snaps, picking up 43 yards as the Massillon offensive line asserted itself.
Defeats Mount Lebanon 54‑20
Zwick rolled to his right and hit Jordan in the end zone from eight yards out for the touchdown. Abdul's kick made it Massillon 38, Mt. Lebanon 13 with less than a minute to play in the, third quarter.
"The threat of having Zwick is big," said Oliver, who rushed for 135 yards in 18 carries. "It opens holes up for me and the whole offensive line really stepped it up this week.
"The whole week we were talking about how big and physical this team was coming in and the line stepped up and met the challenge. Coach Shepas thought we needed some work since last week the line and the running game wasn't that good. We got the work and it was good."
"We had to step it up tonight," Jordan said. "Justin is leading our team right now and we'll get even better. We're getting better."
Haering said the tone was set early in the game when Jordan and Ashcraft got behind the Mt. Leb defense and Zwick got them the football.
"Giving up those long balls gives them the sense they could do that whenever they wanted," Haering said. "It gets our guys thinking about backing up, and then they started running the ball effectively too. They just do a tremendous job.
"They have so many tremendous players that you can't take away any one guy and over commit because then they'll beat you with some other guys. Coach Shepas has done an outstanding job putting together this group and they have to be proud with the product they're putting on the field."
MASSILLON 54
MT. LEBANON (PA.) 20′
M ML
First downs rushing 18 9
First downs passing 8 3
First downs by penalty 3 1
TOTAL first downs 29 13
Net yards rushing 310 217
Net yards passing 235 41
TOTAL yards 545 258
Passes attempted 25 12
Passes completed 12 7
Passes intercepted 0 1
Punts 1 6
Punting average 29 37.8
Fumbles/Lost 3/1 1/0
Penalties 7 6
Yards penalized 77 75
MASSILLON 14 17 3 16 54
MT. LEBANON 0 7 6 7 20
SCORING
M ‑ Oliver 2‑yard run (Abdul kick)
M ‑ Jordan 17‑yard pass from Zwick (Abdul kick)
ML ‑ Young 1‑yard run (Schnirel kick)
M ‑ Jordan 38‑yard pass from Zwick (Abdul kick)
M ‑ Abdul 51‑yard field goal
M ‑ Ashcraft 17‑yard pass from Zwick (Abdul kick)
ML ‑ Breiding fumble recovery in end zone
M ‑ Jordan 8‑yard pass from Zwick (Abdul kick)
M ‑ Jovingo 2‑yard pass from Zwick (Abdul kick)
ML ‑ Young 62‑yard run (Schnirel kick)
M ‑ Abdul 48‑yard field goal
M ‑ Boyd 2‑yard run (Kick failed)
INDIVIDUAL STATISTICS
Massillon rushing: Oliver 18‑135, Johnson 7‑114, Boyd 5‑37.
Mt. Lebanon rushing: Young 31‑199.
Massillon passing: Zwick 12‑25‑235 5 TDs.
Mt. Lebanon passing: Goff 7‑12‑41 1 INT.
Massillon receiving: Jordan 5‑118, Ashcraft 2‑50, Jovingo 2‑39.
Mt. Lebanon receiving: Klett 2‑15, Hrebinko 2‑12.
‑ Statistics compiled by RICHARD CUNNINGHAM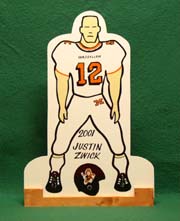 Justin Zwick