Determined Tigers beaten back by Bulldogs
By STEVE DUNGJEN
Independent Sports Editor
MASSILLON ‑ Decals, magic potion and a lucky penny weren't enough.
McKinley's Bulldogs were simply too much for Massillon Saturday afternoon before 17,926 fans at Paul Brown Tiger Stadium.
Not even record setting performances by Massillon's Bruce Spicer and Mike Scott were enough to stave off a determined bunch of "Mad Dogs."
When the final gun went off the scoreboard read: McKinley 17, Massillon 6.
And it wasn't a game that could've gone either way. Massillon's lone score occurred with a scant 32 seconds remaining, the Tigers' fate already sealed.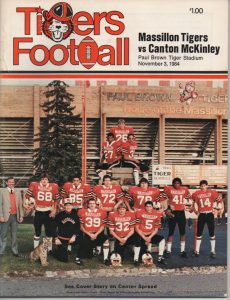 Although the Bulldogs (7‑3) finished with a slight 296‑284 edge in net yards, the Tigers (6‑4) led in just about every other statistical category.
Statistics, though, are among the greatest half‑truths in the universe.
Massillon held a 20‑12 edge in first downs. The Tigers possessed the ball longer, and ran off a whopping 21 more offensive plays.
But the Bulldogs led in the two area, that counted the most ‑ big plays and total points. In both categories the Tigers lacked.
"That's what wins big games for you," Massillon defensive tackle John Kroah said. "We couldn't stop theirs, and they didn't make any mistakes. Maybe we just underestimated them.
"Personally, don't think there was the same kind of intensity that we had for the Perry game."
The strike‑it‑rich‑quick preference by the Bulldogs paid off handsomely to the tune of 17 points. Here's the reasons why:
‑ Flanker Jeff Smith catches a 28‑yard touchdown pass with less than a minute left in the first half;
‑ Smith, also a safety, intercepts a Scott pass in the endzone to thwart a Massillon score;
– Tailback Chris Clax bursts 80 yards for a TD 36 seconds into the second half;
– Sophomore Mark Smith, with the wind at his back, drills home a 45‑yard fourth‑quarter field goal at the 7:55 mark to give the Dogs a 17‑0 lead.
Truly, McKinley was a rags to riches story this season. They were 1‑3 at one point. They unearthed their biggest treasure with Saturday's win.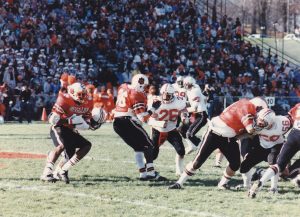 After a scoreless first quarter, the Tigers had a chance to draw first blood. But Todd Manion's wind-aided 54‑yard field goal attempt fell well short of the intended mark.
Before setting up for the three-point try the Tigers used two time outs. That would come back to haunt them later in the period.
Taking over at their own 20, the Bulldogs went 80 yards in eight plays behind the throwing of junior quarterback Brian Chaney.
Chaney hit six of seven passes in the drive for 78 yards, the finale being a 28‑yard strike to Smith over the middle. Smith's point‑after was good, and McKinley held a 7-0 lead with 59 seconds remaining in the half.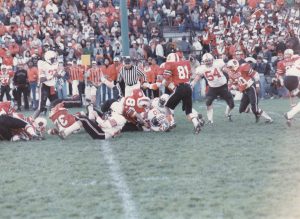 Massillon, with no time outs left, promptly took the ball from its own 34 following the kickoff and marched to McKinley's 9‑yard line behind Scott's pin‑point passing, Scott hit Derrick Newman for 19 yards, Cornell Jackson for 23 and Spicer for 14 more.
Faced with a first down from the Bulldog 9, Scott sought Newman in the end zone. The pass was intercepted by Smith instead.
Mr. Momentum remained in the Bulldog locker room at halftime, joining the team minutes later on the field of play when Clax burst 80 yards to paydirt just 36 seconds into the half.
In the span of 95 seconds, the Bulldogs had pulled off three big plays. Three more than the Tigers had all game.
Twice in the third period the Tigers, who had pour field position for the bulk of the game, were within striking distance. Both times, though, they were denied entry into the end zone.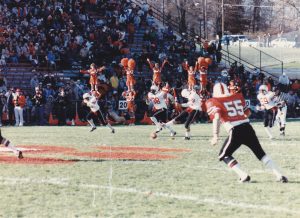 Massillon had the ball once at its own 45, but had to punt three plays later. The same fate befell them on their next possession, taking the ball at McKinley's 47 and punting three plays later again.
McKinley threatened to break the ballgame wide open on its ensuing set of downs, driving to the Tiger 27 where they were faced with a fourth‑and‑2. Clax took off with the ball to his right, but Massillon defensive end Chris Slinger put the stopper to him short of the yard stick.
With the distinct possibility of being shut out for the first time in the series since 1973, the Tigers got the ball back for the final time at their own 13 with 3:19 remaining.
Scott, who had a sterling first half, was off to a retched second‑half showing, completing just four‑of‑19 passes before the final drive.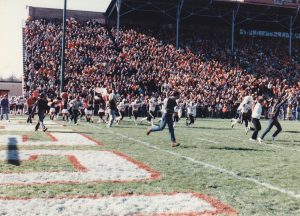 But the senior dug down and went work. He hit Spicer for a pair of 11‑yard gains. Irwin Hastings for nine more, and Spicer again for eight. Wes Siegenthaler then caught a pass for 12 yards and Spicer another eight yarder.
Hastings was found open once again, this time for a 14‑yard gain to McKinley's 14. Two straight passes then fell incomplete when Scott connected with Siegenthaler for a first down at the Bulldog 2.
On the ensuing play, Hastings swept the left side for a long‑awaited but way too little TD. Only 32 seconds showed, and the subsequent onside kick attempt was recovered by the red and black.
On this sunny day not even the decals that equipment manager Keith Herring purchased and then applied to the front of each player's helmet worked.
Not even the "win potion" of assistant coach Butch Hose could do it's thing.
And not even the "lucky penny" assistant coach Keith Dewitz found outside the coach's door nine days earlier could come through.
It just wasn't meant to be.
It's back to the
drawing board
for Currence, staff
By STEVE DUNGJEN
Independent Sports Editor
MASSILLON There will be no grace period for Mike Currence this year. Canton McKinley saw to that Saturday afternoon.
In front of 17,926 spectators at Paul Brown Tiger Stadium, the Bulldogs gave Thom McDaniels his first win in three outings against Massillon with a 17‑6 decision.
"I won't be celebrating (this) week," Currence, Massillon's head coach of nine years, said. "I'll be working. We'll start a week early on next year's game."
"The big run killed us," Currence said of Chris Clax's 80‑yard run to paydirt on the first play from scrimmage to open the second half. "That put us down two, and now we really had to start playing catch up.
"I don't know how many they had," he said of the Bulldogs' big plays, "three, four, five, six, seven or eight. They made a lot of them, and we didn't get any big plays.
"I think we were up, but I don't think we played as well as we could've. We had them several times, but we just didn't cash them in.
"We used a few different formations and alignments, but it didn't bother them. The formations and plays didn't stop them from winning."
Currence admitted his club aired the ball much more than they wanted to against McKinley's seasoned secondary. The Tigers put the ball in the air a team record 49 times.
Although the Tigers dropped to 6‑4 with the loss, Currence wasn't totally dismayed.
"We started out with a very young team," he noted. "We have a lot to be proud of. We certainly aren't proud of losing the last one, though.
"The senior never gave up, and I'm certainly proud of them."
Massillon got off to one of its worst starts, saddled with a 1‑3 record after just four weeks. Then the Tigers started to put things together, stringing five consecutive wins before Saturday's swan song.
And how does McKinley rate with Massillon's other nine opponents this season?
"I think they are the best team we've played," Currence said.
But there will be little time for reflection.
On Friday, the head coach received some bad news. His father-in‑law had passed away. Today Currence and his wife Joan are in Maryland, where funeral arrangements were taking place.
Tiger‑Bulldog gridstick
MCKINLEY 00
MASSILLON 00
McK M
First downs rushing 5 4
First downs passing 7 15
First downs by penalty 0 1
Totals first downs 12 20
Yards gained rushing 213 63
Yards lost tasting 18 29
Net yards rushing 195 34
Net yards passing 101 250
Total yards gained 296 284
Passes attempted 14 49
Passes completed 8 23
Passes int. by 2 0
Times kicked off 4 2
Kickoff average 46.5 32.2
Kickoff return yards 16 1
Punts 4 6
Punting average 30.3 32.2
Punt return yards 23 15
Punts blocked by 0 0
Fumbles 1 0
Fumbles lost 0 0
Penalties 1 2
Yards penalized 13 20
Touchdowns rushing 1 1
Touchdowns passing 1 0
Miscellaneous touchdowns 0 0
Number of plays 51 72
Time of possession 23:31 24:29
Attendance 17,926
MCKINLEY 0 7 7 3 17
MASSILLON 0 0 0 6 6
Mck ‑ Jeff Smith 28 pass from Brian Chancy (Mark Smith kick)
Mck ‑ Chris Clax 80 run (M. Smith kick)
Mck ‑ M. Smith 45 FG
M ‑ Irwin Hastings 2 run (pass failed)
Scott, Spicer stand out
For Tigers
in face of defeat
By STEVE DUNGJEN
Independent Sports Editor
MASSILLON ‑ Personal accomplishments lose their shine in the face of defeat.
Bruce Spicer and Mike Scott know that all too well.
In the aftermath of Saturday's disheartening 17‑6 loss to Canton McKinley at Paul Brown Tiger Stadium, Massillon's S & S combination was, needless to say, distraught.
Spicer, a senior wide receiver, set three Tiger pass receiving records. Scott, a senior quarterback, established two passing standards.
Entering the McKinley game, Spicer already owned the single game receiving mark with nine. He bettered that by two with his 11 receptions for 104 yards.
On the first play from scrimmage, Spicer caught a 10-yard pass that gave him the regular‑season reception mark with 46. Marty Guzzetta had held the record with 45.
Guzzetta's all‑time single season record of 50 catches was knocked down a notch. Spicer finished the year with 56 receptions.
In his career Spicer caught 66 passes, which rank him third on the all time list behind Curtis Strawder (68) and Guzzetta (69).
Those 56 catches by Spicer netted him 583 Yards, putting him in second place behind Guzzetta's 706 total in 11 games.
"I got a pretty good end, don't I?" Tiger head coach Mike Currence said of Spicer.
"The records didn't mean a lot because we didn't win the game," a subdued Spicer said. "I think we hurt ourselves. We made a lot of mistakes and had a lot of letdowns here and there.
"The win over McKinley is what everybody wanted."
Spicer said the 80‑yard touchdown run by McKinley's Chris Clax to open the second half took the wind out of the Tigers' sail.
"It was like the bottom fell out," he said. "It was something that happened that you didn't think could happen."
Scott bounced back from a preseason back injury to certify himself as one of the all‑time top Tiger passers.
Despite missing nearly four full games, Scott pushed his name into third place in the single-season attempts chart. His 178 throws this year trailed only Brian DeWitz (181) and Brent Offenbecher (182).
Scott also ranks fourth on the career most attempts list with 190. His 1,208 passing yards this year rank him sixth on the all‑time career chart, and his 244 yards passing against McKinley put him fourth in the single‑game books.
Against McKinley, Scott heaved a yeoman‑like 48 passes to surpass his own record of 32 set earlier this year against Stow. The senior signal caller also completed 23 attempts to better his standard of 19, also set against Stow.
"I knew we had to get the ball down there some way and score, but I didn't do it," Scott said about his abundance of aerial attempts. "After a big score like that (Clax's 80‑ yard run) everybody is down on themselves and we knew we'd have to come back and score.
"We were trying to get a good (big play) touchdown for ourselves in order to get back in the game. They were jumping most of our primary receivers and we had to go to our secondaries."
There was nothing secondary about the performances turned in by the S & S duo. Though it will take some time for their deeds to sink in, they can hold their heads high.
Mike Scott and Bruce Spicer will long be remembered as two of Massillon's finest.