Massillon offsets fine effort by Rams' Gladman
By Milan Zban
Beacon Journal staff writer
Brian DeWitz' arm and Tim Sampsel's leg offset a near 200‑yard rushing effort by Garfield's Charles Gladman as Massillon defeated the Rams 17‑10 before 11,497 Friday at Massillon's Paul Brown Tiger Stadium.
DeWitz threw a pair of touchdown passes and Sampsel kicked a 45‑yard field goal, 3 yards shy of matching the school record set last year by Tim Manion.
Gladman ran for 192 yards in 28 attempts lot, the Rams, who fell to 1‑1 on the season.
Massillon, ranked ninth in the Beacon Journal's poll compared to a No. 2 rating for the Rams took its second straight triumph.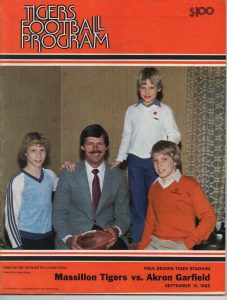 GARFIELD MADE a valiant effort to force a tie by driving from its own 38 to the Tiger 38, but with 2:01 remaining in the game, Gladman was dropped for a 1‑yard loss to the 39 and a fourth‑and‑four pass by Ram quarterback John DiDonato, his only attempt of the contest, was too low for Tony Parker, who could only trap the ball. With the incompletion went the Rams last chance.
Massillon built a 10‑0 halftime lead on the strength of DeWitz' 7‑yard touchdown pass to Gary Conley in the first quarter and Sampsel's second quarter field goal, which had more than enough distance and was right on the money.
However, the Rams, whose deepest thrust in the first half was to Massillon's 20 where they surrendered the ball on a Gladman fumble, stunned the partisan crowd early in the second half by driving 91 yards to score its first touchdown.
The Rams had possession for 7:06 and needed 18 plays to cover the distance.
TIME AND again Massillon was geared to stop the Rams' ground attack and time and again, the Rams burst through for yardage.
Gladman carried nine times and picked up 57 yards in the drive, but it was fullback Flynn Hamilton who pushed the ball over from the Massillon 1.
There was 2:06 left in the third quartet when Dom Pazara's kick from placement sailed through the uprights to cut Massillon's lead to 10‑7.
MASSILLON, however, bounced right back and it was DeWitz who engineered a six‑play drive of 60 yards.
DeWitz, scrambling to avoid a strong Rams' rush, found Chris Spielman on a 24-yard touchdown pass Bronc Pfisterer made good on his second straight conversion kick as the Tigers padded their lead to 17‑7.
Garfield again mounted one of its patented drives, moving from its own 25 to the Massillon five, but Massillon stiffened and with 6:24 left to play, Garfield coach Bill McGee elected to send in his kicker, Pazara who successfully booted a 22‑yard field goal, trimming the Tigers lead to 17‑10.
Garfield surrendered the ball at that point, hoping to regain possession and it did with 4:55 to go.
The Rams moved from their own 39 to the Massillon 38, but Gladman was dropped for the yard loss and DiDonato's pass attempt failed.
MASSILLON used up the final 2:01, taking two delay of game penalties, but the Tigers could afford it after Sampsel ran 14 yards to the Garfield 47 on their first play from scrimmage.
DeWitz threw 19 times, completing 10 for 140 yards. He found seams in the Garfield secondary all night.
Sampsel was the Tigers leading rusher with 40 yards in seven carries, but Gladman took game honors by a wide margin.
Tigers glad, man,
to get by Garfield
By STEVE DOERSCHUK
Assistant Sports Editor
MASSILLON ‑ Glad, man.
That's how the Massillon Tigers felt Friday night about getting (a) a 17‑10 high school football victory over gargantuan Akron Garfield and (b) Charles Gladman out of town.
Charles Gladman … you'll be seeing more of him. The Tigers almost saw too much of him before 11,497 in Paul Brown Tiger Stadium.
Gladman rushed for 198 yards in 28 carries. Garfield's nickname is Golden Rams. Call Gladman The Velvet Battering Ram. He spins. He sprints. He runs over people.
The 195‑pound junior (yes, junior…no misprint) almost ran Garfield's 10‑0 halftime deficit into a Rams' lead.
But after Gladman's galloping led to a 91‑yard touchdown drive that cut Massillon's edge to 10‑7 late in the third quarter, the Tigers got tough.
Massillon's Tom Manion returned the ensuing kickoff 25 yards to the 40‑yard line, giving quarterback Brian DeWitz (who beat out Manion for the job) operating room. DeWitz drove the Tigers 60 yards for a score, completing three passes for 56 of those yards, the last of which was a dandy.
Manion was flushed out of the pocket, sprinted to the right sideline and ‑ with a Garfield lineman clutching his jersey ‑ flicked a pass to halfback Chris Spielman, who fell into the end zone at the end of a 22‑yard reception.
The score gave Massillon a 17‑7 lead at 11:17 of the fourth quarter. There were some anxious moments for the Tigers thereafter, but the TD had turned off Garfield's momentum and was, essentially, the ball game.
Massillon appeared mighty in last week's 29‑8 blowout of Perry. But Garfield, which held Massillon's running game to 101 yards and rolled up, 281 rushing yards for itself ‑ made the Tigers look human.
"We're not a great team right now," Massillon head coach Mike Currence said. "We don't have a bunch of superstars. We have a few kids with athletic ability and a lot of kids with a lot of heart. That's what we won with tonight."
Fullback Tim Sampsel, who kicked a 45‑yard field goal that pushed Massillon's first‑half lead to 10‑0, echoed his coach.
"Everybody on this team sticks together," said Sampsel, whose seven carries for 40 yards led the Tigers. "It's like a big family."
Sampsel's field goal gave the Tigers a big boost. A 45‑yarder is extraordinarily long in the high school ranks. It was the first field goal attempt of his varsity career.
"Pressure? I guess I felt a little bit," Sampsel said. "But isn't pressure what the game is all about? I knew I kicked it well. I just closed my eyes and hoped somebody would tell me it was good."
In terms of the offenses, it was a struggle of Massillon's balance against the Rams' rushing.
Garfield called one pass play in the first half ‑ quarterback John DiDonato was sacked.
The only pass the Rams actually got off represented an intense moment.
The situation: Massillon up 17‑10; Garfield's ball on the Massillon 39; fourth and five; two minutes left in the game.
DiDonato got off a pass that fell short in front of an open receiver who would have had a first down.
Massillon took over. Sampsel bulled for a 14‑yard gain. The Tigers ran out the clock.
Massillon dominated the early phase of the game, scoring the first time it got the ball on a 10‑play, 53‑yard drive capped by an eight‑yard TD strike from DeWitz to split end Gary Conley on third and seven.
Garfield drove 53 yards after the ensuing kickoff, but Gladman fumbled on the 20 at the end of a 20‑yard gain, and Massillon's Tim Sweterlitsch recovered.
Garfield's touchdown came on its first possession of the second half. Fullback Flynn Hamilton plunged for a TD from a yard out. The Rams used 15 plays, all runs.
The Tigers used only six plays to score their subsequent touchdown.
But Gladman's running then set up a 21‑yard Don Pazara field goal with 6:24 to play.
The Tigers punted after failing to make a first down, and Garfield got the ball in its 38 with 5:04 left.
DeWitz completed 10 of 19 passes for 140 yards. Spielman, who rushed for 130 yards against Perry, was held to 27 yards in seven trips. He carried only once in the second half.
"Spielman was very tired," Garfield coach Bill McGhee said. "Our running attack puts a lot of pressure on linebackers."
While playing linebacker, Spielman had enough left in the fourth quarter to jar Gladman for the one yard loss that set up the incomplete pass on fourth down.
Geiser caught five passes for 52 yards. Garfield led 17‑16 in first downs, 27:06‑20:54 in time of possession and 267‑217 in total offense.
Sampsel's field goal was three yards short of the school record, a 48‑yarder by Tim Manion ‑ in Massillon's win over Garfield last year.
Garfield is projected to be the strongest team in Akron.
"I don't think they'll lose again," Currence said. "It was a big win for us."
Garfield 0 0 7 3 10
Massillon 7 3 0 7 17
Mas ‑ Conley 8 pass from DeWitz (Pfisterer kick)
Mas ‑ FD Sampsel 45
Gar ‑ Hamilton 1 run (Pazara kick)
Mas ‑ Spielman 23 Pass from DeWitz (Pfisterer kick)
Gar ‑ FG Pazara 22
A – 11,497
Gladman a sad man
after Tiger win
By MIKE HUDAK
Independent Sports Editor
MASSILLON ‑ What did the Massillon Tigers say when the Akron Garfield Rains got on the bus to leave Paul Brown Tiger Stadium Friday night?
"We're glad, man,"
In many ways, the Tigers were superb in their 17‑10 victory, which kept them perfect at 2‑0. But due to the efforts of Garfield junior running back Charles Gladman, the Tigers were fortunate to escape with the win.
Gladman ran the ball 28 times for 191 yards. None of the Massillon coaching staff could recall an individual coming close to that figure before against the Tigers. Gladman gained 108 yards against Austintown Fitch in last week's opener, and last year averaged over eight yards a try in 85 carries, plus returned two kickoffs for touchdowns. The 195‑pounder has 4.6 speed in the 40.
"Well, there's one thing we don't have to worry about when we play Garfield next year ‑ we know Gladman can't possibly get any better," quipped Tiger coach Mike Currence afterwards, in a jovial mood despite an admitted "ten new gray hairs" acquired in the course of the evening.
For the Tigers, the heroes were many.
For starters, there was fullback Tim Sampsel. The squat senior led Tiger rushers with 41 yards in seven carries, plus kicked a 45‑yard field goal which gave the Tigers a 10‑0 halftime lead. The field goal was the second longest in Tiger history, bettered only by Tim Manion's 48‑yarder a year ago.
Another key performer was Brian DeWitz. The junior quarterback had his second straight impressive performance, hitting 10 of 19 passes for 120 yards and two touchdowns, including the gamebreaker to Chris Spielman early in the fourth quarter.
But despite the Rams' time‑consuming running game, especially in the stomach‑churning second half, Currence was right when he said, "It was our entire defense which won this game for us. No one had held Garfield to under four touchdowns in any scrimmage or game so far, but we did it tonight."
Undeniably, it was a great game for the 11,497 spectators from start to finish. Garfield had to punt away possession after quarterback John DiDonato was sacked trying to pass on third‑and‑long by the Tigers' Junior Neff. (DiDonato did not try another pass until a far more crucial moment in the fourth quarter.)
The Tigers took possession on their own 47 after the short punt and struck with the lightning efficiency of an Israeli commando unit.
On a third‑and‑three play, Spielman broke around right end for a 19‑yard gain. A play later, DeWitz hit senior Jim Geiser for a 16‑yard gain to the 11, the first of five catches for the lanky senior. Four plays later, with 4:31 left in the quarter, DeWitz hit flashy senior Gary Conley for a seven yard scoring strike, and Bronc Phisterer's extra point made it 7‑0.
Garfield countered with a short drive, but was forced to punt again. Starting from the own 17, the Tigers responded with a 16 play march that ended with Sampsel's field goal with 6:36 remaining in the half.
From this point on, the Rams got their running game in gear and reversed the momentum in their favor. After returning the kickoff to their own 27, the Rams quickly ran down the field, only to lose the ball on the tail end of a 20‑yard run by Gladman, with the fumble recovered by the Tigers' Tim Sweterlitsch on the Massillon 20.
The Tigers then lost a chance to break the game open late in the half when a sensational 62‑yard sideline run by Jim Bushe was called back by a holding call. Bushe first jitterbugged his way through two waves of defenders, then broke three tackles on his mad dash towards paydirt, only to lose it all on the infraction, with no further scoring in the half.
But for the offense, halftime practically extended into the fourth quarter as the Rams forced Massillon to punt on its first possession of the second half, then proceeded to march 91 yards in 17 plays ‑ all on the ground ‑ in a drive that ate up over seven minutes on the clock. It was a classic drive, a "thing of beauty" as the poets would say, capped by a fourth down, one‑yard plunge by fullback Flynn.
Tiger‑Pup ticket sale set
MASSILLON ‑ Tickets for the Massillon Tigers' Nov. 6 home game against Canton McKinley will go on sale at 8 a.m. Monday at Paul Brown Tiger Stadium.
There will be a limit of two tickets per person.
The sale was switched to the stadium to avoid congestion in the hallway at Washington High School.
But the precision‑like drive by the Rams failed to awe the Tiger offense when it finally stepped back out onto the field. Tom Manion returned a short kick back to the Tiger 41, and four plays later DeWitz found Conley for 22 yards to the Garfield 21, with Conley's fine display of open‑field running accounting for a big chunk of the play which ended the third quarter.
But then Bushe was squelched for a two‑yard loss, and on the next play it looked like DeWitz would lose a lot more than that as Ram rushers surrounded him like a pack of starving wolves that finally picked up the sent of flesh. But somehow DeWtiz eluded the rush and heaved a pass towards Spielman, who caught the ball and flung himself into the endzone for the score with 11:17 remaining in the game. Phisterer's kick was good for a 17‑7 lead.
"That was a big touchdown for us," said Currence. "But I almost wish we hadn't scored so fast; we needed to chop more time off the clock."
Garfield still wouldn't admit defeat, immediately beginning another drive with its next possession. A 31‑yard run by Gladman took the ball down to the Tiger 21. Moments later it was first down for the Rams on the Tiger six, but the Tigers held tough on three straight runs and forced a 22‑yard field goal by Don Pazara with 6:24 remaining to cut the gap to 17‑10.
The Tigers needed some ball control desperately at this point, but were forced to punt after three plays. Garfield began possession on its own 37 with a dangerous 5:11 left on the clock.
The Rams moved the ball until they found themselves in a third and three situation at the Massillon 37. At that point, a host of tacklers swarmed over Gladman and forced a two‑yard loss.
"We were in a 6‑2 formation and I was lined up as a defensive end," explained the Tigers' Tom Manion. "I took on the lead blocker, and then Spielman, the 'hit man' on the play, made the right read and cut down the runner."
That brought up fourth down. Everyone in the stadium expected the ball to go to Gladman, but instead, the Rams tried their second pass of the night, which bounced incomplete in front of the receiver. The Tigers took over possession and ran out the clock for the victory.
"I was surprised they passed the ball," admitted Currence. "In fact, I'm glad they passed the ball."
But Garfield head coach William McGee thought it was the right call.
"If you're only going to throw one pass, that was the time to do it," he said. "Massillon certainly couldn't have been expecting it." (He was right; it just didn't work.)
But according to McKee, the big plays were all before, anyway.
"What really went wrong was the third‑down blocking the play before; that's what hurt us. Plus the turnover at the end of the first half and getting out‑executed in general by the Massillon offense," McGee added.
But the loss hurt McKee.
"The team and myself both came here expecting to win tonight. Even at halftime, when we were down 10‑0, I thought we'd win, We're a better team than we showed tonight, and I'm not leaving here very happy."
But Currence and the Massillon staff were very happy, enjoying the victory for a few precious moments until preparations begin for next Friday's only road trip, a little jaunt to Warren Harding.
Last year the Tigers were 2‑0 when they hit the road for Cincinnati Moeller, and lost 24‑6. Currence wants to erase the memory of that road trip and replace it with a much more pleasant one.
"The Warren Harding game's no pushover," he warned. "We had better be ready."