Tiger defense is superb in heat bath
By CHUCK HESS, JR.
Independent Sports Editor
It was anything but weather for football.
It was as hot as billie blue blazes on the Tiger stadium gridiron, the pressbox was even more uncomfortable and the defending Ohio AAA champions made it unanimous by putting on the heat in the first half. However, their after –burner was cooled off following the intermission, by backs unable to hold unto the football and to many penalties.
The result was a 32-0 Massillon victory over Cleveland Heights with 26 points coming in the first 24 minutes before 12,677 toasted fans.
* * *
THE HEAT was a factor which worked against Heights with the temperatures standing at 77 at the kickoff. But the Washington high team seemed to shrug it off, especially the
hard – hitting defense. Longtime fans couldn't remember a hotter temperature for an opener.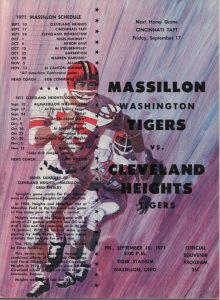 "We wore out four or five kids," first year Heights Coach Carl Wilson said. "Rafael Rehamin is the best center in the state, but the heat got to him. We had to play him one way. With him in their both ways we would have been more effective."
Tiger Coach Bob Commings and trainer Mike Internicola both agreed the heat hampered the Orange and Black a little, with the WHSers getting iced down at halftime – something not available in Heights.
"We also played a lot of kids," Commings said. "We used two nose men, three tackles, four ends, two tailbacks and five guards all the way."
The skipper was happy with a great defensive team effort which held Heights to zero yards, rushing in the first half, 91 total yards for the game and five first downs. One came in the first half and three during the final five minutes, when Heights made its deepest penetration – to the Massillon 33.
* * *
THE DEFENSE continually held Heights in its own territory and provided some nice field position for the offense.
A fumble by tailback Willie Spencer on the Massillon 45 and another by fullback Don Perry on the Heights' 47 in the third quarter were recovered by the visitors' Rahamin and Brian Sague. A holding penalty on the latter drive didn't help either. A holding call tacked onto a clip almost aborted a fourth period scoring jaunt.
And offside jumps by three different middle guards because Heights was going on a long count didn't help either.
However, Spencer and Perry, the 200-pound battering rams, did some great running, helped by some outstanding blocking, after the Tigers got over what Commings called early trouble picking up linebackers. Both Spencer and Perry scored twice while Hank Nussbaumer got the other tally and quarterback Scott Dingler the conversion.
Perry missed keeping a drive going shortly after the opening kickoff when he rumbled 18 yards to the Heights' 45 only to have a clip nullify his effort.
Spencer claimed 126 yards in 12 carries.
The Tigers got their first score when punter Jim Corrigan missed the ball, according to Wilson and Steve Studer got possession at the Heights 34.
* * *
JUNIOR WINGBACK Terry Edwards took off for 19 yards around right end on fourth and 15 from the 20. Spencer blasted over right guard with 5:48 remaining in the first quarter. Dingler bootlegged the conversion.
A holding penalty almost gimmicked things up in the second quarter after one of junior Tom (Flash) Hammon's several groovy punt run backs for 17 yards and Spencer's
36-yarder through the middle to the 22. Then came the 15-yard infraction setback.
But Dingler faded on third and 21 from the 33 and deposited one in the arms of Nussbaumer, playing split end instead of tailback, Hank raced in on the left side with 9:45 left. Tailback Larry McLenndon just missed the conversion.
A bad fourth-down snap from the Heights' 28 by Rahamin sailed to the one where Corrigan hopped on it, but junior end Dari Edwards hauled him down in a hurry. Perry scored over left tackle with six minutes left. Junior Don Muhlback had to run with Steve Studer's high snap and didn't make it.
Hannon started a scoring drive with a 20-yard punt return to the Heights' 27. Six plays later and helped by a face mask penalty, it was first down on the three, setting the stage for Perry to blast through the middle with 2:30 left. Dingler's kick was no good.
Senior halfback Art Thompson intercepted a pass on the Tigers' 26 to stop a Heights' drive just before the half ended.
IN THE third period, Massillon almost had another TD on a Dingler-to-Nussbaumer combination that would have been a real "Hum Dingler," but halfback Tom Wasson got a hand into the act and thwarted the long aerial.
The Orange and Black had problems getting their final score. The clip and holding penalties negated a 20-yard Dingler-to-split end Joe Matie effort to the Heights' 34, but Dingler hit tight end Bob Stephan for 13 to the 41. Spencer ran 17 to the 41 and Hannon, 10 to the 14 from where Spencer scored around left end, with 5:07 left in the game. Hannon failed on the conversion attempt.
Commings summed things up with, 'We were penalized 85 yards and lost three fumbles. You can't do that against a good team."
He lauded Hannon's punt returns and explained that Nussbaumer had been used on two pass plays because he runs good deep cuts.
Wilson felt his team started slowly, but came along and then missed some opportunities because of penalties and dropped passes.
"I hope there's a little better future ahead of us," he said. "It will take a good club to score on Massillon."
HEIGHTS – 0
Ends – Vinocur, Deering, Sague.
Tackles – A. Stallworth, Siegel, Kirk, Allen, De Baggis, Kovatch.
Guards – Freedman, Faerber, Sorin, Johnston, Shewman, Thomas, Gutin, Burlin.
Centers – Rahamin, Lohwater, Coco.
Quarterbacks – Lipman, Visci, Wasson.
Halfbacks – M. Stallworth, Marinelli, Toomey, Mintz, Corrigan.
Fullbacks – Metcalf, Spigutz.
MASSILLON – 32
Ends – Stephan, Matie, Vogt, D. Edwards, Nussbaumer.
Tackles – Weirich, Andre Heath, Peters, Green Geiser.
Guards – Heck, Graber, Mayles, Guiffre, Keller.
Centers – Studer, Cocklin.
Quarterbacks – Dingler, Muhlbach.
Halfbacks – Spencer, T. Edwards, McLenndon, Thompson, Andy Heath, Wonsick, Nussbaumer, Weise, Jackson.
Fullbacks – Perry, Hannon
MASSILLON 8 18 0 6 32
HEIGHTS 0 0 0 0 0
SCORING SUMMARY
M – Spencer, 20 run (Dingler run);
M – Nussbaumer, 33 pass from Dingler (run failed);
M – Perry, 1 run (kick failed);
M – Perry, 3 run (run failed);
M – Spencer, 14 run (run failed).
GRID STICK
M H
First downs, rushing 16 2
First downs, passing 2 3
Total first downs 18 5
Yards gained rushing 279 66
Yards lost rushing 16 55
Net yards gained, rushing 263 11
Net yards gained, passing 70 80
Total yards gained 333 91
Passes completed 4-8 7-21
Passes intercepted by 1 0
Yardage on passes intercepted 41 0
Kickoff average (yards) 5-44.3 1-39.0
Kickoff return (yards) 16 96
Punt average (yds.) 3-32.3 9-29.0
Punt returns (yds.) 59 6
Had punts blocked 0 1
Fumbles(lost) 4(3) 2(0)
Yards penalized 9-85 7-58
Touchdowns rushing 4 0
Touchdowns passing 1 0
Total number of plays 49 58
OFFICIALS
Referee – Jack McLain.
Umpire – Alex Rubins.
Head Linesman – Irwin Shopbell.
Field Judge – Dr. Henley Freeman.
Back Judge – Robert Walker.