Canisius second-half burst ends Massillon's streak
Chris Easterling – The Independent
Oct 06, 2017 10:59 PM
MASSILLON   Adversity had shown its face to Massillon before Friday night's visit from New York reigning Catholic School state champion Canisius. However, not since the season opener had it bared its teeth as much as it did with the visitors from Buffalo in town.
Adversity didn't just bare its teeth, though, at Massillon on Friday night. It took a big bite out of the Tigers, as Canisius snapped their five-game win streak with a 49-35 win at Paul Brown Tiger Stadium.
"It's a team game," Massillon coach Nate Moore said. "We win as a team and we lose as a team. We weren't good enough tonight. We have to get better."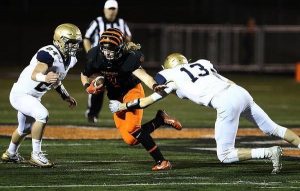 Massillon managed to negate one two-touchdown deficit in the first half to tie the game at 21-21 at halftime. However, Canisius scored on its first four possessions of the second half to open up a 49-28 leas with 8:05 remaining.
Jamir Thomas' fifth touchdown run of the night – a new program record – pulled the Tigers within 49-35 with 7:10 remaining. However, Massillon would fail to get any closer than that.
Thomas finished with 160 rushing yards on 36 carries on the night. He was forced to carry even more of the load when Zion Phifer, who had been sharing the running-back carries through the first six games, left in the second quarter with a knee injury.
Massillon also got a single-game receptions record from Austin Kutscher with 17 grabs for 208 yards. The rest of the Tiger receivers had a combined five catches for 89 yards.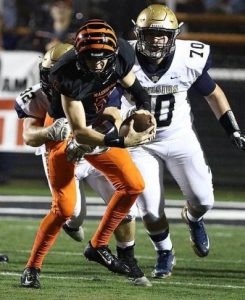 Canisius, which is now 5-1, gained 220 of its 427 total yards on its first four second-half possessions. Quarterback Jayce Johnson threw a pair of second-half touchdowns – one to R.J. Barrett and one to Paul Woods – while rushing for a pair of short scores.
Johnson added a two-point conversion run as well. He was 12-of-19 passing for 220 yards, while rushing for 43 yards on 11 carries.
"I was really proud of the group," Canisius coach Rich Robbins said. "There was some adversity tonight. There's was a time where (Massillon) was scoring and it was tilting, and every time they were getting back in it, we responded and made some plays."
The biggest deficit Massillon faced over its five-game win streak entering Friday's game was two points. That came in the second quarter of the Week 5 win over Bedford, when the Tigers trailed 16-14 for about four-and-a-half minutes.
Friday night, Massillon found itself trailing by two touchdowns – at 21-7 – with just under eight minutes remaining in the second quarter. Joel Nicholas, who scored all three Canisius first-half touchdowns, ripped off a 40-yard run with multiple broken tackles included to provide the 14-point cushion at the 7:47 mark.
Just over seven minutes later, Thomas was scoring his third touchdown of the night for Massillon. That 1-yard plunge with 24 seconds remaining in the half, helped the Tigers square the game up at 21-21.
Thomas had given Massillon a 7-0 lead with a 7-yard run to close out the game's opening drive. It was the seventh time in as many games the Tigers had scored on their first possession, and the sixth touchdown.
The junior running back also helped pull Massillon to within 21-14 with three minutes remaining in the half. Thomas, who rushes for 90 yards on 22 first-half carries, scored from two yards out.
In between Thomas' first and second scores, though, Canisius would score on its first three possessions for the 21-7 lead. Nicholas would score on runs for 12, two and 40 yards to close out drives of 10, three and two plays.
Nicholas had 80 yards on nine carries.
"It was tough not having Kenyatta Huston against tonight," Robbins said. "He's a great player for us. But we're real comfortable with Joel and Joe (Jamison, who led Canisius with 89 rushing yards). Joel had a bit of a coming-out party tonight."