Tigers end first half with road win
Massillon improves to 3‑2 with 10‑7 victory at Fitch
By CHRIS BEERS
Independent Staff Writer
Chalk this one up to the defense and to the right foot of punter Luke Shilling.
The Massillon Tigers' football team used a stellar effort from its defensive unit and another outstanding performance from Shilling to post a 10‑3 victory Friday night over host Austintown Fitch before an esti­mated 4,800 fans.
Massillon's defensive unit, led by its front four, limited Austintown (2‑3) to a single field goal in the second quarter and to just 154 total yards of offense to improve the Tigers to 3‑2 on the year.
On the offensive side of the ball, Massillon put together a 76­-yard touchdown drive midway through the second quarter, and closed out !he scoring with a 26­-yard field goal from junior place kicker Brett Marshall with just 61 seconds to play.
But the difference in the game was the right foot of Shilling, who consistently kept the Falcons pinned deep in their own territory with his towering punts. The 5‑foot‑9, 162‑pounder booted the ball just four times, but averaged 44.5 yards, a kick.
By comparison, the Austintown punter, Brian Sudetic, kicked the ball seven times, but averaged just 28.1 yards a kick. As a result, the Falcons lost a large chunk of yardage every time they exchanged punts with the Tigers.
"Their punter controlled the field position all night long," said Austintown coach Brian Fedyski,. "He's a super punter. They have a real weapon when he kicks like that."
Also controlling the action on the field was the Tigers' defen­sive front wall, which recorded six sacks and hurried Fitch quarterback John Belak on a number of other occasions. Belak threw the ball an amazing 26 times, but completed just 9 of those passes for only 96 yards and one interception.
It was a sloppy game, but our defense did a great job," said Tigers' coach Rick Shepas. "Chris Turner made some big stops, and Jason Hahn and Ellery Moore also played solid games."
Hahn, Moore and Turner each recorded a quarterback sack, while defensive end Neil Buckosh received credit for two QB sacks. All tolled, the Tigers, sacked the Falcons' quarterback
six times for minus 45 yards.
Despite scoring just 10 points, Massillon quarterback Steve Eyerman made an impressive debut as the Tigers' starter. Eyerman, who was filling in for the injured Tom Fichter, showed
his athleticism by scrambling out of a number of tight situa­tions throughout the night. The junior QB wound up completing 8‑of‑18 passes for 127 yards. He also threw an interception.
"This was a tough night for offensive football, but I think Eyerman may have come into his own a little bit tonight," said Shepas. "He made some nice plays when we needed him to make them. He seemed to get more comfortable out there as the game went on. We've been waiting for one of the quarter­backs to step it up."
By contrast, senior tailback Marc Cleveland had his rough­est night of the season. Cleveland entered the game with 468 yards on the ground and a 6.4 yards per carry aver­age. But the Fitch defense limit­ed him to just 55 yards on 23 Carries for a 2.4 per carry aver­age. Cleveland did manage to score the lone touchdown in the game, with a one‑yard run over left guard midway through the second period.
"Marc was running a little stiff in the second half. His mus­cles tightened up on him during the half," said Shepas. "But what really hurts is we don't have much of a running game from our fullback spot, so the other teams can zero in on Marc."
"We wanted to stop Cleveland. He was the guy we wanted to stop," said the Falcons' Fedyski. "We figured Massillon would run the ball more with the starting quarterback out. But Eyerman did a nice job for them. He hurt us with his scrambles when we had the pressure on him."
Fedyski said the absence of the freshman phenom running back Maurice Clarett also hurt the Falcons' chances. Clarett had rushed for 469 vards on 61 carries and scored six touch­downs in Austintown's first four games. But he injured an ankle during the second half of last week's loss to Madison, and was on crutches during the game with Massillon.
" Not having Clarett hurt us," said Fedyski. "Although he' s just a freshman, he leads the Steel Valley Conference in all ­purpose yards with nearly 180 yards a game. It takes a lot of our offense when you lose a player of his stature."
With Clarett on the sideline the bulk of Austintown's ground game fell on the shoulders of senior fullback Tom Italiano. He rushed for 85 yards in 14 car­ries, most right up the middle into the heart of the Massillon defense.
After the two teams exchanged interceptions in the first quarter, Massillon finally put a sustained drive together midway through the second period. The Tigers moved the ball 76 yards in 12 plays, capped by the one‑yard run by Cleveland. During the drive, Eyerman completed four key passes, totaling 58 yards. Marshall added the PAT kick to make the score 7‑0.
Fitch responded by taking the Tigers' kickoff from their own 22 down to the Massillon 21
before their 14 play drive stalled. Junior place kicker Jacob Stewart then booted a 38 ­yard field goal with just five seconds left in the half to make the score 7‑3.
Neither team could sustain a drive throughout the third quar­ter and well into the fourth peri­od. Finally, after several exchanges of punts, the Tigers got close enough to score making a 26 yard, field goal with 1:01 to play capped a 10-play Massillon drive, which began on the Fitch 34‑vard‑line.
The Falcons were unable to mount another scoring threat as Massillon walked off the field with its third win of the season. The Tigers will begin the second half of the 1998 campaign next Friday night when they host Pennsylvania football power Glen Mills High.
MASSILLON 10
FITCH 3
M F
First down rushing 4 6
First downs passing 7 5
First downs by penalty 0 1
TOTAL first downs 11 12
Net yards rushing 72 58
Net yards passing 127 96
TOTAL yards 199 154
Passes attempted 18 26
Passes completed 8 9
Passes intercepted 1 1
Punts 4 7
Punting average 44.5 28.1
Fumbles/Lost 4/1 1/1
Penalties 6 8
Yards penalized 69 65
MASSILLON 7 0 0 3 10
FITCH 0 3 0 0 3
SCORING
M ‑ Marc Cleveland 1 run (Brett Marshall kick)
F ‑ Stewart 38 field goal
M ‑ Marshall 26 field goal
INDIVIDUAL STATISTICS
Massillon rushing:
Cleveland 23‑55,
Miller 8‑17,
Lynn 1‑2.
Fitch rushing:
Italiano 14‑85.
Massillon passing:
Eyerman 8‑18 127 1 INT.
Fitch passing:
Belak 9‑26‑96 1 INT
Massillon receiving:
Allman 2‑36,
Dorsey 2­-33,
Cleveland 2‑19,
Clemens 1‑31,
Jarvis 1-8.
Fitch receiving:
Sucletic 2‑24,
Burd 2‑23,
Densevich 2‑22,
Giordano 1‑11,
Wakiters 1‑10,
Italiano 1‑6.
Statistics courtesy of Richard Cunningham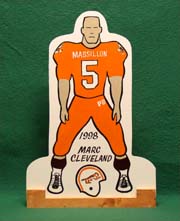 Marc Cleveland