Tigers have to scrap to top Tygers
A much-improved Mansfield Senior squad pushes Massillon to the brink of defeat
By JOE SHAHEEN
Independent Sports Editor
If Mansfield Senior was to serve as the Massillon Tigers' whipping boys after last week's tough loss to Akron Garfield, someone forgot to tell the Ty­gers.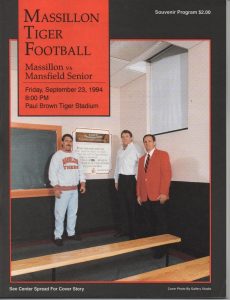 After turning the ball over to their hosts on an interception on the second snap of the ball game ‑ a turnover that led to the Ti­gers first touchdown ‑ Man­sfield turned things around and played an inspired four quar­ters, before falling 21‑13 at Paul Brown Tiger Stadium, Friday.
The contest began as if it would be no contest. Brennan Rohr's interception near mid­field gave Massillon superb field position before many fans had settled into their seats.
The Tigers moved the ball methodically, with quarter­back Willie Spencer doing most of the damage on keepers around the Mansfield flanks. The senior pitched to fullback Vinny Turner on an option play around left end for a three‑yard touchdown with less than four minutes gone in the game.
Nick Pribich's kick made it 7‑0 and visions of a rout began to dance in the heads of the Tigers and the hometown partisans.
"We got the turnover, went right down and scored and I think we thought, 'Here we go. We're going to rack up another 50 on them,"' said Tigers coach Jack Rose. "That's a maturity thing with this team. They have to understand they're going to have to fight for everything they get. Hopefully they've learned that lesson."
Certainly Mansfield did its best to get the message across. The Tygers, beginning their ensuing possession at the 20‑yard line, began controlling the line of scrimmage. Junior Michael Jackson and sophomore Kenyonnah Rife took turns run­ning the football and suddenly Mansfield was near midfield.
Then quarterback Deondre Jones hit tight end Clarence Jacocks for 25 yards to the Mas­sillon 28.
Six plays later, Jones kept the ball on a quarterback sneak to culminate the 13‑play drive with a one‑yard touchdown plunge. The conversion kick made it a 7‑7 game at 1:47 of the first quarter.
Neither team could get much going in the first half of the second period. A Massillon punt gave Mansfield possession at the Tyger 41 with 8:00 until the band show. Rife ran the ball on the first three plays, moving it to the Massillon 43.
On second‑and‑five, Jones called the triple option and kept the football around right end. The Tigers had the play smelled out, so Jones changed direction and found no one at home for Massillon on the left side. He ran free to the Tiger 10, where he cut inside a tackler and into the end zone and the visitors led 13‑7 with 6:34 to go in the second.
Massillon gave the ball right back to their guests on a fumble at the Tiger 42. But the home team defense bowed its neck and forced Mansfield to punt af­ter three snaps.
Then the Tigers found their groove, driving from their 18 to the Mansfield end zone in 11 plays. Leon Ashcraft accounted for 31 of those yards on a picture perfect draw play around right end. Spencer hit sophomore wideout Devon Williams for 20 yards along the left sideline for a key first down at the Man­sfield 18.
Spencer capped the drive with a sneak from the 1. Pri­bich's boot made it 14‑13 Tigers at halftime.
Fumbles and illegal motion penalties plagued Mansfield throughout the second half. But Massillon was unable to take advantage, failing to get a first down until less than two mi­nutes remained in the third period.
Massillon put Mansfield away with a clutch scoring drive that began midway through the fourth quarter at the Tiger 29. On first down, Spencer kept the ball on a boot­leg around left end, picking up 14 yards. It was a sign of things to come.
"We began kicking the out­side linebacker out with the full­back and having the guard pull through so Willie could carry it through there," Rose said.
Up until that point, Spencer seemed to hesitate on the pass-­run option, giving the Mansfield defense time to react.
"We told him to just run it," Rose revealed. "We told him to pull it down and go. He really did a nice job reading the blocks and the guards got up in the hole and the fullback did a good job kicking out the end."
After a pass interference call against Mansfield gave the Ti­gers a first down at the Tyger 40, Spencer took off on the boot­leg run again, picking up 20 yards around left end to the 20.
Ashcraft found a small hole over left guard for six yards and Spencer picked up seven more around right end to the seven yard line.
Three snaps later, Spencer scored his second TD of the night on a quarterback sneak. Pribich's PAT with 4:11 to play concluded the scoring.
Mansfield made one more run at the Tigers, but Lavell Weav­er jarred the ball loose from Rife at the Massillon 40 and Heath Manson outfought the Tygers for the loose pigskin.
"we had some illegal motion penalties that hurt us," said Mansfield coach Stan Jeffer­son, "but there were some other things that I felt were out of our control in terms of some things chat were called on us.
"I don't care what anybody from around here says, we play­ed them tough all the way to the end. If we cover the one fumble, who knows."
"The key was the drive right before half that put us ahead 14­-13," observed Rose. "We had chances in the second half. We had one bust in the line of scrimmage that whole third quarter and that screwed our whole … we pretty much had them figured out as far as what we had to do. Then we made the adjustment on the boot run.
"That was a big win for us coming off of last week. The kids really spilled their guts out last week. Now we have to re­group and get ready for Fitch."
Spencer had by far his biggest night of the season, rushing for 148 yards and two touchdowns in 21 carries. He also completed four passes for 36 yards.
Ashcraft was held under 100 yards for the first time in three weeks, but just varely. The senior tailback rushed for 98 yards in 21 carries, including that key 31‑yard scamper on the Tigers go‑ahead touchdown drive.
MASSILLON 21
MANSFIELD 13
M 0
First downs rushing 16 14
First downs passing 1 2
First downs penalty 2 0
Total first downs 19 16
Net yards rushing 263 264
Net yards passing 33 50
Total yards gained 296 304
Passes attempted 11 10
Passes completed 4 3
Passes int. 0 1
Times kicked off 4 3
Kickoff average 42.3 37.3
Kickoff return yards 44 47
Punts 4 4
Punting average 33.8 27.3
Punt return yards 1 7
Fumbles 1 5
Fumbles lost 1 2
Penalties 2 10
Yards penalized 18 60
Number of plays 60 54
Time of possession 23.36 24.24
MASSILLON 7 7 0 7 14­
MANSFIELD 7 6 0 0 13
SCORING SUMMARY
First Quarter
Mass. ‑ Turner 3 run (Pribich kick)
Mans. ‑ Jones 1 run (VanDine kick)
Second Quarter
Mans. ‑ Jones 38 run (kick failed)
Mass. ‑ Spencer 3 run (Pribich kick)
Fourth Quarter
Mass. ‑ Spencer 1 run (Pribich kick)
FINAL STATISTICS
Rushing:
Massillon
Spencer 21‑148, 2 TDs;
Ashcraft 21‑98;
Turner 5‑17, 1 TD;
Fraelich 2-0.
Mansfield
Rife 13‑90;
Jones 13‑77, 2 TDs;
Jackson 13‑57;
Bessick 5‑30.
Passing:
Massillon
Spencer 4‑11‑36.
Man­sfield
Jones 3‑10‑30, 0 To, 1 int.
Receiving:
Massillon
Williams 2‑25;
Griffith 1‑7;
Shanor 1‑1.
Mansfield
Jacocks 1‑25;
Grose 1‑12;
Jackson 1‑13.

Leon Ashcraft