Tiger ground game key to 14‑7 victory
Grimsley, Moore, Newman do in Harding
By ROLLIE DREUSSI
Independent Sports Editor
Warren Harding had the right defense, but Massillon finally came up with the right combination of running backs as the Tigers rallied to a 14‑7 win over the Panthers before 10,223 fans in Paul Brown Tiger Stadium Friday.
Abandoning its passing game in the face of a blitzing Panther defense, the Tigers took to the ground with a trio of rushers who proved too versatile and too much for Harding to handle.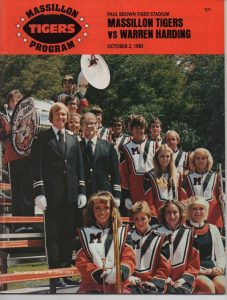 Fullbacks Greg Grimsley and Michael Moore and halfback Larry Newman combined for 127 yards rushing and all 14 Tiger points as Massillon raised its record to 4‑1.
Harding lost Its second straight game and falls to 3‑2.
They've got a good defense," Tiger coach Mike Currence said after the game. "We did not plan on running as much as we did."
Harding coach Bob Wolfe said he didn't expect the Tigers to be able to run the ball the way they did.
"Teams don't run on us the way they did," he said. "The toss sweep to the sideline, we couldn't stop it," he said of the play that worked so well for the Tigers.
"We thought we had a very good defensive package to stop the run‑and‑shoot," Wolfe said. He explained, that they changed their basic "40" defense, which worked well in a scrimmage against Lakewood St. Edward's run‑and‑shoot offense, because he knew Massillon would have films of that scrimmage.
"We put in another defense, like the one Moeller used.
It's a seven‑diamond effect with man‑to‑man coverage," Wolfe explained
"It worked for two and a half quarters, but then they got moving," be said.
"They were very good at the fire game," Currence said, referring to the Panthers' blitzing tactics. "We'd move the ball, but own they'd throw us for a big loss.
"We thought we'd be able to read It and hurt them, but they disguised it better than we thought. We'd make the wrong call right into their blitzing defense. They were playing man‑to‑man and firing like hell. Sometimes you get away with it," Currence explained.
The defense worked for the Panthers through the first half, which ended in a scoreless tie. The Tigers had two drives into Panther territory stall in the second quarter, and both ended in missed field goals by Tim Manion, the first of 45 yards at 5:06 and the second of 48 yards with :27.
After a Massillon punt early in the third quarter, the Panthers got a break.
On third‑and‑10 from their own 25, flanker Darnell Robertson hit wide receiver Gary Hughley with a pass that covered 60 yards to the Tiger 16. Hughley was wide open down the middle, caught the ball at his own 45 and was finally hauled down from behind by linebacker Chris Spielman.
"That was a prayer, a miracle," said Wolfe of the play.
"It was supposed to go to the tight end, but he didn't go out."
On the next play, quarterback Mike Surin hit Marcus Elkins for 16 yards and the touchdown with 7:58 to play in the third quarter, Greg Bumbu's kick made it 7‑0.
That score seemed to pull the Tigers together, however, and Grimsley gave them the spark they needed.
on third‑and‑eight at their own 29, he went left on a sweep and fired a pass to Dan Ricker for 16 yards and a first down at the 45.
"That was a big play," Currence said. "We were having trouble. We had to come out and get a first down to get something going. These kids have had trouble all year doing that."
That proved to be the turning point for the Tigers, as they stayed on the ground the rest of the way and Grimsley bulled over from two yards out with 1:38 to play in the quarter.
Grimsley was the key man in the drive, gaining 25 yards in seven carries, and three times rushing for first downs. He finished the night as the game's leading ball carrier with 56 yards in 16 carries.
Manion's kick to tie the game was wide left, and the Tigers trailed 7‑6. Currence said Manion has had trouble kicking because of a sore left knee, which also limited his playing time at linebacker to only a few plays.
Harding couldn't move the ball, and had to punt. Pressure on Dave Gantz by Bob Yoder and Charles Calhoun caused him to get off only a 13‑yard punt.
Massillon took over at its own 42 and drove to a touchdown in 10 plays, with Moore getting 21 yards in four carries, including the final four yards for a TD with 8:35 to play.
Newman had a key run for a first down, taking the ball from the 15 down to the eight. Grimsley gained four yards and then Moore swept right for the score.
On the run for the extra points, Newman took a pitch right and Bumbu blitzed through the line to stop him.
Newman made a sharp cut to elude him at the seven, ran up to the three and literally dove the rest of the way into the end zone.
"I didn't know if it was a good play," Currence said, "but I just wanted to get the ball to Newman. He came of age tonight, He probably hasn't been playing as much as he should. But he's our specialist. He returns kicks and we were working him at halfback and receiver. He said to let him try concentrating on one position, halfback, and we did.
That move paid big dividends as Newman gained 35 yards in seven carries. Moore finished with 36 yards In 10 carries.
Of course, Harding didn't give up, and came back several times, but the Tiger defense held strong.
Tony Morelli, who came In at defensive end when Scott Zupp injured his ankle, sacked Surin for a nine‑yard loss on a third‑down play and Chris Spielman killed another threat with an interception, a leaping grab in which he took the bail away from Robertson.
The Panthers got one last shot when defensive tackle Nick Frankos blitzed through and hit quarterback Rick Spielman just as he was about to hand off to Newman. He caused a fumble which end Scott Wilson recovered for Harding at the Tiger 46. However, four straight passes fell Incomplete, and the Tigers took over with 2:54 left and ran out the clock.
The Tiger defense drew praise from Currence and defensive coordinator Jim Letcavits. With Manion, middie‑guard William Askew and tackle Rick Heather out with injuries, the Tiger backups did a fine job.
Charles Calhoun and Sam Clark started at the tackles' Brian Schodorf played middle guard and Mark Haubert played linebacker.
"When we had to do it, we obviously did it," Currence said. "We came together as a team tonight. I'm proud of the offensive line and of the defense. But we still have to improve. We have a long way to go. Barberton (Massillon's opponent Saturday night in the Akron Rubber Bowl) is a good team."
But with a gritty comeback, and their suddenly potent ground attack, the Tigers proved Friday night that they too are a tough team.