Dewitz returns in conquest Ball control key to Tigers' rout
By NORM WEBER
Independent Sportswriter
MASSILLON – When an offense holds the ball for 11:17 of 12 first-quarter minutes its bound to tuck away an early victory.
That's exactly what the Massillon Tigers did Friday night in their 48-6 shellacking of Akron Central Hower, at Paul Brown Tiger Stadium.
The Eagles ran but three offensive plays – two of them giveaways on fumbles – the entire first quarter. By the time Central-Hower's offense was on the field for as many as two consecutive plays the Tigers had a 20-0 lead.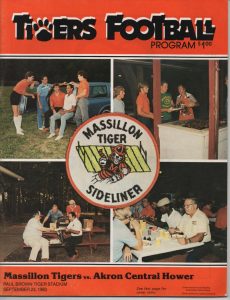 In the bruising first quarter, Craig Johnson carried nine times for 83 yards and Chris Spielman nine times for 48 yards.
"We were hot," said Massillon head coach Mike Currence. "Brian (quarterback Brian Dewitz) carried us back. He really inspired us. Having him back intensified the entire team."
Dewitz was back at starting quarterback, after a two week layoff with a knee injury. Wearing a knee brace, the senior signal caller engineered three first-quarter touchdown drives with seasoned precision.
Starting at their own 26-yard line after the opening kickoff, the Tigers drove 76 yards in 11 plays, Spielman going around right tackle from one yard out for the score.
On the Eagles' first play after the ensuing kickoff Tiger senior Robert Neff recovered an Eagle fumble at the visitors' 38-yard line.
Four plays later Johnson scooted in from 15 yards out on a draw play. Johnson got excellent blocking from the right side of the line, Dave Morelli, Kirk Harper, and Darrell Strickling.
"That was an excellent draw play," said Central-Hower head coach Bill Skeggs. "We should have stopped it. We knew they were going to do it. Everyone knew they were going to do it. I was disappointed we couldn't stop it."
When Central-Hower got the ball back on the ensuing kickoff it was déjà vu. The Eagles fumbled on the first play and Tim Sampsel recovered at the Eagle 27-yard line.
Dewitz proceded by firing a 27-yard scoring strike to split-end Paul Briggs on the first play. Bronc Pfisterer, as he did on the previous score, kicked the extra point giving the Tigers a 20-0 lead.
"Getting all those opportunities that early helped our defense a lot," said Dewitz. "You can't turn the ball over two times in the first quarter and expect to win – against anybody. That gave our defense enough rest to play a good ball game."
The onslaught continued in the second and third quarters. Johnson scored on a five-yard run with 4:57 remaining in the half to give the Tigers a 27-0 halftime lead.
With the first unit still on the field the second half, Dewitz fired a 25-yard touchdown pass to Spielman. Three minutes later Johnson ran his third touchdown in from 17 yards out.
"We didn't leave the first team in to run up the score," Currence explained. "We haven't been playing too well in the third quarter all season. We wanted, for the first time, to carry over the good play we had in the first half into the second half.
"We don't want to make a fuss about it, but we wanted to be sure Brian was back. We wouldn't have been sure until we've seen a good third quarter from our offense. We did that to discipline our offense to play good third-quarter football, he continued.
"You can't give the opponent a good ball game just because your second team is in there. Brian in there gave us the spirit we needed. Our offense hasn't played flawless ball like this before."
Skeggs concurred Currence on that point.
"They needed to get things together," he said. "I would have done the same thing if my quarterback was out two weeks. I know they didn't want us to score, but we were able to do that."
The Eagles got their sole score when Tiger Jeff Smith intercepted a pass, but fumbled it back on the runback, the Eagles taking possession at the hosts' two-yard line after the double turnover.
Steve Martin scored on a two-yard run with 38 seconds left in the game.
With seven seconds left sophomore Cornell Jackson dashed 60 yards for the final Tiger score of the evening.
Johnson gained 129 of the Tigers' 304 rushing yards.
MASSILLON………………..48
CENTRAL-HOWER……….. 6
STATISTICS
M C
First downs rushing 14 4
First downs passing 7 3
First downs by penalty 0 2
Total first downs 21 9
Yards gained rushing 316 91
Yards lost rushing 12 4
Net yards rushing 304 91
Net yards passing 156 67
Total yards gained 460 158
Passes attempted 22 13
Passes completed 12 5
Passes int. by 3 0
Yardage on pass int. 20 0
Times kicked off 8 2
Kickoff average 45.0 36.5
Kickoff return yards 19 100
Punts 2 3
Punting average 24.0 36.7
Punt return yards 22 0
Punts blocked by 0 0
Fumbles 2 2
Fumbles lost 1 2
Penalties 6 8
Yards penalized 86 78
Touchdowns rushing 5 1
Touchdowns passing 2 0
Miscellaneous touchdowns 0 0
Number of plays 63 43
Time of possession 27.10 20.50
Attendance 8,675
MASSILLON………….. 20 7 14 7 – 48
CENTRAL-HOWER…… 0 0 0 6 – 6