Wind, snow, St. Joe add up to Tiger woe
Massillon looking ahead in 14‑7 loss?
By STEVE DOERSCHUK
Independent Sports Editor
Bill Gutbrod was in pigskin paradise.
Lee Owens was in parochial pain.
So it went for the opposing head coaches in the wake of Cleveland St. Joseph's 14‑7 high school football victory over the Massillon Tigers in a wind‑driven snow Friday night in Paul Brown Tiger Stadium.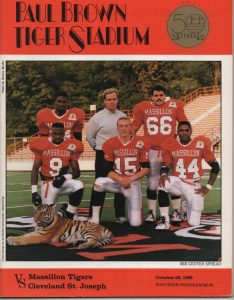 "There was one thing I wanted to do before I retire, and that was to win a game down here," said Gotbrod, 64, St. Joseph's head coach since the school opened in 1950.
"It's so hard to win in Massillon," added Gutbrod, whose team beat the Tigers in a 1987 mud bath at Euclid but dropped the only four other games in the series. "They do all these things to pysche you out."
As for that parochial pain, Owens' team is 6‑0 against public schools and 1‑2 against private ones this year.
Even the win was murder, an overtime sweat job against Akron St. Vincent‑St. Mary.
Overtime was a possibility again Friday when the Tigers tied St. Joseph at 7‑all on a convincing drive ending early in the fourth quarter.
The Vikings seized back the momentum, however, and swallowed seven minutes on an 80‑yard drive ending on Sam Woodfolk's 6‑yard yard touchdown run with 53 seconds left.
Afterward, Owens looked like a man whose million‑dollar lottery ticket had blown away with the snow.
"I could see it in practice. I could see it in team meetings. We just couldn't get the full attention of the players for this game, and I have to take responsibility for that," said Owens.
Misdirected focus on next Saturday's McKinley game was "the problem," Owens said.
The Bulldogs also had their equilibrium jarred, losing to Youngstown Cardinal Mooney at Fawcett Stadium.
"It's still going to be a classic matchup between two great teams," Owens said, "but I was hoping we'd both win. The great teams win the big games and we didn't win a big one tonight."
All is hardly lost. The Tigers still figure to be in first place in Region 3 of the Division I playoff standings, with about 125.3 points. A win over McKinley would guarantee a playoff spot.
A loss, however, would put Massillon in a mad scramble among six contenders for four berths. The other contenders: Jackson, McKinley Akron Garfield (a 14‑0 conqueror of Buchtel Friday), Grove City and Walsh Jesuit.
The week 10 schedule: Massillon vs. McKinley, Jackson vs. Hoover, Walsh Jesuit vs. St. Vincent‑St. Mary, Garfield vs. Ellet, and Grove City vs. Westerville South.
A win over St. Joseph would have clinched a playoff spot.
Two turning points kept it from happening.
The first was early in the game. The Tigers seemed bent on making a statement, driving 46 yards to the St. Joseph 12‑yard line on second and five.
The drive stalled. The Vikings regrouped to lead 102‑92 in first‑half yardage. The halftime score was 0-0.
Turning point No. 2 came after the Tigers tied the game at 7.
A St. Joseph scoring drive that produced a 7‑0 lead in the third quarter clearly aroused the Tigers, who converted a third‑and‑16 screen pass to the 31 then rip‑roared 69 yards on the ground for the game‑tying score.
The Tiger defense held St. Joseph to three plays and a punt. But the offense couldn't keep its edge and in turn had to punt. When Chris Roth's punt bounced inside the 5 and Joe Pierce couldn't quite trap the ball at the 1, the Vikings got the ball on the 20 on a touchback and launched their winning drive.
Viking quarterback Tony Miller kept the Tigers mindful of the outside option game and had the volume level where he liked it.
"We had the crowd out of the game, which is something we wanted to do in this big stadium," the 5‑11 junior said.
St. Joseph fullback Steve Clark hammered away on the inside.
"Our big boys started clicking," Clark, a 5‑7, 200‑pound senior wound up with 118 rushing yards.
The Tigers still had a chance to send the game to overtime when St. Joseph had the ball at the 23 with two minutes left. The Vikings lack a strong kicking game and a field goal into a nasty wind would have been unlikely from there or even 10 yards closer. But on first down Clark rumbled 14 yards to the 9. It was getting away.
On second‑and‑goal from the 6, Miller took off on an option run around left end. He was met at the 5 but at the last split second flicked a crazy pitch to halfback Sam Woodfolk, who caught it cleanly at the 6 and dashed into the corner of the end zone.
It was 14‑7 with 53 seconds left.
The Tigers made a last‑ditch drive. A pass from Lee Hurst to Rameir Martin would have given them a first down at the St. Joseph 30 with time for one more play but the ace receiver lost the football as he was hit, and St. Joseph recovered to end any Tiger hopes.
This isn't how the Tigers wanted to go into the McKinley game but then, the Bulldogs are in the same boat.
"We're set back now", Owens said. "We feel some real anger in our meeting after the game. I was glad to see that our players snapped out of it right away. There's only one thing to do … put this behind us.
St. Joseph, 6‑2, used the victory to clinch a Division II playoff berth.
Gutbrod called it "one of the top three" of his 259 coaching victories at St. Joseph.
Clark had it at No. 1.
"This means everything," he said.
It's different for the Tigers. The pain of this loss will fade if they connect on their "everything" one week from today.
A drive‑by‑drive summary of Friday's game:
JOE ‑ Start with opening kickoff on own 25 after 90‑yard TD return by Brian Brown is called back by clipping penalty. Drive nine plays to Tiger 40. Stall on downs on fourth down hit by Craig Turkalj.
MAS ‑ Start on own 40. Drive 12 plays to 12. Miss 34‑yard field goal.
JOE ‑ Start on own 20. Drive six plays to 40. Punt.
MAS ‑ Take over on Viking 35 on punt of minus‑five yards. Lose ball on fumble on second play.
JOE ‑ Start on own 32. Lose yardage to 21. Punt.
MAS ‑ Start on own 49. Three plays and punt.
JOE ‑ Start on own 24. Eight plays and clipping penalty to Tiger 30. Lose ball on Keith Rabbitt interception one play after St. Joe receiver drops would‑be TD pass near goal line.
MAS ‑ Start on own 25. Three plays and punt.
JOE ‑ Start at midfield Six plays, Miss 37‑yard field goal attempt with 51 seconds left in first half.
Halftime score:
Tigers 0, St. Joe 0
MAS ‑ Start on own 12 after successful St. Joe squib kickoff. Three plays and punt.
JOE ‑ Start on own 43. Three plays and punt.
MAS ‑ Start on own 15. Lose yardage to 13 and punt.
JOE ‑ Start on Tiger 35 after nearly blocking Chris Roth's punt. Clark carries seven times for 32 yards and goes over from 1 on fourth down. Chris Stevers kick good at 3:22 of third quarter.
St. Joe 7, Tigers 0
MAS Start on own 18 after another squib kick. Drive 82 yards for TD, 6‑yard run by Ryan Sparkman. Key plays: 16‑yard Hurst‑to‑Manion screen pass, 22‑yard Lamonte Dixon run, Sparkman rushes of 13 and 14 yards. Gary Miller kick good at 11:56 of fourth quarter.
Tigers 7, St. Joe 7
JOE ‑ Start on own 20 after kickoff and touchback. Three plays and punt.
MAS ‑ Start at midfield. Three plays and punt.
JOE ‑ Start at own 20 on touchback. Drive 80 yards in 16 plays, Woodfolk scores on six‑yard run. Key plays: 13‑yard completion (only one of game for Vikings) on second and 12, followed by 13‑yard Clark run to Massillon 46. Stevers kick good at 0:52 of fourth quarter.
St. Joe 14, Tigers 7
MASS ‑ Start on own 32 after kickoff. Drive to 30 with 10 seconds left, lose ball on fumble with seconds left.
St. JOSEPH 14­
MASSILLON 7
M J
First downs rushing 8 13
First downs passing 3 1
First downs by penalty 1 1
Totals first downs 12 15
Yards gained rushing 159 225
Yards lost rushing 10 10
Net yards rushing 149 215
Net yards passing 71 13
Total yards gained 220 228
Passes attempted 18 4
Passes completed 7 1
Passes int. by 1 1
Times kicked off 2 3
Kickoff average 55.5 43.1
Kickoff return yards 13 31
Punts 5 4
Punting average 30.0 24.8
Punt return yards 4 0
Fumbles 2 1
Fumbles lost 2 0
Penalties 6 6
Yards penalized 40 49
Number of plays 50 63
Time of possession 17:12 30:48
Attendance 9,000 (est.)
Individual statistics
Rushing
(Mas) Dixon 11‑59, Ashcraft 8‑33 Dixon 7‑42, Hurst 5‑15.
(Joe) Clark 27‑118, Miller 17‑48, Woodfolk 8‑23, Bardner 5‑21, Splete 1‑5.
Passing
(Mas) Hurst 7‑18‑1 71.
(Joe) Miller 1‑4‑1 13.
Receiving
(Mas) Martin 3‑41, Manion 3‑13 Sparkman 1‑17.
(Joe) Stevers 1‑13.
St. Joseph 0 0 7 7 14
Massillon 0 0 0 7 7
SJ ‑ Clark 1 run (Stevers kick)
M ‑ Sparkman 6 run (Miller kick)
SJ ‑ Woodfolk 6 run (Stevers kick)