Long night for Owls.
Tigers draw lofty praise after 55‑0 larrupin'
By STEVE DOERSCHUK
Independent Sports Editor
MASSILLON ‑ If you ask the Cincinnati Mount Healthy football players what they think of the "M&M Boys," Mantle and Maris wouldn't even cross their minds.
They'd think you were talking about Massillon and Moeller.
They scrimmage Moeller every year. And they got a long look at Massillon last night.
As it turned out, the local half of the "M&M Boys" played long ball, wearing out Mount Healthy 55‑0 before a crowd of 8,497 in Paul Brown Tiger Stadium.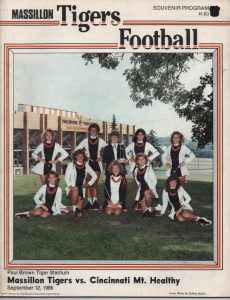 "I've been a football coach for 21 years, and that Massillon team I just saw is the best team I've ever coached against," said Mount Healthy mentor Bill Fridman.
The Tigers simply knocked the cover off Fridman's ball players.
"John (Maronto, the Massillon coach) started to apologize about the score," Fridman said. "But I told him they shouldn't apologize. It could have been 100 to nothing."
Mount Healthy is not to be confused with Moeller. The Fighting Owls are fighting for their lives, having lost 23 players to academic problems and other starters to injury, including a nose guard who discovered a detached retina this week.
But it wasn't as if the Tigers didn't earn that big score.
"In my opinion, most of our better ball players are still on the team," said Mount Healthy wingback‑defensive end Charles Davenport. We were trying as hard as we could. They just turned out to be, the best team I've ever seen … better than Moeller, no question."
Fridman went along with that.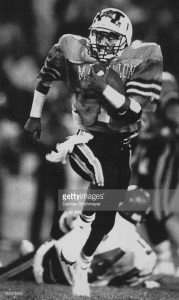 "They were better than the great Moeller teams I've seen," he said. "They just have everything. I've seen teams that were big but not aggressive. I've seen teams that would knock the crap out of you but weren't that big. But I've never seen a team that combined aggressiveness and size the way this Massillon team did."
Yes, the Tigers were purring. After struggling to beat Akron Buchtel 7‑0, then improving in a 21‑0 victory over Akron Garfield, they let it all hang out against the Owls.
Fridman was asked if the Tigers have a weakness.
"Yeah," he said, his mouth curling into a smile. "They don't have enough seats in their stadium."
Maronto said he didn't know what to make of routing a team that previously lost 14‑0 to Fairfield and 28‑0 to Cincinnati LaSalle.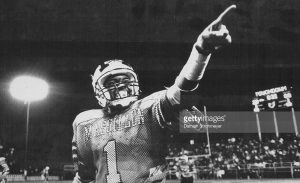 "It's flattering to hear what Bill said, and it's true that our players are to be complimented for doing an excellent job of executing," he said. "But as far as getting prepared for GlenOak (next Friday's opponent), I don't know how much this game will benefit us."
GlenOak got a much‑needed ego boost last night in a 40‑3 shellacking of Akron East. That took some of the tarnish off the Golden Eagles' image, which suffered in shutout losses to McKinley and North Canton.
So, Bob Commings' return to Massillon is looking more attractive.
Commings comes up even without the GlenOak factor. Commings'1971 Massillon team was the last Tiger contingent to open the season with three shutouts.
The last Massillon team to blank four foes to start a season was Paul Brown's, in 1940.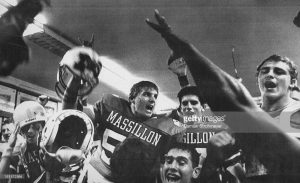 But Friday was a night for the offense, starting from the game's first play from scrimmage, on which fullback Mike Norris popped through a big center‑guard hole on the right side and roared 61 yards for a touchdown.
"They bottled up our cornerbacks, and the next thing I know, there's this truck heading for the end zone," Fridman said.
That triggered a night of big‑play touchdowns.
There was a 63‑yard pass from junior quarterback John Miller to Jerome Myricks, a 50‑yard run by Miller himself and a 45‑yard blast by Vernon Riley, who had been mentioned as the possible fullback starter instead of Norris.
Myricks wound up with two other TDs on short runs to ice a night on which he carried nine times for 59 yards.
Riley also scored on a short touchdown run as part of a 13‑carry, 137-yard rushing explosion.
Norris wound up with just two carries for 62 yards.
You got the feeling this wasn't 'going to be a game early on.
Two plays after Norris scored, Tiger defender Mike Wilson, who later scored a TD on offense, recovered a fumble that led to a short, easy scoring drive. Myricks' 1‑yard plunge and Lee Hurst's PAT boot made it 14‑0 with 7:57 left in the first quarter.
The Tigers established a pattern of scoring within seconds of getting their hands on the ball.
On the first play following an Owl punt, Miller unloaded his scoring bomb to Myricks. The pass erased any doubt about the strength of his arm. The kid has a gun. The play was a straight fly pattern to Myricks, and Miller's pass looked like something Dwight Gooden might throw. It traveled 60 yards in the air and got to Myricks in a hurry at the 8‑yard line, from where he eased into the end zone.
On the first play after the next Owl punt, Miller kept the ball on an option run. He broke through a big hole over the right side but got into heavy traffic around the 20. How he got through it, only the game films know, but he wound up in the end zone on a see‑it‑to‑believe‑it run.
"I get excited about John Miller," Maronto has been saying.
The fans are starting to catch on, even though the Tigers still are passing at the rate of one a quarter ‑ Miller and Erik White combined to complete two of four passes for 72 yards, bringing the number of aerials that have been thrown this fall to an even dozen.
Miller's run made it 28‑0 with 9:56 left in the first half.
The Tigers got their scoring out of the way when Riley went in from a yard out with 40 seconds left in the third quarter.
Maronto said he's concerned that the first‑stringers didn't get enough work to keep them sharp for upcoming games against rugged foes like GlenOak, Austintown‑ Fitch and Cleveland St. Joseph.
"But there's another side to that," he said. "We got to play a lot of people tonight, and the players who came in were very aggressive and did a great job. The fact so many people got to play means a lot to our team."
The Tiger offense wound up generating 415 yards. Mount Healthy racked up 141.
The Owls were hoping their slippery little option quarterback, Deon Smith, could keep them in the game. The Tigers' defensive surge was so fierce that Smith never had a chance.
That's the way it can go when you're "pitching" against the "M&M Boys."
MASSILLON 55
Mt. HEALTHY 0
M O
First downs rushing 15 3
First downs passing 1 6
First downs by penalty 0 4
Totals first downs 16 13
Yards gained rushing 352 72
Yards lost rushing 9 40
Net yards rushing 343 32
Net yards passing 72 109
Total yards gained 415 141
Passes attempted 4 21
Passes completed 2 8
Passes int. by 1 0
Times kicked off 9 1
Kickoff average 50.6 31.0
Kickoff return yards 10 101
Punts 2 7
Punting average 47.5 31.3
Punt return yards 50 0
Fumbles 1 2
Fumbles lost 0 1
Penalties 8 8
Yards penalized 75 58
Number of plays 39 51
Time of possession 20:10 27:50
Attendance 8,497
Mt. HEALTHY 0 0 0 0 0
MASSILLON 20 22 13 0 55
MAS ‑ Norris 61 run (Hurst kick)
MAS ‑ Myricks 3 run (Hurst kick)
MAS ‑ Myricks 63 pass from Miller (kick failed)
MAS ‑ Miller 50 run (Wilson pass from Hurst)
MAS ‑ Wilson 3 run (Hurst kick)
MAS ‑ Myricks 5 run (Hurst kick)
MAS ‑ Riley 45 run (Hurst kick)
MAS ‑ Riley 1 run (kick failed)