Tigers 3-0 after repulsing the Rams
B.J. 'Paynes' Garfield '11'
'
By JOE SHAHEEN
Independent Sports Editor
The Massillon Tigers didn't, wait until after the band show to get going this time, putting up 14 first‑half points on their way to a convincing 28‑7 victory over always‑rugged Akron Garfield before 13,245 at Paul Brown Ti­ger Stadium Friday night'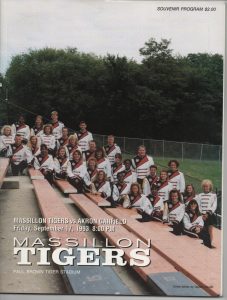 While the Tigers' offense roared to life in the first half, the game's turning point did in­deed come after halftime, when the Massillon defense forced I he Rams to go three‑and‑out on their first possession of the third quarter.
In fact, Tiger defensive tack­le B.J. Payne was a one‑man gang, making three consecu­tive tackles as Garfield netted zero yards in the key sequence.
After the Rams punted, Mas­sillon drove 53 yards in eight plays Danzy capping the march on a nine‑yard touch­down pass to Ali Dixon in the right corner of the end zone. The score gave the Tigers a 20‑7 lead and Garfield ‑ with its ground based attack ‑ was pretty much out of the game.
"We needed that series right there," recalled Tigers coach Jack Rose. "They had a chance to go back down and tie it up and that could've been a big drive for them. B.J. did a great job. The whole defense did on that we got the ball back and we scored."
Payne admitted he felt the momentum might be slipping away from the Tigers at that point of the game. They had just received a good kickoff return and a fortunate bounce on a fumble but failed to capitalize with a score.
"Offensively when we got stopped, I knew we had to hurry up and get three plays and out," [ Payne said. "I just tried to do my job and make some plays to get us out of it."
On first down, Payne smelled out a draw play and tackled Rams halfback Antoine Win­field for a yard loss. On second clown, Winfield again got the football and Payne took him down for a four‑yard loss. Gar­field gave the ball to fullback Frank Idley on third down, and Payne tripped him up just as it appeared he might find some daylight.
"There are certain times in the game when you have to step it up," Payne. explained. "We have a lot of seniors on defense and we all know we have to step it up at certain times and that was my time right there."
Garfield head coach Bill McGee couldn't agree more.
B.J. is an outstanding play­er," McGee said. "He's the ideal size for a defensive tackle. He's a guy where your offensive linemen have to stay down on him. He was outstanding. They had a lot of outstanding people on defense tonight.
"The turning point in the game was the first touchdown of the second half. Massillon kind of established control with that score. We felt at that point we had to do some things diffe­rent and they just didn't allow it. They played outstanding de­fense. They swarmed us and we couldn't block them."
Things didn't look quite so bright for the locals in the first quarter. Garfield took the open­ing kickoff and marched 54 yards in 13 plays before a touch­down saving deflection by Lon­nie Simpson in the end zone kil­led the drive. A 29‑yard field goal attempt hit the crossbar ­and bounced back.
But the Rams got another chance moments later, re­covering a Massillon fumble at the Tiger 43. Four plays later, Idley found a hole over his left guard and tackle and rumbled 23 yards to pay dirt. Mark Glockner hit the extra point and it was 7‑0 Garfield with 1:40 to go in the opening period.
The Tigers came right back. On second‑and‑12 from the Mas­sillon 43, Danzy rolled right and hit Eddie Griffith for a first down at the Garfield 44. On the very next snap, Danzy rolled the opposite direction and found Simpson alone in the end zone for a 44‑yard touchdown bomb. Randy Endsley's conversion kick made it 7‑7 with less than a half minute gone in the second quarter.
More than any other, that score drew McGee's ire:"
"They made the big play," he said. "We allowed a guy (Simp­son) to get behind us. We play zone coverage and that's some­thing you simply cannot have happen."
"It's a bootleg and there's a lot of play action," Danzy ex­plained. "I saw the free safety bite on the play fake. Then Lon­nie got behind him and it was just a matter of getting the ball to him. Lonnie was wide open and I hit him."
"Mike has a good feel for that play," praised Rose. "We want him to run it sometimes, too. If it's open deep, throw it. Mike did a good job reading that and putting the ball down there.
"That really turned the momentum our way, especially after fumbling away the ball. The passing game was much better this week and it's only going to get better."
Rose admitted this week he's heard from the fans about the aerial attack. So has Danzy.
"Sure, it becomes a challenge," Danzy said. "I love challenges. People might criti­cize but I can take criticism and move on."
With the game knotted at 7, Garfield retaliated. The Rams drove from their 20 to the Mas­sillon 3S, with Winfield account­ing for 42 yards on two slashing carries over the right side of his offensive line.
The Tiger defense stiffened at that point and quarterback Shane Legg dropped back to pass on third‑and‑11. Legg fired a short slant pass but Tim Men­ches timed it perfectly and step­ped in front of the intended re­ceiver for a drive‑killing in­terception at the 29.
Then Massillon mounted a drive that Garfield fans could appreciate, taking 12 plays to cover 75 yards and eating up over five minutes of game clock in the process. Danzy sustained the march with two key 17‑yard passes, the first to Dixon and the second to tight end Isaiah Jackson.
On second‑and‑goal from the 5, Danzy rolled right and ex­ecuted the pitch option to perfection, getting the ball to Dixon at the last possible mo­ment. The senior tailback hand­led the toss and sprinted un­touched into the right corner of the end zone for a 14‑7 Massillon lead at 2:31 of the second period.
McGee thinks Danzy's play is the spark in the Tiger attack.
"Danzy throws the ball well and he's an outstanding run­ner," McGee observed. "He really puts pressure on the de­fense. When you have to worry about containing him, it puts pressure elsewhere on the de­fense."
After the Danzy‑to‑Dixon TD connection in the third quarter put Garfield in a hole, the Ti­gers threw dirt on top of the visi­tors with their final scoring drive of the evening. Massillon moved 77 yards in 10 plays as Leon Ashcraft and Dixon took turns running through holes created by the right side of the offensive line.
On third down from the 10 Danzy rolled left after a play fake, took a hit at the 2 but dove into the end zone for the final touchdown of the evening. The senior signal caller hit Ashcraft with a two‑point conversion pass to make it 28‑7 with 6:30 to play.
A late Garfield drive died when Willie Spencer Jr. picked off a pass on the game's final play.
"The second half of the ball game they were more physic­al," McGee said. "I was dis­appointed with that. We held our own physically in the first half. The second half they were more physical. They came out and went at us harder. They ran right at us and took it to us."
Payne indicated the Rams may have stirred the Tigers' emotions with some comments made following last season's 14-­13 Garfield victory.
"They said last year we we­ren't physical enough and I think this year we showed them how physical we are," Payne said.
"This is the kind of game I love. Somebody who'll bring it right at me. Bring it on. Let's see what you've got. I don't think there's anybody who can drop me. That's my feeling."
MASSILLON 28
GARFIELD 07
M G
First downs rushing 11 8
First downs passing 7 1
First downs penalty 0 3
Total first downs 18 12
Net yards rushing 171 135
Net yards passing 119 16
Total yards gained 290 151
Passes attempted 11 8
Passes completed 7 1
Passes int. by 2 0
Times kicked off 5 2
Kickoff average 45.8 48.5
Kickoff return yards 70 94
Punts 0 3
Punting average 0.0 32.0
Punt return yards 26 0
Fumbles 1 2
Fumbles lost 1 0
Penalties 7 3
Yards penalized 45 15
Number of plays 47 47
Time of possession 20:44 27:16
Attendance 13,245
GARFIELD 07 00 00 00 7
MASSILLON 00 14 06 08 28
G ‑ Idley 23 run (Glockner kick)
M ‑ Simpson 44 pass from Danzy (Endsley 1kick)
M ‑ Dixon 4 run (Endsiey kick)
M ‑ Dixon 8 pass from Danzy (kick failed)
M ‑ Danzy 10 run (Ashcraft pass from Danzy)
RUSHING:
Massillon
Ashcraft 14‑70,
Dixon 9‑62,
Danzy 10‑33,
Fraelich 2‑2,
Paul 1‑4;
Garfield
Winfield 17‑76,
Idley 12‑64,
Bell 5‑8.
PASSING:
Massillon
Danzy 7‑11‑119‑0, 2 TDs.
Garfield
Legg 1‑8‑13‑2.
RECEIVING:
Massillon
Simpson 1‑44,
Dixon 2‑29,
Jackson 2‑25,
Griffith 1‑13,
Merchant 1‑8;
Garfield
Cook 1‑16.
McGee rates
Tigers over the Bulldogs
Akron Garfield head coach Bill McGee knows a good opponent when he plays one.
Garfield has played a cou­ple of them in the first three weeks of the season, arch riv­als Massillon and McKinley. The Rams lost to the Pups 7‑0 in Week 1, and 28‑7 to the Ti­gers Friday.
So, Bill, which is better? Massillon or McKinley?
"At this point in the season, I'd have to rate Massillon an advantage," McGee said. "They are quicker on defense and there's the quarterback, situation.
"(Mike Danzy) made some big plays for them tonight. He makes their offense go be­cause he opens things for other people.
"So I'd have to rate them a little bit ahead. But there's a long way to go until Week 10