Tigers Down tenacious Alliance 36-12
By CHUCK HESS, JR.
Independent Sports Editor
Massillon's No. 1 ranked Tigers Friday night won a game where it's often most important – in the trenches.
Behind superb blocking again by "The Iron Curtain," Washington high backs ran with authority, picking up 366 net yards on the ground, as the Tigers (3-0) beat Alliance (1-2) 36-12 at muggy Hartshorn stadium in the Carnation City before an estimated 10,000.
* * *
WHILE SENIOR tailback "Mailman Mike" Mauger did the largest share of the work, scoring four touchdowns and picking up 188 net yards in 22 attempts, senior fullback and co-captain Tom Cardinal and juniors Don Perry (fullback) and Larry McLenndon (tailback) also picked up a lot of yardage.
Particularly effective were off tackle plays – both from handoffs and pitchouts.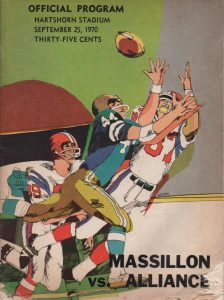 But while passing out orchids for the Tigers' effort which put them into a three-way tie for the All-American conference head, it must also be pointed out that those "colossal mistakes, as Coach Bob Commings terms them, cropped up again, costing the Orange and Black two TDs and opening the door for one of Alliance's six-pointers.
On the other side of the ledger, the Aviators played their usual tenacious game, never giving up, although taking a physical beating from the heavier WHSers. Alliance made Massillon fight for every inch of ground gained.
First year Aviator Coach Gene Nara also got some fine running – from senior fullback Lloyd Gray and 145-pound sophomore tailback Dan Contrucci.
* * *
"IT WAS a hard-hitting game, typical of the All-American conference," said Nara, former Tiger aide. "I'm not ashamed of them. Other coaches can put their head down. I'm going to bring this team back. I knew what I was getting into when I came here. I knew there wasn't much back."
He added, "They wiped us out off tackle on the pitches."
Commings was pleased with the game, saying, "It was good for us. We matured. Alliance was real spirited. Our kids had to go the route. We pressed ourselves and we learned a valuable lesson. You must also be poised. We weren't in the first half. We all seemed to be tight, including the coaches. I thought we loosened up in the second half."
A second period fight robbed both teams of key personal. The Tigers' Cardinal and Aviator middle guard Jim Hancock were ejected. Fortunately, Perry filled in well at fullback for "The Red Bird" and senior John Nussbaumer, at linebacker.
But Nara had centered a special new defense around Hancock, whom he termed his best and quickest man and had no one else to fill the gap.
* * *
THE TIGERS started out as if to score right after the opening kickoff, but Cliff Jones picked up Mauger's fumble on the Massillon 46. The Aviators lost the ball on downs on the Massillon forhty-yard line as "The Attack Pack" held. Jones' field goal attempt was wide right.
Then came an 80-yard, 11-0lay Massillon scoring jaunt, featuring the running of Cardinal and Mauger. A 16-yard screen pass scamper by the former and a 30-yard, pass-run from quarterback Denny Franklin to the latter, with the run 21 yards, were the highlights.
Mauger's touchdown came off right tackle on first down from the one with the clock malfunctioning. Franklin's pass to split end Willie Spencer misfired on the conversion try.
Early in the second period, John Sims stole a Gray fumble on the Massillon 30. However, Franklin later fumbled on the Aviator six, recovering the ball, but losing to the 15 and missing the score.
Mauger's 11-yard punt return started WHS on the way to a five-play, 51-yard TD drive, aided by a 13-yard romp by Franklin and capped by Mauger's 17-yard, first down run around left end after the tackle hole had closed. Franklin converted on a bootleg run to the right.
* * *
EARLY IN the third quarter, the Tigers scored on a 55-yard, five-play drive, featuring a 14-yard, pass-run from Franklin to wingback Bernard Sullivan, "Sullie" running for four and Mauger's 49-yarder on a pitch right. Tim Ridgley threw a key block and Mauger carried Jones into the end zone with 8:27 left. Franklin converted on a keeper to the right.
Alliance got into the scoring column when the Tigers failed to contain punter Chuck Larsuel after a bad snap from the Alliance 15. On first down from the 20, Gray got a pitch to the left, cut back to the right and was away for the score. Willie Spencer threw quarterback Randy Hunt on the conversion try.
Late in the quarter, Perry's 22-yard trek aided a drive, following a punt, which put the ball on the Alliance 10 on first down. Mauger fumbled on the one on the next play, the ball rolled into the end zone and was finally collared by Alliance's Jim Brocklehurst near the end line.
After a fourth quarter punt, Massillon marched 56 yards in nine plays to pay dirt, aided by a personal foul penalty as the Orangemen had been on their second TD drive Mauger rammed off right tackle on first down from the four with 5:41 left. Franklin hit Spencer in the left end zone corner for the conversion.
Alliance got possession on its 40 when Mauger's kickoff traveled out of bounds and Contrucci proceeded to reel off two runs of 12 yards each, caught a 14-yard pass from Bill Anderson, subbing for the injured Randy Hunt and then ran over center and back right on second down from the 22 for six points with 4:33 left. A conversion pass fell incomplete.
* * *
THE TIGERS finished the scoring after Ridgley had fallen on an onside kick at his 48. Six plays later, Franklin hit Spencer from 10 yards out off a bootleg with 1:57 remaining.
"Dennis the Menace's" conversion pass to Co-Captain and tight end Steve Luke was incomplete.
The drive featured McLenndon's 16-yard scamper, some hard running by Perry and Franklin's 20-yard forced run.
MASSILLON – 36
Ends – S. Luke, Stephan, McGuire, Spencer.
Tackles – Strobel, Ridgley, Weirich.
Guards – Kulik, Jasinski, Sims, Nussbaumer, Graber, Groff.
Center – Studer, Chovan, Gaddis.
Quarterbacks – Franklin, Dingler, Schultz.
Halfbacks – Mauger, Sullivan, McLenndon, Thompson, Wonsick, Weise, B. Luke.
Fullbacks – Cardinal, Perry.
ALLIANCE – 12
Ends – Paina, Danesi, Lightner, Brockett, Cameron.
Tackles – Randy Kuceyeski, Ron Kuceyeski, Addams.
Guards – Andreani, Messenheimer, Lugenbuhl, Penturf.
Centers –Jones, Mergenthaler, Dwyer.
Quarterbacks – Hunt, Anderson, Davis, Haidet.
Halfbacks – Larsuel, Sloane, Snodgrass, Contrucci, Brocklehurst, May, Lloyd.
Fullbacks – Beckwith, LeNave, Hancock.
MASSILLON 6 8 8 14 36
ALLIANCE 0 0 6 6 12
SCORING
M – Mauger, one-yard run (pass failed);
M—Mauger, 17-yard run (Franklin run);
M – Mauger, 49-yard run (Franklin run);
A – Gray, 80-yard run failed);
M – Mauger, four-yard run (Spencer, pass from Franklin);
A – Construcci, 22-yard run (pass failed);
M – Spencer, 10-yard pass from Franklin (pass failed).
OFFICIALS
Referee – Nick Frascella.
Umpire – John Dalrymple.
Head Linesman – Len Batcha.
Field Judge – Hal Schumacher.
ATTENDANCE – 10,000
Mauger tops AAC,
county in scoring
Massillon Washington high's Mike Mauger continues to set the pace in Stark county and All-American conference scoring derbies.
He also is the highly-touted AAC's No. 1 rusher, cleating 505 yards for 12.6 per lug mark.
* * *
MAUGER HOLDS lofty leads in AAC rushing and scoring and has a 21-point margin over Minerva's Jess Lowry in a bid to unseat Hartville-Lake's Brian Bowers as Stark county's premiere score of 1970.
Mauger's nearest rival in AAC scoring is Artis Zachary of arch foe Canton McKinnley with 30 points. Alliance's Lloyd Gray is nearest to Mauger in AAC rushing with 279 yards and a 4.7 per try.
Massillon's game Saturday will send the AAC's top passer (Tiger Denny Franklin) against the No. 2 passer (Niles' Alan Ciminero).
Franklin has hit 12 of 29 tries for 289 yards, five TDs; Ciminero shows 13-for-28 and 265 yards. He also has tossed for five six-pointers, but has had three of his aerials picked off, while but two of Franklin's attempts have been pilfered.
Tiger Bernard Sullivan ranks second in AAC receiving with five grabs for 112 yards and three TDs. Niles' Jim Stringer is the No. 1 receiver, snaring four of Ciminero's aerials for 119 yards and three TDs.
Canton South's Dave Pellegrini is Stark county's No. 3 scorer after three games with 44 points – four less than Lowry and four more than Bowers.
AAC SCORING
Mike Mauger, Massillon 69; Artis Zachary, Canton McKinley, 30; Alex DiMarziio, Canton McKinley, 28; Jim Stringer, Niles McKinley, 26; Bernard Sullivan, Massillon, 18; Anthony Brown, Warren G. Harding, 14; Dean Young of Steubenville; Dennis Franklin of Massillon; Lloyd Gray of Alliance and Mike Cara of Steubenville, 12 each.
AAC RUSHING
Mauger, 505 yards, 12.6; Gray, 279 yard, 4.7; Arnold Johnson, Steubenville, 232 yards, 5.7; Zachard, 188 yards, 4.6; Brown, 178 yards, 6.3; Stringer, 159 yards, 5.5; Eric Kirksey, Warren G. Harding, 129 yards, 6.1; Cara, 111 yards, 3.9; DiMarzioi, 109.