By WILLIAM R. SANDERSON
William.Sanderson@IndeOnline.com
There are three games left for this year's Massillon football team. If the defense plays like it did at Lakewood St. Edward on Saturday, the Tigers have a shot of finishing on an up-swing.
Tiger coach Rick Shepas wanted to emphasize the positive after Saturday's 37-7 loss to St. Edward. Don't be fooled by the final score either. The defense was definitely a positive.
Not only did the defense keep it close until the final quarter, the defense also scored Massillon 's only points of the game.
"Our defense played their tails off," Shepas said. "They were tough. They were physical. I think we had a game plan that was very solid."
Massillon falls to 3-4 on the season and will have to sweep the rest of its slate to finish with a winning record. That begins on Saturday with a visit from Friendship Edison of Washington D.C. Then comes a trip to Warren Harding and a visit by archrival McKinley.
After having to forfeit four earlier victories because of an ineligible player, St. Edward is 3-4 on the season.
On the season, the Eagles had averaged 45 points per game. Limiting the high-flying Eagles to under their average had Shepas pleased with his defenders.
"What we wanted to do was get down on the ground and make piles to use our best tacklers to get over the top," Shepas said.
Massillon scored the first points of the game on a big defensive play. With St. Edward's Paxton Rose fighting his way toward the end zone, the ball was stripped by the Tigers and Massillon 's Alex Dahlquist came up with it. He burst from the pack and ran 98 yards for a touchdown. Steve Schott's kick made the score 7-0 Massillon with 2:09 left in the first quarter.
"Alex Dahlquist made a great play to score the touchdown," Shepas said. "There is no question. That's why he's a captain. He really responded today. This is the best he's played. That's what we need out of a guy like that at this point."
Dahlquist also intercepted a pass in the third quarter. Cornerback Zack Vanryzin also had an interception for the Tigers, who came up with three takeaways.
Massillon 's defense held St. Edward to consecutive three-and-outs after the score, but a special teams gaffe let the Eagles get a foot in the door.
A St. Edward punt was permitted to bounce inside the 20. It took a nice Eagle bounce and was downed at the Tiger 1. Two plays later, the St. Edward got into the Massillon backfield and caused a fumble which Kurt Jarvis alertly jumped on for the safety instead of allowing the Eagles to recover for the touchdown.
St. Edward took advantage of the field position on the ensuing free kick and promptly scored on a 37-yard pass play from Anthony Gardner to Alex Spooner to give St. Ed's a 9-7 lead with 8:10 on the second-quarter clock.
The Eagles scored two more touchdowns before halftime on a 65-yard run by Rose and a 15-yard pass from Gardner to Greg Miranda.
Massillon 's defense held St. Edward off the scoreboard in the third quarter. St. Edward scored a pair of fourth-quarter touchdowns thanks in part to a fumble recovered at the Tiger 25 and a 15-yard interception return by Kevin Reese.
For its part, Massillon 's offense managed a collective 146 yards, including a net rushing total of 36 yards.
"We've got to get things going on offensive and that's all that we can say about that right now," Shepas said. "We've had instability at the running back position. It's been hard to establish the running game and that puts a little more pressure on the quarterback. We're still getting better. I think we got better this week. It's a process."
Junior quarterback Shawn Weisend made his first career start, but was replaced by junior Quentin Paulik following the first-half safety.
Weisend completed six of nine throws for 34 yards and an interception. Paulik was 12 of 30 for 76 yards with two interceptions.
"(Weisend) didn't get injured," Shepas said. "He checked himself out of the game. He had some stomach pain. It really wasn't the issue."
Lanale Robinson led the Tiger rushers with 18 yards on eight carries. Jarvis was the team's top receiver with five catches for 35 yards.
"We'd love to be 10-0 right now, but we're not," Shepas said. "There are other teams that are in the same situation as us. You just work through that. You saw wood and you work through it."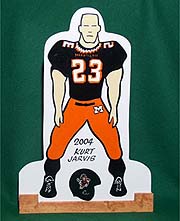 Kurt Jarvis