TIGERS WIN 500TH BUT NEED SOME HELP
By Chuck Hess JR., Independent Sports Editor
Their 500th victory since 1894–something no other high school team can boast of–was dimmed somewhat by a lackluster offensive performance, but Head Coach Bob Commings is confident his Massillon Tigers can correct the situation.
"I don't think we have any problems we can't cure," Commings said after his charges had beaten Cleveland Cathedral Latin 22-0 in a super defensive battle before an opening night crowd of 11,786 Friday at Tiger Stadium. "I think our kids blocked pretty well but we missed some holes."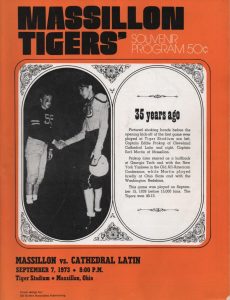 However, one thing Commings is concerned with is injuries to junior quarterback Greg Wood and sophomore fullback Bill Harmon who were already nursing hurts. Wood reinjured an ankle in the pre-game workouts and irritated it during the game.
Harmon sustained his fourth injury–this one a sprained right ankle when hit from behind while out of bounds after a second period run–and left the dressing room on crutches.
"Greg's injury kind of threw his passing off and without Harmon we lost a big chunk of power," Commings said. "If we can get Harmon (a devastating runner) and Greg healthy–which we haven't had for quite a while– we'll be alright. However, Erlo Lee (junior tackle recovering from knee surgery) was back and did a great job!"
On the other hand, the Washington High defense was just dandy, coming up with their 21st whitewash job in Commings' five seasons here. So great was the team effort that Latin failed to get a fist down, got only 28 yards and did not get out of its own territory.
The defense set up one touchdown and scored two others to help ease the dismay of having the ball nine times in enemy territory and scoring only once.
Senior tailback Charles Danzy scored on fourth down from the 10 on a right end run after the defense had held Latin on its first series and punter Ken Mueller erred in attempting to kick stocking footed. Referee Octavio Sirgo ordered the shoe replaced, to comply with the rules, Mueller didn't lace the brogan up, lost it on the punt and the ball trickled back five yards, giving the Tigers a first down on the Latin 36.
The score came five plays later with 8:43 left in the first quarter.
New Zealand soccer style kicker Allen Binks who kicks stockingless since he can't do it barefooted, booted a 30-yarder with 7:39 left in the second stanza. It was the first one since Jerry Krisher's in 1950 and the only other one kicked at Tiger Stadium.
Senior Mark Pifer returned a kickoff 54 yards with 49 seconds left for a TD with 49 seconds left in the third quarter. Senior halfback Denny Gutshall sprung Pifer into the end zone with a timely block.
A bad snap found Binks playing like Garo Yoepremian in last January's Super Bowl game and the conversion try failed.
Senior end Vince DiLoreto pilfered a pass in the fourth quarter and returned 23 yards for the score with 7:09 left. Brad Limbach's kick was wide right.
Binks tried a 50-yard field goal on the game's final play.
The Tigers thought they had another TD when Wood raced 36 yards down the sideline and back into the center in the first quarter, but after he stepped out on the 25. After that effort and Harmon's injury, the offense turned sour.
"But we've got to give Latin some credit," Commings said. "They came to play."
Commings explained that because of the Lion's extremely heavy team, he used a lot of players to keep his team from getting tired.
"Tim Gutshall, Bill Csonka and Charles Danzy logged a lot of playing time," Commings said.
Jack Zebkar, Latin coach pointed to mistakes as costing the Lions the game.
"We made five major mistakes and it cost us three touchdowns," he said. "I told our people in Cleveland the difference in the score is going to be the difference of a couple points. Massillon scored on a field goal, but I don't want to take anything away from Massillon's team, well coached and I hope they go all they way."
He pointed to the Tigers' quickness as the difference.
Massillon leads the series 8-3-1 and has won six of seven openers here with Latin.
THE GRID STICK
M
L
F downs-rush
10
0
F downs-pass
2
0
F Downs-penalties
1
0
Total first downs
13
0
Yds gnd rush
219
47
Yds lost rush
45
22
Nt yds gnd rush
174
25
Nt yds gnd pass
28
3
Total yds gnd
202
28
Passes compltd
2-15
2-9
Passes intercepted
1
1
Yds pass intercepted
26
0
Kickoff ave yds
49-5
46-1
Kickoff ret yds
7
99
Punt ave yds
34
26.9
Punt ret yds
92
19
Fumbles
5-0
1-1
Yards penalized
25-3
10-2
TDs rush
1
0
TDs by intercep
1
0
Miscellaneous
1
0
Total num of play
62
43
Elap time
27:41
20:19
LATIN-0
Ends–Gordon, Bambrick, Muller.
Tackles–Gaul, Bourassa, Horansky, Palumbo.
Guards–Armstrong, Byrne, Finucan.
Center–Marino.
Quarterback–Greve.
Halfbacks–Lynch, Lanigan, Sweeney, Zippert.
Fullback–Schnupp.
Punter–Dennis Mahne.
Massillon-22
Ends–Huffman, T. Gutshall, T. Lemon, Haslar.
Tackles–Csonka, George, Lee, Rich, Champan.
Guards–Schumacher, Fenton, Lightfoot, Graber, Moore.
Centers–Studer, Venables.
Quarterbacks–Wood, Brickford.
Halfbacks–Danzy, Streeter, Henderson.
Fullbacks–Harmon, McGuire.
Middle guards–A. Lemon, Waldrop.
Defensive ends–DiLoreto, Rolland.
Defensive halfbacks–Swann, D. Gutshall, Pifer, Mayor, Herring.
Punter–Keller.
Place kickers–Binks, Limbach.
SCORING
M–Charles Danzy 10 run (Allen Binks kick): M–Binks (20 yard field goal): M–Mark Pifer 54 punt runback (kick failed): M–Vince Diloreto 23 interception return (kick failed).
OFFICIALS
Referee–Octavio Sirgo: Umpire–Art Circelli: Head Linesman–Dr. Henley Freeamn: Field judge–Ron Giacomo: Back Judge–Robert Walker.