Panthers stun unbeaten Tigers
Massillon's 0ffense is shut down
By JOE SHAHEEN
Independent Sports Editor
The Perry Panthers, apparently unimpressed with their opponents' 10‑0 record and No. 3 ranking in the Associated Press Division I poll invaded Paul Brown Tiger Stadium Saturday evening and handed the Massillon Tigers a convincing 23‑6 setback in a regional quarterfinal playoff game in front of 12,250 shocked spectators.
Perry's victory no fluke. The Panthers held a 282‑228 advantage in total yards and converted 5 of 11 third downs to Massillon's 3 of' 14.
The Tigers, who had averaged nearly eight yards per first down play all season, were held to just over five yards per first down snap by a blitzing Perry defense that registered seven sacks of Massillon quarterback Dave Irwin.
"They did a couple of things with their blitzes where they showed some blitz on one side, came back with a blitz on the other side and they caught us after Dave had set the protection with the backs," explained Tigers coach Rick Shepas. "That was pretty good on their part. It was a good scheme they used on us."
The biggest sack of the game came on Massillon's second possession of the evening with the Tigers already leading 7‑0 and looking to score another with the ball at the Perry 13.
The Tiger's were facing facing a fourth‑and‑four situation and decided to eschew the field goal attempt and try for an early knockout. Instead, it was Massillon that got decked as Perry junior Brian Janson swooped in to take Irwin down before he could release the pass, for a six yard loss.
From that. point on it was all Panthers. They have such a good offense and very good skill kids," said Perry coach Keith Wakefield. "We were more aggressive on defense than we were the first time we played them.
"We started off very well the first game (won by Massillon 35‑14). This time we just finished the game." After Janson's sack, Perry. went to work offensively.
Junior quarterback Joe Shimek scrambled for 20 yards to wipe out a third‑and‑nlne dilemma and then Perry pounded the football right at Massillon, advancing to the Tiger 40 as Spencer Wyatt and Jordan Henning each toted the pigskin twice. From there, Shimek made another big Play, connecting with Joel Bailey on a deep curl pattern for 21 yards to the Tiger 19.
Four snaps later, on second‑and‑goal from the 6, Eric Heinzer got the handoff on an inside counter and burst through a cavity in the line for a touchdown. Shimek's kick was true and Perry led 7‑6 with 6:29 until the half.
The Tigers appeared to be ready to retaliate, moving from their 20 to the 38 on four running plays. However, on third‑and‑three, a premature center snap left the ball rolling around in the Massillon backfield. Finally, Bailey found the handle for Perry at the 20 and ran untouched into the Massillon end zone. The PAT was wide but it was all good for the Panthers who held a 13‑6 edge with 3:36 remaining in the first half.
Perry fumbled the ball away on its first possession of the second half after forcing Massillon to punt on its initial series of downs after the band show.
The Tigers returned the favor just three plays later as Panthers junior defensive back Anthony Ranalli picked off a pass at the 45 and returned it the Massillon 29.
Now Perry could smell blood and the Panthers moved in for the clincher. Wyatt gained four yards over left guard and Henning bucked for three more before Wyatt went around left end for three yards and a first down at the Tiger 19.
On second‑and‑nine from the 18, Shimek went around his right side on an option keeper, cut back to the middle of the field at the 12 and carried it down to the Tiger 2. Heinzer swept right end on first-and-goal and raced the pursuit to the end zone for six. Shimek's PAT try was true and Perry was celebrating a 20‑6 lead at 3:58 of. the third quarter.
Massillon had one final bullet in its gun, marching from its 45‑ after Jessie Scott's long kickoff' return to the Perry 16. On second down, Irwin hit Rocky Dorsey inside the five on a sideline pattern but the senior wideout caught the ball out of bounds.
A holding call on the Tigers nullified a touchdown pass on the next play and Massillon never got close again. Meanwhile, Perry's offensive line continued to do the job up front as, Heinzer, Henning, Wyatt and Doug Hutchinson took turns carrying the football for positive yardage and eating up the game clock.
The Panthers tacked on a 26‑yard Shimek field goal with 3:06 to play.
After getting the ball back on downs deep in Tiger territory in the waning moments, Shimek took a knee as the final seconds wound off the clock.
The first half began as if Massillon was going to run away and hide from the Panthers. After forcing Perry to punt after just three snaps, the Tigers mounted their initial drive of the game from their 37‑yardline line and made it look easy.
Scott picked up 14 yards on two plays, then Irwin found Dorsey along the right Sideline for 10 more to the Perry 36. An incompletion and two sack by the fired-up Panthers defense set up fourth 4th and 11 for the Tigers and Shepas opted to go for it. Irwin dropped back and launched a high arching bomb toward the left corner of the end zone. Joe Price was well covered but the pass was perfect and the senior widout pulled it in for a 30‑yard gain to the Perry 6.
On second down, Perry registered its third sack of Irwin as tackle Bill Turner did the honors. But the Tigers were unfazed. On third‑and‑goal, Scott swept around his left end, leaped at the 3 and hurdled a Panther defender landing in the end zone for a touchdown. The kick was wide as Massillon led 6‑0 at 5:40 of the first quarter. Little did the Tigers know that would be their final tally of the football game.
Inside a disconsolate Massillon locker room Shepas couldn't find it in himself to be critical of his charges. "It's always tough considering what's gone on over the course of the last year," he said. "For a football program to be so low back in the winter time and then to climb that mountain and come back from some odds and reach what looks like a summit after beating McKinley. There's a lot these kids have accomplished. They stuck together. They showed great character. We have outstanding kids. They played together from start to finish. Tonight they got bit.
"The legacy they leave our football program … we will never be able to thank them enough. What they've been able to do to get this pro gram going in the right direction, I'll be eternally grateful for these kids. Without them I wouldn't have a job." Arid Shepas did not hesitate to tip his hat to the Panthers.
They're a team that is very well coached," he said. "They play such a solid game. They rarely turn the ball over. And they did turn it over once. We just couldn't turn it into points. "Perry played hard and they deserved to win. There are no excuses on this side "'
PERRY 23
MASSILLON 6
P M
First downs rushing 11 6
First downs passing 1 7
First downs by penalty 0 1
TOTAL first downs 12 14
Net yards rushing 261 76
Net yard passing 21 152
TOTAL yards 282 228
Passes attempted 2 24
Passes completed 1 10
Passes intercepted 0 1
Punts 4 4
Punting average 27 30.5
Fumbles/Lost 1/1 3/1
Penalties 6 3
Yards penalized 40 27
PERRY 00 13 07 03 23
MASSILLON 06 00 00 00 06
SCORING
M Jesse Scott 4 yard run (Kick failed)
P Eric Heinzer 6‑yard run (Joe Shimek)
P Joe Bailey 20‑yard fumble recovery (Kick failed)
P Heinzer I ‑yard run (Shimek Kick)
P Shimek 25‑yard field goal
INDIVIDUAL STATISTICS
Perry rushing: Heinzer 13‑105, Henning 16-70,
Spencer Wyatt 12-43
Massillon rushing: Scott 12‑80, Perry James 7‑17
Perry passing: Shimek 1‑2‑21
Massillon passing: Dave Irwin 10‑24-152 1 INT.
Perry receiving: Bailey 1‑21
Massillon receiving: Drobney 3‑50, Jesse Robinson 2-24, Rock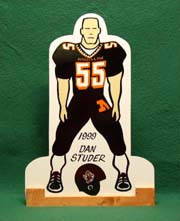 Dan Studer