Ignatius extends Tiger skid
By CHRIS EASTERLING
Chris.Easterling@IndeOnline.com
Thanks to the one-man show that was St. Ignatius senior Matthew Merletti, the Massillon Tigers find themselves at a crossroads in their season. One way leads back to the playoffs, the other to an end of the road after the week 10 game with McKinley.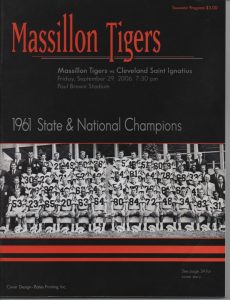 "We need to probably win out, or come close, to make the playoffs," Tiger coach Tom Stacy said after his team fell to 3-3 following a 30-16 loss to St. Ignatius on Friday night in front of 12,458 at Paul Brown Tiger Stadium. "Any time you lose a couple of games in a row, you worry about people jumping ship on you. We told our guys, we can't have any of that happen and win out. We have to have everybody with us – coaches, players, everybody from the third-stringer to the first-stringer. They're going to have to rally around."
Merletti single-handedly put the 6-0 Wildcats on his back on this evening, rushing for a game-high 221 yards on 31 carries, while adding a back-breaking 79-yard interception return for a score in the fourth quarter. He finished with 398 yards total between his rushing, receiving and return yards.
"Tony Gonzalez had a pretty big game here a few years ago," said St. Ignatius coach Chuck Kyle, whose team is now 6-0. "It was one of those types of things. Tom and I even talked about Matt before the game. He said, 'That 22 (Merletti) is just a tremendous player.' And I said, 'We need him to be.'"
Afterwards, the senior talked about how he and his Wildcat teammates were inspired all week by memories of Massillon's 29-26 win over Ignatius a year ago. That broke an 0-8 skid against Ignatius by the Tigers.
"We definitely thought about that, no question about it," Merletti said. "That was a big motivator."
Now Massillon needs a similar kind of motivation as it heads into the final four games of the season. It starts next Friday night when Buchtel visits Paul Brown Tiger Stadium.
"We have to coach better and we have to play better," Stacy said. "If you want to win games, that's what you have to do.
"It's going to be our job to pull them together. That's why you coach. I'm really confident will bounce back next week. I really am."
The Tigers went back to good, old-fashioned smash-mouth football on their second series of the game, one which ended with Steve Schott kicking a 33-yard field goal to give Massillon a 3-0 lead with 4:32 left in the first quarter. The drive took 15 plays, with 10 of those being running plays, including a 3-yard run by Brian Gamble on fourth-and-1 from the Ignatius 23 to keep it alive.
But the Wildcats answered, thanks in a large part by a 56-yard run by Merletti, who was untouched until Gamble tackled him at the Tiger 6. Two plays later, Merletti gave Ignatius the lead with a 3-yard run with 3:00 left in the quarter, making it 7-3 Wildcats after Nick Yako's PAT kick.
Gamble again needed to save the Tiger defense on Ignatius' next possession – but only momentarily. Merletti ripped off a 61-yard run through a gaping hole up the middle to the Massillon 12, where Gamble finally brought him down.
Once again, it took Ignatius two more plays after Merletti's big run to find the end zone, this time on a 2-yard run by Merletti. Yako's PAT made it 14-3 Ignatius just 38 seconds into the second quarter.
Massillon's offense mixed it up on its subsequent possession, balancing a Gamble run with big pass plays in the flats to Trey Miller, Andrew Dailey and Bryan Sheegog to move to the Ignatius 6. However, a big sack on third-and-5 pushed the ball back to the Wildcat 15, and Schott was called on to hit a 32-yard field goal to cut it to 14-6 with 6:04 left in the half.
The Tigers would again move the ball on their next drive, boosted by a big 29-yard pass from Bobby Huth – who was 11-of-14 for 139 yards in the second quarter alone – to Miller to the Wildcat 31. But a fumbled pitch short-circuited the drive, which ended with an incomplete pass on fourth down from the Ignatius 26.
Massillon would get a final shot at points in the half when an Ignatius punt was downed at the 50. Two quick passes moved it to the 29, where Schott hit his third field goal of the half – a 46-yarder – to cut it to 14-9 Ignatius at halftime.
Merletti again prevented the Tiger defense from getting off the field on the Wildcats' first drive of the second half. This time, it was a 43-yard catch-and-run on a simple swing pass that turned a third-and-7 from the Ignatius 41 into a first-and-10 at the Tiger 16.
As was the case the first two times Merletti ripped off a big play, it took the Wildcats just two more plays to find the end zone. This time, it was a 16-yard run off right end for a touchdown with 8:22 left in the third quarter to lift St. Ignatius to a 21-9 lead after the extra point.
The Tigers' evening may have been defined by their two third-quarter possessions. The first, which reached the Ignatius 32, ended with a fumble.
But it was the second which may have left the mortal wound. After Kevin Massey returned an interception for Massillon to the Wildcat 10, the Tigers were able to move to the 3, where they faced fourth-and-goal. But the pass into the end zone was high and broken up, leaving the score at 21-9.
"I had some really bad calls in the red zone I wish I had back," Stacy said. "I blame myself for that. I really believe that was a turning point in the game."
Ignatius would tack on a 28-yard Yako field goal seven plays after it recovered a muffed punt on the Tiger 32 midway through the fourth quarter to make it 24-9. Merletti would then cap the night with a 79-yard interception return for a score with 5:09 remaining that made it 30-9 Wildcats after the extra point was blocked.
Huth would provide the final margin with a 2-yard run with 2:47 remaining.