Tommy James fashioned one of the most stellar careers of any Tiger player in Massillon's long history.   As a Wall of Champions honoree, he was indeed worthy of the recognition, for he played on championship teams at all three levels of football: high school, college and pro.  There were state titles at Massillon, a national championship at Ohio State and professional crowns with the Cleveland Browns.  But as rare as it might sound, all of the awards came under the same head coach, the legendary Paul Brown.
Tom James was born on September 16, 1923, and resided on Genoa Avenue in Perry Township.  Since Perry did not have a high school at that time, he was free to choose either Canton Lincoln or Massillon for high school.   But the choice was simple, albeit with a little urging from Tiger assistant coach Bud Houghton: go west to Massillon and play for the state's best team and one that would give him a better opportunity to play later in college.
MASSILLON
After a year at Longfellow Junior High, James took his skills to the big field and played the next three years under Coach Paul Brown.  In spite of having a diminutive frame (5'-8", 148 lbs.), he was extremely quick and immediately found a spot at halfback and tailback in the single wing offense.  As all eleven players played on both sides of the ball at that time, he also saw duty at defensive back.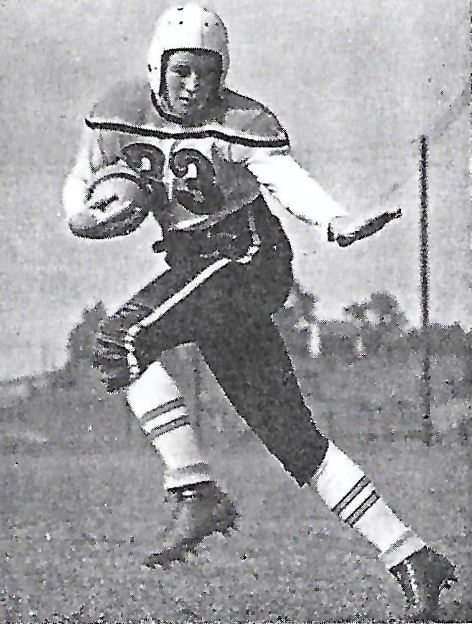 James never lost a game during his three years at Massillon, with his teams going 30-0 and winning the state title each year.  They also won two national titles.  In his junior season, Tommy recorded ten touchdowns and had the distinction of scoring the first TD in the new Tiger Stadium.  The points came against Cleveland Cathedral Latin, which owned a 17-game winning streak, and propelled the Tigers to a 64-0 victory.  James also threw the first touchdown pass in the new stadium, a 50-yard completion to Horace Gillom.  His team punctuated the season by christening newly opened Canton Fawcett stadium with a 20-6 victory over Canton McKinley.  For his effort, Tommy was named 2nd Team All-County.
In his senior season, James added to his responsibilities by throwing most of the passes. "My senior year I was the tailback (left half) in the old single wing," he said.  "You handled the ball more, called the signals, did the passing.  The right half was Ray Getz." – Jim Thomas, Canton Repository, February 2, 2003.   He was both the leading rusher (13 TDs) and the leading passer (10 TDs) in a season that included three rushing touchdowns against Erie East, Pennsylvania, and three passing touchdowns against Warren Harding.
"About every game was (special) because he was such a good passer," said Getz.  "He was a passer, and it was pretty rough to stop a passer in the single wing.  And his running was good.  He was fast.  He could run around end or off-tackle." – Jim Thomas, Canton Repository, February 2, 2003.
James' 1940 team was utterly dominant, outscoring the opposition 477-6.  They gave Cathedral Latin their only loss of the year.  They played Alliance in the first-ever high school football game at the Akron Rubber Bowl, beating the Aviators 40-0.  They defeated Erie East, 74-0, giving East their worst loss in 20 years.  And they broke Toledo Waite's 19-game winning streak with a 28-0 victory and prevented them from unseating the Tigers as Ohio's state champs.  Weirton won the West Virginia state championship, but fell to Massillon, 48-0.
The lone touchdown they surrendered that year was to Canton McKinley.  Ironically, it was the first points of the game.  "We all looked at each other," he recalled.  "We didn't know what to do.  We hadn't been behind.  But I threw a touchdown pass (45 yards) to (Horace) Gillum before the half that put us ahead 7-6." – Jim Thomas, Canton Repository, February 2, 2003.   Massillon would go to win 34-6.
Following the season James was named First Team All-County and First Team All-State, and was later inducted in the Stark County High School Hall of Fame.
For his high school career, he scored 23 touchdowns.
OHIO STATE
The goal for James was always to play collegiately and this was fulfilled when he secured a spot on the Ohio State roster.  He first played in 1942 under Paul Brown and his team captured the National Championship.  But war duties caused a 30-month hiatus, during which Tommy became part of the Army Medical Corps.  James would return in 1946 to play under Coach Paul Bixler and then be elected captain for the 1947 season.  But he passed that up to sign with the Detroit Lions of the NFL.
CLEVELAND BROWNS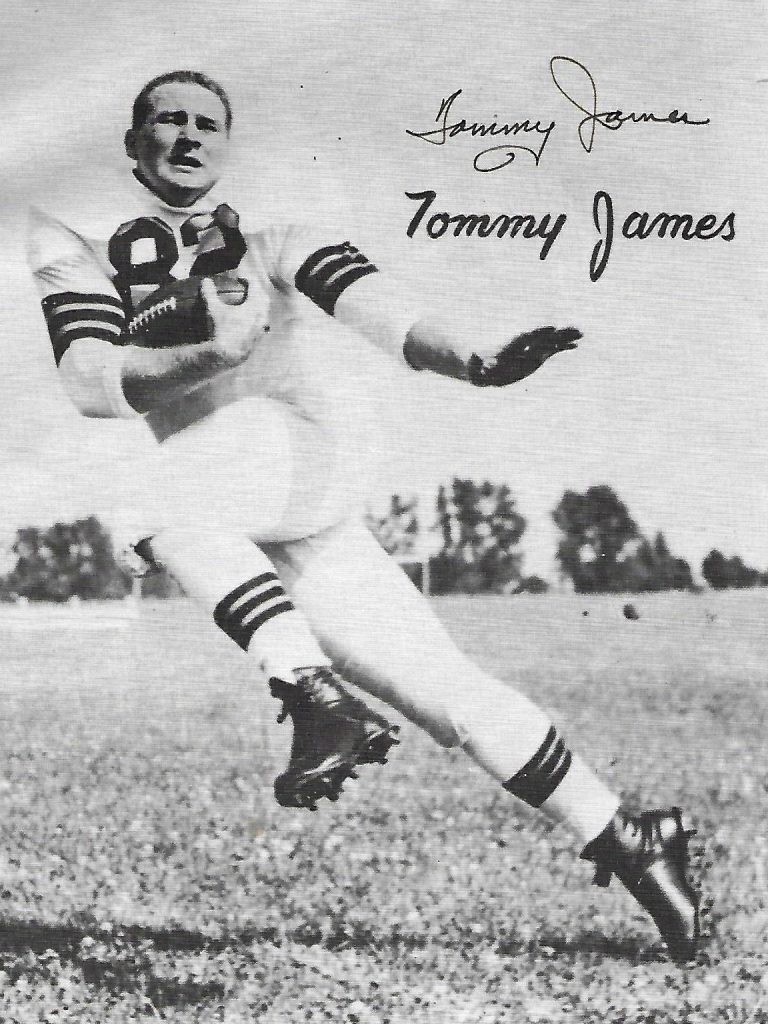 James' time at Detroit was short-lived, however, due to a broken arm and he was released.  But Paul Brown saw an opportunity and signed him to a contract to play for the Cleveland Browns beginning in 1948.
"I started playing defense all the time," said James.  "I always wanted to play offense.  But when I went into the pros, Paul Brown told me 'I can find better offensive players, but when I get a good defensive back that's the place I've got to put them.'" – Jim Thomas, Canton Repository, February 2, 2003.  
James played for the championship every year while in Cleveland, first in the All-American Football Conference and then in the NFL.  His teams would capture five AAFC and NFL titles.
Tommy stayed in Cleveland for eight years and was released in 1955.  But he would play one more year professionally, for the Baltimore Colts.  For his career he recorded 34 interceptions.
In 1951, 1953 and 1956 he played in the annual College All Stars-NFL Grid Game at Chicago, a contest he participated in while in college in 1943 and 1947.
MISCELLANEOUS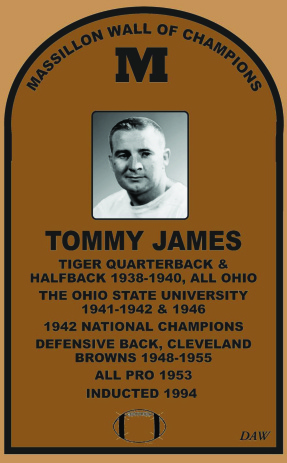 James would spend the professional off-season completing his college education and graduated from Kent State with a BA in Education.
Post-football, Tommy was a salesman for Priority Freight Systems, in Akron.  He had three brothers (Art, Don and John) and two sons (Tommy Jr. and Mike).  Brother Don became head coach of the Washington Huskies and won the National Championship there in 1991.
Tommy James lived a long life and enjoyed watching his two sons and grandson play football for the Tigers.  He died on February 7, 2007, age 83.