Matt Keller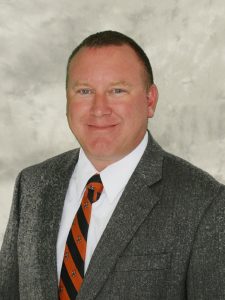 Matt Keller's year as the Massillon Football Booster Club President started early.  He was informed in November 2014 that there would be a coaching change and as incoming President he was on the search committee to find a new head coach.
In January 2015, Nate Moore became the 27th head coach of the Massillon Tigers Football team.  Matt and his family spent most of January and February getting Nate and his family acquainted to Massillon and Massillon football.
In April 2015, Matt planned the spring kickoff and used that as an opportunity to have Nate introduce himself and his coaching staff to the Massillon community.  2015 brought many changes to our live Tiger tradition.  There were many hurdles to overcome to get a live tiger to Massillon.  As the football season was fast approaching, we weren't sure if we would have a live tiger for Coach Moore's home opener against Perry.  Although it was the first year we didn't have a live tiger stay in Massillon, we did have a live tiger at several home games.
On August 29, 2015, we lost Junie Studer.  Junie was a past Booster Club President and filled numerous roles within the Booster Club.
The 2015 season started with a victory at home against the Perry Panthers.  We sustained key injuries that affected our 2015 season.  We were 4 and 5 heading into McKinley week and had an opportunity to enter the playoff.  Coach Moore and his family experienced their first McKinley week and we played our last Massillon-McKinley game in what we know to be Fawcett Stadium.  The game was a classic Massillon-McKinley game and we fell short and ended our season at 4 and 6.
The season was wrapped up at the annual  banquet in December 2015 and Matt introduced the next incoming president – Brock Herring.