Ron Thornberry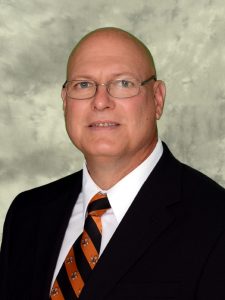 Ronald Thornberry served as Massillon Tiger Football Booster Club President during the year of 2012.  During his time as Booster Club President, Ronald witnessed some very exciting Massillon Football highlights.  This season, we were rolling with five wins and one loss when the Tigers came through with a signature win over Austintown Fitch, unbeaten and ranked 5th in the state, 24-14.  Compiling 533 yards of offense, Fitch had only given up 14 points in six games.  The team also rallied over McKinley two times: once during the regular season and once during the playoffs.  The regular season ending game brought the coveted bell back to Massillon after a three year absence.  Beating McKinley twice in the same year for only the third time ever made that a special win as well.  The season ended in an 11-2 record after making it to the Division Region Semi-Finals.
One of the most noticeable things you will see when driving through downtown Massillon is the Tiger flag waving atop the Chase Bank building.  Ronald had the pleasure of being involved with making this happen.  Ronald also dedicated a lot of his time during his presidency working with the Kent State University staff.  He gave the staff a deeper understanding of the Massillon community.  The information he provided helped them as they put together the photo journal Tiger Legacy.
During his time as Booster Club President, Ronald's favorite memory was Massillon McKinley week.  He enjoyed all of the festivities that occurred during that week, from the parade to the game.