John Morris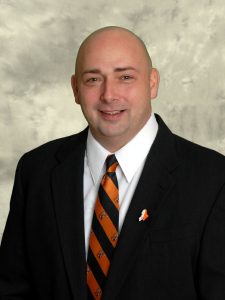 John Morris was the Massillon Football Booster Club President during the 2011 football season.  However, his commitment to the Massillon Football program started before his presidency.  Before John was President of the Booster Club, he was very active in the Massillon Booster Club.  He led the charge as the Booster Club participated in the Cronz fundraiser to raise money for the team.
Prior to the 2011 season, the Tigers attended a summer camp at the University of Mount Union.  During his time as President, John saw the Tigers finish with a 7-3 season.  It was during this season the need for the now popular film called Huddle came about.  The Booster Club purchased this program for the team during John's time as president.
It was during the 2011 season that Gary Harwood, a professor at Kent State University, began to write a book about Massillon Football titled, "Tiger Legacy."  John spent time with the author explaining the traditions that Massillon holds.  While John was the Booster Club President, he made sure that he incorporated his family into as many of the events and duties as possible.  While he helped in feeding the team during summer two-a-days, he had his daughters by his side.  In addition to the painted Obie ins that were made for the regular season, John and his wife also created pink Obie pins in memory of Stefanie Spielman.  They donated the money raised to the Stefanie Spielman Foundation for Breast Cancer Research.  Some of the major projects John undertook as president included meeting with every aspect of the Booster Club to see what their need were and to discuss future goals.  John also took time to update the book about how the Booster Club operates.  Gathering sponsors for the banners that nowhang on the front of the stadium was also one of the projects that John led.  He met with Massillon Museum representatives and Booster Club members to decide who should be represented on the banners that hang in front of Paul Brown Tiger Stadium.  In the end, they decided to honor coaches who had brought state championships home to Massillon.
Sseveral of John's favorite memories include feeding the team before the Steubenville game, attending the 6:00 AM workouts, traveling wit the team, the Massillon-McKinley Parade, watching Mary Strukel present the idea of the Obie license plates at the State House, and feeding the coaching staff on Sundays.  While these are all fond memories, John's overall favorite memory as Booster Club President was sitting next to Thom McDaniels on bus rides as he listened to the stories Thom had to tell.