Nick Pribich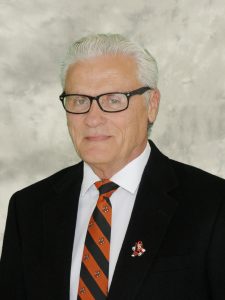 Nick Pribich spent the 2009 football season as Booster Club President.  However, his love for Massillon Football started long before his time as president.  There are three periods during his life as a Massillon Tiger that Nick cherishes dearly.
Nick's love for Massillon football started when he played safety for the 1964 Massillon Tigers.  It was during this season that the Tigers were State Champions and won runner-up for the National Championship.  During this season, the Massillon-McKinley game was the most attended game in school history with 22,685 people in attendance.  Nick continued to remain active as a Massillon fan.  His son Nicky grew up to follow Nick's footsteps and become a Massillon Tiger football player.  It was on November 4, 1994, that Nicky made the winning kick in the 100th Massillon-McKinley game.  The final score of the game was 42-41.
Nick became President of the Massillon Tiger Booster Club in 2009.  During that season, the Booster Club provided an inflatable tiger head tunnel and the Tigers won their first five games.  As the season continued, the Tigers faced St. Ignatius and Steubenville and lost both games.  With great senior leaders and co-captains help, the Tigers went on to win their next two games.  In week 10 of the regular season, the Tigers ended with a loss to the Canton McKinley Bulldogs.  Massillon entered the playoffs with a 7-3 record.  It was the second time the Tigers faced McKinley in the playoffs that they came out with a win, consequently knocking McKinley out of the playoffs.  Massillon went on to become of the final four teams in the State Playoff Finals, losing in the semi-final game.  The Tigers made Massillon fans very proud during the entire 2009 season.
Nick's favorite memory is beating McKinley in the playoff game.  He fondly remembers the interception that was made at the end of the game that resulted in the victory over McKinley.  He remembers the release of the black and orange balloons before the Massillon-McKinley game, a yearly tradition.
One of the current traditions Nick started during his term as Booster Club President was saying, "1-2-3…GO TIGERS…BEAT MCKINLEY" at the end of every Booster Club Meeting.