Bill Dorman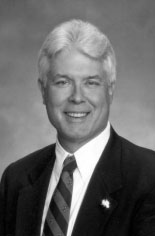 2005 STARTED OFF QUICKLY, for President Bill Dorman, as the Booster Club received authorization from the Board of Education in January to seek corporate donors and construct a new Scoreboard in time for the opening game on August 25. The Club's first Strategic Plan was written and finalized and the outlook for the coming season was good with a large group of veteran seniors returning.
In mid-May, Coach Rick Shepas unexpectedly announced he was leaving to coach at Waynesburg College and a search for a new coach began quickly. By mid-June Tom Stacy was announced as the 25th head coach and the town was re-energized as the new coach met with fans for hours at the downtown's cruise-on-in car show.
The team's first Thursday night opening game vs. Dover came quickly and nearly 16,000 fans from all over Stark and Tuscarawas counties came to see the 2005 Tigers in "the only game in town". The team responded to Coach Stacy's disciplined "do it the right way" philosophy and run and boot offense, and came away with a decisive 34-0 win.
The next week saw the Tigers on the road to Cincinnati's Paul Brown Stadium where they beat a highly regarded Cincinnati Elder team and the team's theme: "We're Coming Back" appeared to be ringing true. Seven straight victories followed which included the Tigers' first ever victory over Cleveland St. Ignatius and a victory celebration after the game which began in the stands at Parma's Byers Field and finished in downtown Massillon.
Week 10 saw the Tigers and the Bulldogs enter the final regular season game both undefeated for the first time since 1964 and were the state's 3rd and 4th ranked teams respectively. The Tigers lost but regrouped quickly and went on to win playoff games vs. North Canton, Findlay, Canton McKinley in a rematch, and Lakewood St. Edwards before losing a close game, 17-24, to Cincinnati St. Xavier in the Division I State Championship game played in Canton. When the season ended the Tigers had played before more than 180,000 fans, won more games than any Tiger team in history, and finished with a 13-2 record. The Tigers were definitely back!